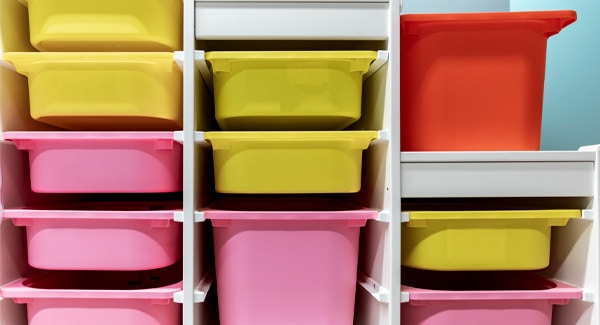 Last Updated on February 8, 2023
We don't know about you, but we love a good space-saving hack. Whether you're short on square feet or just trying to maximize space, here are 8 creative solutions to your space problems.
Transform a blank wall in to a mudroom
This entryway wall was transformed with a coat of paint, vertical shiplap boards, a simple bench, hooks and of course, baskets.
Create a cloffice
The cloffice or closet-office, is a brilliant way to use an underutilized closet.
Expand your bathroom storage
Bathroom storage can be hard to come by. Expand your under counter space by using stackable bins and drawers.
Stack your washer and dryer
Most new washers and dryers can be stacked and if space is an issue, this is a genius idea. By stacking a washer and dryer you have space to hang clothes, and store laundry baskets and detergent.
Create a multipurpose room
Multipurpose rooms have been trending since 2020, with homeowners seeking to add more functionality to their space. This room is an office by day and a guest room by night.
Get creative with the space under the stairs
Under stair storage is a great way to use space effectively; especially if your home lacks a mudroom.
Related reading: Keep calm and clutter free
Take advantage of vertical space
When in doubt, go up. Adding vertical storage is always a good idea.
Add over the door racks
Over the door racks can add so much storage to rooms or closets that need some extra space.
Keep reading: Garage storage solutions and creative ways to store your kids' clutter
Visited 2,232 times, 1 visit(s) today