Last Updated on April 26, 2023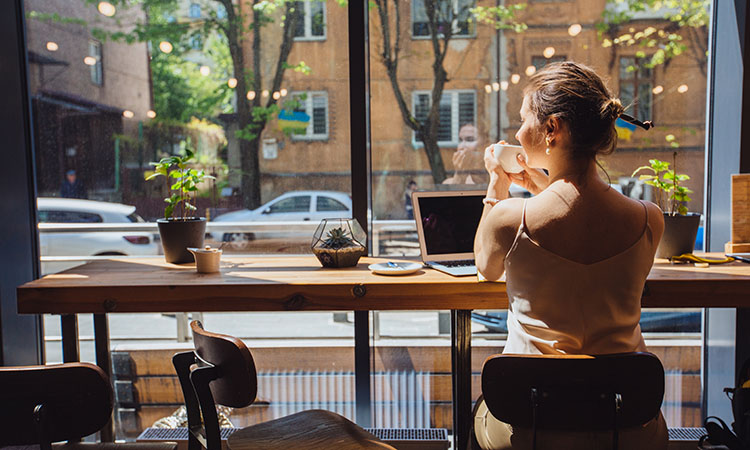 Life in Western North Carolina is steeped in agricultural traditions. Travel to the outskirts of town and you'll find picturesque, rural areas that are home to many small farms. From apple orchards and veggie producers to cheesemakers and flower farms, our mountain slopes supply a bounty of produce year round! In fact, some of our favorite pastimes are visiting local farm stands and farmers markets.
But farmers have always had to innovate to keep up with emerging culinary trends and to make the most of the land they work. One interesting solution is the growing "farm-to-cup" movement. Innovative local farms and food producers are partnering to create creative and tasty products that support local communities and reduce their carbon footprint.
Our region is a great place to Live Abundantly. Learn more about the farm-to-cup movement in WNC, and see just a few of the many local farmers and producers who are working at the forefront.
---
Skip Ahead! Find farm-to-cup farms and foods near you:
---
Farm-to-cup producers in Asheville
Asheville Tea Company
It's easy to "steep it real" with Asheville Tea Company! Instead of importing their teas from halfway around the globe, they source ingredients locally. In addition to cultivating herbs, they cultivate direct partnerships with a dozen small, regional farmers who utilize sustainable and regenerative agricultural practices. The result is a selection of fresh and unique botanical brews that offer a sense of place you can experience in every cup. In addition, their Earth-friendly mission led them to plant-based tea bags and compostable tea boxes.
Devil's Foot
Fresh fruit in a can? That's the idea behind Devil's Foot, creator of non-alcoholic ginger ales and sparkling lemonades that are devilishly simple. They pride themselves on using fresh, all-natural, and local ingredients to create a product for Beer City that both kids and adults can enjoy. This includes 100% Certified Organic ginger root, lemons, limes, berries, honey, and more. To them, real fruit equals real flavor. And they like to create all their products while operating sustainably and responsibly, as well. Visit them at their new tasting room, The Mule.
131 Sweeten Creek Road, Suite 10, Asheville | (828) 357-7601 | devilsfootbrew.com
Grassroots Farm & Dairy
Head up to Madison County and you'll discover 25 acres of hill pasture dotted with sheep. Grassroots Farm is a small scale, grass-based sheep dairy on farmland that used to supply Biltmore Dairy. The old cow dairy is now a Grade A-certified facility producing some of the finest milk in the world. In addition to its mild and creamy flavor, sheep milk is naturally homogenous, less likely to cause high cholesterol, more digestible for those with lactose intolerance, and has about twice as much protein as cow or goat milk. Sheep milk is also high in calcium and vitamins A, D, E, B12, and Folic Acid. Now that's something to add to your morning cup!
Marshall, NC | (828) 649-5049 | grassrootsdairy.com
Laura Lynn
According to Leah McGrath, Ingles Markets Corporate Dietitian, about 80% of Ingles-brand milk comes from dairy farms within 100–150 miles of Asheville. This includes local family-owned farms like English Farm in Marion and Ramsey Dairy Farm in Fairview. Because Ingles processes the milk themselves, it often takes less than 48 hours for the milk to go from the cow to the dairy case. And if freshness isn't enough, Ingles makes sure their farmers don't use artificial growth hormones.
Live Abundantly in Asheville! Find homes near your favorite farm-to-cup products. Search homes for sale in Asheville.
Farm-to-cup producers in Brevard
Bee. honey + hive
After buying a backyard hive in 2008, this couple "caught the buzz". Today, they manage a growing 200-hive beekeeping operation as a family business. Bee produces seasonal varieties of pure, raw honey and hive products including beeswax, pollen, and propolis. They also want consumers to "bee" educated. Bee is dedicated to the sustainable management of honeybees and the promotion of pollinator conservation, education, and research. Find their products around town, including at Cup & Saucer and Cedar Mountain Outpost, our current LoLo gifts.
Brevard, NC | (828) 553-5021 | beehoneyandhive.com
Cornerstone Tea
Among the 60 local farmers, producers, and artists that come together every Saturday for the Transylvania Farmers Market is one linchpin. Cornerstone Tea brings the finest small-batch loose-leaf teas to your cup. Cornerstone itself grows tulsi (Holy) basil, peppermint, spearmint, lemon and lime basil, lemongrass, and other herbs used in their blends. Other ingredients come from local farms and producers in and around WNC. Their goal is to introduce you to your new favorite tea with humor, grace, and unabashed delight.
(828) 388-0633 | cornerstoneteacompany.com
Pure Pisgah Honey
Enjoy the incredible flavor and real health benefits of pure, natural raw honey from Pure Pisgah Honey. In early spring, their bees from three beeyards make honey from trees such as maple and tulip poplar, a variety of wildflowers, and garden veggies and herbs. Later in July, bees treat themselves to the sourwood tree, found only in the southern Appalachians, producing sought-after premium sourwood honey. Their honey is unprocessed, never heated, and minimally strained. As a result, it still contains all of its natural properties, as well as the healthy benefits of vitamins, minerals, and antioxidants.
186 Five Springs Trail, Lake Toxaway | (828) 200-6476 | purepisgahhoney.com
Live Abundantly in Brevard! Find homes near your favorite farm-to-cup products. Search homes for sale in Brevard.
Farm-to-cup producers in Hendersonville
Flat Rock Cider Company
Located off Main Street in downtown Hendersonville, Flat Rock Cider Company supports local agriculture by using fresh fruit straight from community orchards. The result is what they call an "orchard to the glass" product: cider pressed with love. All of the apples and blackberries they use are hand-picked and pressed by hand. They then mature their cider, allowing it to bring out its true flavors, much like how wine is made. Try their year-round and seasonal flavors, many of which are gluten free.
1992 Dana Road, Hendersonville | (828) 595-2992 | flatrockcidercompany.com
Sideways Farm & Brewery
A subset of the farm-to-cup movement is the farm-to-keg movement. Sideways bills itself as WNC's only farm brewery, where beer is grown. They have taken craft brewing back in time to when farmers grew their own ingredients and would craft fine artisan ales by hand. As a result, their business model is about coexisting with nature and their surroundings to stay small and agile, and to use in-season ingredients while they are available. Tempt your tastebuds with one or two new limited release beers released each week. It doesn't get more local than that!
62 Eade Road (off Old 64), Etowah | (828) 595-3445 | sidewaysfarm.com
Sky Top Orchard
This magical destination is a treat for the whole family! As a working orchard, they offer a variety of apples, apple products, and some of the best cider donuts around. You can even see their cider press in action. Kids will adore the Bee Train, hay ride, barn animals (including peahens!), hot dogs, and cider slushies. And adults will love taking home a four-pack of their carbonated hard cider in one of three flavors. Make a point to visit during apple picking season this year!
1193 Pinnacle Mountain Road, Flat Rock | (828) 692-7930 | skytoporchard.com
Live Abundantly in Hendersonville! Find homes near your favorite farm-to-cup products. Search homes for sale in Hendersonville.
Farm-to-cup producers in Waynesville
Beorn's Apiary
North Carolina is home to the largest beekeeping association in the United States. And at Beorn's Apiary, they're proud to be among the many beekeepers who carry on a family tradition of beekeeping. They produce and sell raw and unfiltered honey, flavored honey, and honey blends—all perfect for your next cup of tea. Or for budding apiarists, ask them about their quality nucs and queens for sale, perpetuating the tradition of more beekeepers. Beorn's Apiary also offers free mentoring to new beekeepers.
181 Rachael Drive, Waynesville | (828) 421-2041 | beorns-apiary.com
Waynesville Soda Jerks
Waynesville Soda Jerks puts a fun spin on your favorite drink with their handcrafted artisan sodas. Their sweet sips are all-natural and feature local produce sourced from small Southern Appalachian farms in the surrounding area, so you can feel good about what you're drinking. And their sodas taste great as is or as the base for any number of delicious mocktails. Mix and match your favorite soda flavors and shop their small gift selection at their production facility and gift shop. You can also pre-order by phone, email, or online.
35 Bridges Street, Waynesville | (828) 278-8589 | waynesvillesodajerks.com
Live Abundantly in Waynesville! Find homes near your favorite farm-to-cup products. Search homes for sale in Waynesville.
What's your favorite farm-to-cup product in WNC? Share it with us in the comments:
Visited 58 times, 1 visit(s) today