Last Updated on May 22, 2023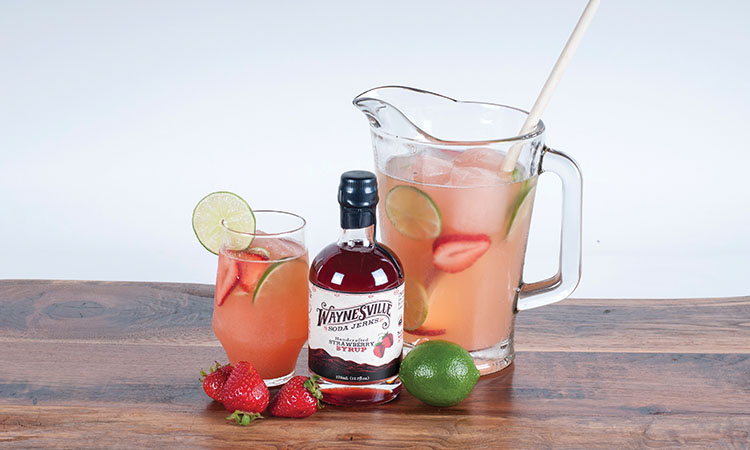 It's easy to create the perfect beer day in Waynesville.
But if you're part of the 13% of Americans (and rising) who participate in Dry January every year, it can feel difficult to come up with better options than a begrudging order of unsweet tea. Luckily, Haywood County is replete with fun non-alcoholic options wherever you may go. From fresh-pressed apple ciders to locally brewed kombuchas to mountain-grown teas and beyond, all you need is creativity and a bit of spritz.
Here are just three places to find Dry January drink options in Haywood County, NC.
Waynesville Soda Jerks
You can find locally made sodas from Waynesville Soda Jerks at dozens of locations around the area. But for the best, freshest sodas—right off the bottling line—visit their production facility and gift shop. Mix and match your favorite soda flavors and shop their small gift selection. You can also pre-order by phone, email, or online. They use fresh, seasonal offerings from local farms in each of their products, so you can feel good about what you're drinking. And their sodas taste great as is or as the base for any number of delicious Dry January mocktails.
​​
35 Bridges Street, Waynesville | (828) 278 -8589 | waynesvillesodajerks.com
Orchard Coffee
On cold, snowy January mornings, there's nothing more comforting than a warm beverage. No matter your preference—coffee, tea, chai, mocha, etc.—Orchard Coffee is a great place for the perfect handcrafted beverage. This award-winning coffee bar and bakery plants the seeds for a successful day with specialty coffee drinks and a made-from-scratch breakfast menu. This month, why not order a hot chocolate with a shot of one of their house made syrups? Pair it with the sweet or savory Scone of the Day for an added treat.
39 Depot Street, Waynesville | (828) 246-9264 | orchardcoffeeroasters.com
BearWaters Brewing Company
We know it can be hard to stick with your Dry January goals and still enjoy an afternoon out with friends. So does BearWaters Brewing. That's why they offer $1 self pours of several housemade seltzer flavors like lemon, lime, and blueberry pomegranate. It's the next best thing to enjoying one of their award-winning beers. At BearWaters, you can experience firsthand what happens when passion collides with creativity, a love for beer making, and the best ingredients. You won't find a friendlier place than BearWaters to retreat in the winter months or any time of the year.
101 Park Street, Waynesville | (828) 237-4200 | bearwatersbrewing.com
Drink to a happy home in Haywood County!
Haywood County consists of four unique mountain towns: Canton, Clyde, Maggie Valley, and Waynesville, as well as an assortment of unique mountain communities. Throughout the county, you will find an array of natural and historical places that are of great significance. Not to mention, an abundance of local and farm-to-table dining options. From musical performances to art exhibits, Haywood County has active arts organizations that bring a variety of events to the area. Whatever your interests, there is something to look forward to every month of the year.
Does that sound like the perfect lifestyle for you? Find your dream home in Haywood County now!
Where's your favorite place in Haywood County to go for a drink in Dry January?
Visited 29 times, 1 visit(s) today