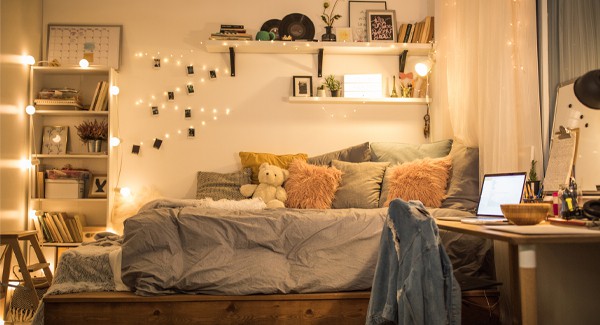 Last Updated on September 8, 2022
There's no denying that college dorm rooms are a little bland. Basic wooden dressers, desks and beds fill up a shoebox-sized space just begging to be decorated.
For some, this is a blank canvas waiting to be covered in personality. Others might have a hard time visualizing creative ways to make the space their own.
As the back to school shopping season commences, here are our favorite inexpensive ways to dress up that boring dorm room.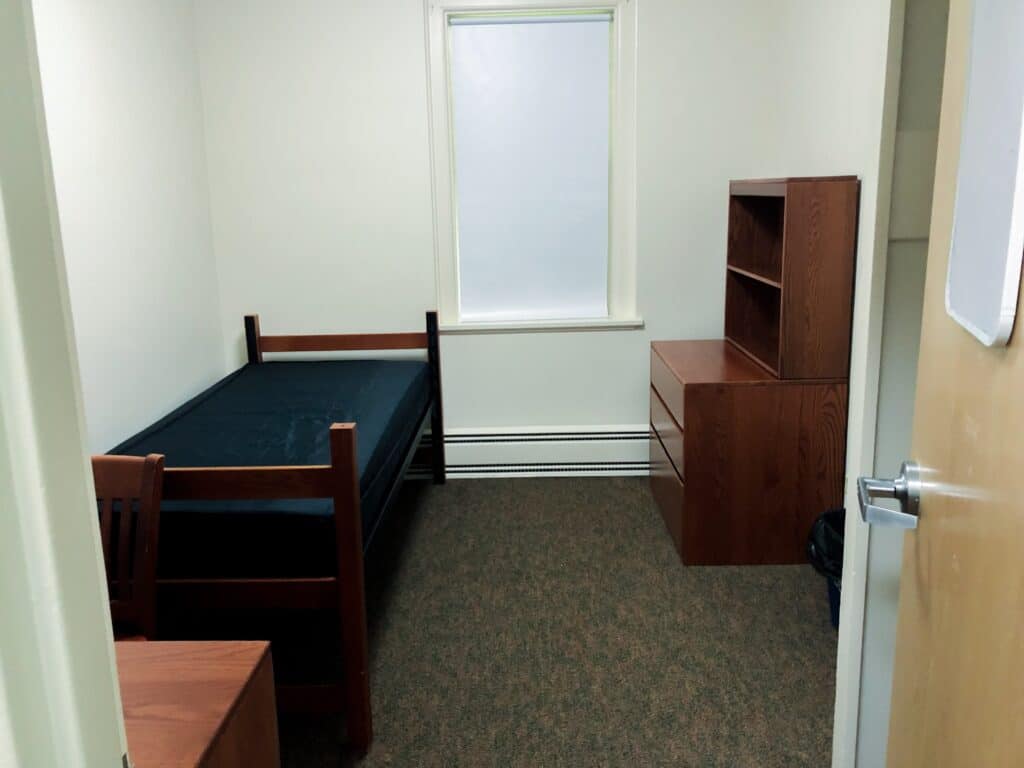 Add lights
Multiple sources of light add depth and dimension to any space, door rooms included. Add some fun string lights to give a warm glow at night.
It's also a good idea to add a couple lamps, too–as the typical florescent lighting that comes standard in most dorm rooms can leave rooms feeling cold and uninviting.
You can also an overhead pendant using a battery operated light, like the one you see in the photo below.
Try a stick on headboard
You've likely heard of peel and stick wallpaper, but what about peel and stick headboards?
If you're looking to seriously elevate the look of a bland, beige dorm room, try a fun stick-on headboard. Fastened to the wall with heavy duty velcro, these headboards make dorm living comfortable and fashionable!
Use a long bedskirt
Dorm beds are typically elevated to allow for extra storage capacity, and while the extra space to store items is completely necessary, it's not always attractive to look at.
These long bedskirts solve the design dilemma perfectly. Can you believe the photo below is a dorm room?
Cover the carpet
We suggest rugs for almost every space of your home, (especially when staging to sell) so it should come as no surprise that we're going to suggest them for dorm rooms, too.
First things first, cover up that ugly carpet or dated tile with a pretty rug. Not only will it help the acoustics of your space, but it will also provide a bit of a homey feeling, too.
Now that you've got your college student moved in, why not tackle your own organization issues? We love these functional command center ideas!
Visited 1,779 times, 1 visit(s) today