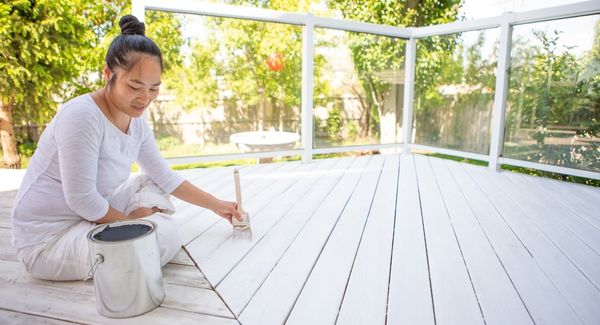 Last Updated on March 28, 2023
As you take time to declutter your closets and pantries, don't forget about home maintenance tasks that need to be taken care of each spring. Rather than wait for something on your home to break, crack or stop working completely, take the time each year to perform an annual tune up on your home's major systems and features.
Repair caulking around your windows
Caulking around windows can break down over time, allowing cold or warm air to enter. Each spring, make sure to check the caulking for tears, cracks or gaps and replace it with new caulk.
Service your HVAC
Rather than wait for your HCAC to go out in the middle of a heat wave, take the time now to have your unit serviced. It's also a good idea to replace your air filters in your home, too.
Declutter your home
Take the spring time to go through closets, drawers and unused rooms to declutter. Make the job go faster by creating 3 piles–keep, donate and toss.
Deep clean your homes major appliances
Show some love to your appliances that worked double time over the holidays by doing a deep clean on your microwave, oven fridge and dishwasher. Here's how to clean your most used household appliances.
Check for any wood rot
Rotted wood is soft to the touch, so simply poke any wood that you're suspect of. Repair any wood rot immediately and make sure to locate the source of the moisture problem too. Often times wood rot happens when water overflows from clogged gutters or bounces up from the ground onto lower parts of your home.
Clean your dryer vent
Clogged dryer vents cause fires! Prevent this fire hazard by cleaning out your dryer vents each spring. Don't worry if you've never tackled this fun little project before, you can easily accomplish this task in an afternoon with these tips:
Pressure wash your home
Grime and dirt from rain and leaves tend to build up on your home's exterior. If left too long, siding can even grow unsightly green mold. Add pressure washing your home to your spring home maintenance list each year to keep your home's exterior looking brand new.
For an affordable DIY option, use a pump sprayer and fill with 1 part bleach to 3 parts water. Rinse the siding first, then spray using the bleach and water solution. Let it sit for 10-15 minutes and rinse with water. If your siding is heavily soiled, repeat the process again.
If you've got years of grime, you might consider renting a pressure washer. For the price of paying someone to pressure wash your home, you could invest in your own pressure washer with today's affordable options.
Check on your roof
Grab a ladder or call a professional to make sure all shingles are in place. Check on the flashing around the chimney or any skylights, as well.
Clean your gutters
Now's the time to clear your gutters of debris from the harsh winter, allowing them to function properly, just in time for spring showers. Make sure all downspouts are turned away from your home, making sure water isn't collecting at the foundation.
Inspect your deck
Unlike composite decks, wood decks require yearly maintenance in order to stay in pristine condition. Once the pollen has stopped, clean your deck with a bleach solution of 1 part bleach, 3 parts water. After the deck is dry, add a fresh coat of stain.
Inspect your basement or crawlspace
Moisture loves to creep into basements or crawl spaces and wreak havoc when we're not paying attention. Left untreated, moisture can quickly create mold or fungus, creating a problem that requires experts to eradicate. Make sure to check out your crawl space and basement each spring for signs of moisture or water damage.
Visited 7,980 times, 1 visit(s) today