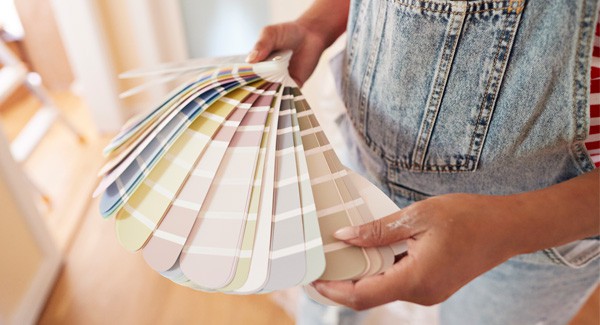 Last Updated on November 8, 2022
Each year in the fall, all the major paint companies announce their color of the year, setting the tone for home design in the coming year. Over the last few years we've seen neutral green-gray hues like October Mist and Evergreen Fog, moody, darker colors like Urbane Bronze and Naval, and soft, subtle tones like First Light named.
Beyond setting the stage for new paint colors to grace the walls of homes everywhere, the paint color trends will be spotted in home decor throughout the next year–popping up in pillows, throws, lamps, furniture and even rugs.
As white has been all the rage over the last few years, home decor enthusiasts and interior designers everywhere have been hoping for a return to color, and well, if this year's color choices are any indication where color trends are heading, it seems 2023 might be the year for color.
Raspberry Blush
In a striking departure from the 2022 color of the year, Benjamin Moore has gone quite dramatic with their 2023 color of the year, announcing Raspberry Blush as next year's 'it' color. This highly saturated hue pairs best with other bold colors and Benjamin Moore has selected a choice group of supporting colors like Starry Night Blue, North Sea Green, and Savannah Green to complement this vibrant chroma.
While this daring color certainly packs a punch in the personality department, it's a much needed reprieve from the all neutral trend we've been experiencing for a while now. Ready to brighten up a space? Try this vibrant coral-red hue in your next project.
Redend Point
In the same vein as Raspberry Blush, but far more subdued, the Sherwin Williams 2023 color of the year, Redend Point, is a warm blushy/beige tone.
This neutral hue can easily work its way into homes across America, as it's more accessible to a wide variety of decor styles and preferences. While Redend Point is technically a beige paint with a warm red/brown undertone, this beautiful color most closely resembles a soft terra cotta color and looks absolutely stunning when paired with earthy greens, soft whites, darker terra cotta hues and even plums.
Blank Canvas
Somewhat out of left field, given the vibrant choices Sherwin Williams and Benjamin Moore made, Behr's 2023 color, Blank Canvas, is a soft, off-white hue.
As the gray paint color trend come to a close in late 2019, ushering in lighter, brighter walls, white hues of all shades have recently become very popular lately.
Seen largely in new construction and remodels, homeowners wanting a fresh start have been gravitating towards white walls, which is why Behr's Blank Canvas is a perfect choice for 2023. Significantly warmer than a true white paint color, Blank Canvas is technically an off-white tone, which works to brighten up spaces without making them feel too sterile.
Need more paint inspiration? Check out trending exterior paint colors.
Visited 5,787 times, 1 visit(s) today