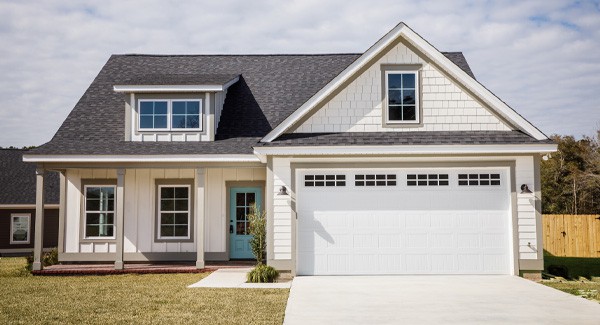 Last Updated on September 29, 2022
If you look around at the new construction going in you already know that white exteriors are very trendy nowadays. But which white paint? And what if want something with a little more color?
Whether you're planning a new build, freshening up 80s brick or just looking for a change, take cues from this list of trending exterior paint colors.
Cloud Cover
If you've been paying attention to the new homes going up, it's no surprise that the first paint color on our list is in the white color family. White interiors and exteriors have been trending for a few years, with experts predicting the color to remain popular for several years to come.
What we like about Cloud Cover is that it's not a stark white; it's got a good bit of creaminess to it, really working to soften the hue. If you like the idea of white but don't quite want something as creamy as Cloud Cover, try Chantilly Lace.
Wickham Gray
Gray will always be a popular choice for interiors and exteriors, although its 10-year popularity wave is crashing just a bit, as homeowners slowly replace it with white. Nonetheless, gray exteriors will always be classic. We like a pretty gray with blue/green undertones like Wickham Gray.
Working with a gray that has both blue and green undertones certainly gives you more leeway in terms of accent colors. Hale Navy accent choices would pair beautifully with this color, as would Newburg Green.
Mossy Oak
Searching for that perfect olive green hue for your craftsman-style home? Check out Benjamin Moore Mossy Oak. This color would work beautifully with creamy grieve colors like Gray Mist or Swiss Coffee.
This beautiful army-toned green also looks really good with muted yellows and reds.
Van Courtland Blue
Who wouldn't love this dusty blue hue? Van Courtland Blue is a perfect shade of blue–not too dark and not too pale. Working beautifully with navy accents like Hale Navy for a tone on tone look or this color even pairs nicely with muted yellows, too.
Opt for a softer white trim color for a more subtle look or choose a bright white for a sharp contrast between house color and trim.
Pashmina
Technically a gray paint color, Pashmina reads more like a really balanced griege. On the opposite end of the color spectrum as another gray color on this list, Wickham Gray, Pashmina actually has a green undertone, making it a very neutral gray to work with.
Pairing really well with softer white trim colors like White Dove and best accentuated by subdued blues, Pashmina is a charming choice for your home's exterior.
Keep reading: The best front door colors and the 2022 paint colors of the year
Visited 509 times, 1 visit(s) today