Last Updated on May 1, 2023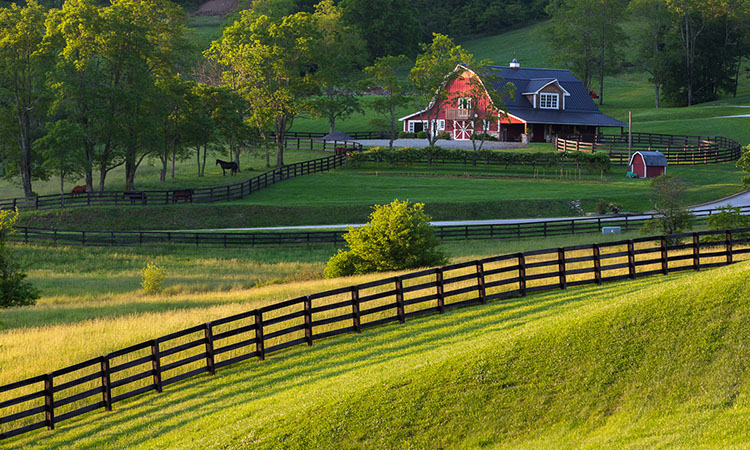 The story of Grand Highlands at Bearwallow Mountain begins and ends with the land itself—land described as "an open meadow placed on a mountaintop" that affords you some of the most spectacular views in Western North Carolina. Land that is nourished and cared for out of respect and obligation. Land that is a billion years in the making and located within one of the most biodiverse ecosystems on the planet.
There are many ways to Live Abundantly in Grand Highlands. But first and foremost is living within nature. Here are five ways to experience nature in Grand Highlands at Bearwallow Mountain.
Hit the trails
Miles of trails around Grand Highlands pass through forest and meadows, past barns and horse pastures, and wind along mountain ridges. Two adjacent trailheads are part of the acclaimed Hickory Nut Gorge State Trail system: Trombatore Trail and Bearwallow Mountain Trail, which connects to the Wildcat Rock Trail. Climb the high mountain ridge, and you'll be rewarded with breathtaking layers of mountains stretching to the horizon in every direction. There's no bad season for enjoying this land. Eventually, these trails are planned to connect to a 20-mile Upper Hickory Nut Gorge Trail loop. 
Take a seat
The newly constructed, 12,000-square-foot Grand Highlands Clubhouse is the place to be for nearly every activity. Designed in the style of a traditional mountain lodge, it's a natural gathering spot for taking in the panoramic mountain views. Expansive decks and verandas, along with three outdoor fire pits, mean you can enjoy the outdoors every day of the year. Inside, the spacious Summit Pub Room is designed for gathering. Its massive bar features stools strategically positioned to maximize your viewing pleasure of the sweeping mountain vistas to the west.
Walk the dog
In no time at all, you'll get to know your four-legged neighbors just as well as your two-legged ones. Grand Highlands understands the need to have a safe place for property owners' dogs to run and play. The double-gated Grand Highlands Dog Park has a five-foot-high fence and serves as the perfect place for your pets to enjoy the companionship of other dogs and stay happy and healthy. The dog park is conveniently located adjacent to the community clubhouse with ample parking. It also features tree-shaded benches where owners can comfortably watch their dogs and swap stories with other pet lovers.
Enjoy the barn
Looking for a bucolic picnic spot to share a bottle of wine at sunset? Or a quiet place to enjoy the morning paper while glancing up to take in the big views? How about a spot for the kids to run around and enjoy yard games? From impromptu afternoons with friends to annual "big tent" community events, it's easy to create memories at the Grand Highlands Community Barn. The opportunities are endless at this inviting spot and equestrian facility—and they're exclusively yours as an owner at Grand Highlands.
Stay at home
WNC is known for its nutrient-rich soil and unique climate. That's why organizations working with generous landowners have focused so heavily on local conservation efforts. As a result, you don't have to hike miles to see migrating birds, moths, butterflies, deer, wild turkey, and a variety of native flora. All you need to do is look out your window at the landscape around you! Large tracts of surrounding land have been conserved to protect these natural wonders. It's why living in Grand Highlands feels like living in a national park.
Live Abundantly in Grand Highlands
The community of Grand Highlands is just that: a community. Homeowners here share a communal spirit and yearning to embrace a lifestyle on one's own terms. This is a community that comes together in celebration, yet can also enjoy peace and solitude. Residents enjoy full access to a welcoming clubhouse with expansive verandas. They also enjoy events (big and small) at the community barn. And, as the community grows with more residents, Grand Highlands is committed to evolving together, as a community. No wonder it's been named "Best of the Best" Mountain Communities by Ideal Living Magazine for the last four years in a row.
Does that sound like the perfect lifestyle for you? Find your dream home in Grand Highlands now!
Visited 18 times, 1 visit(s) today