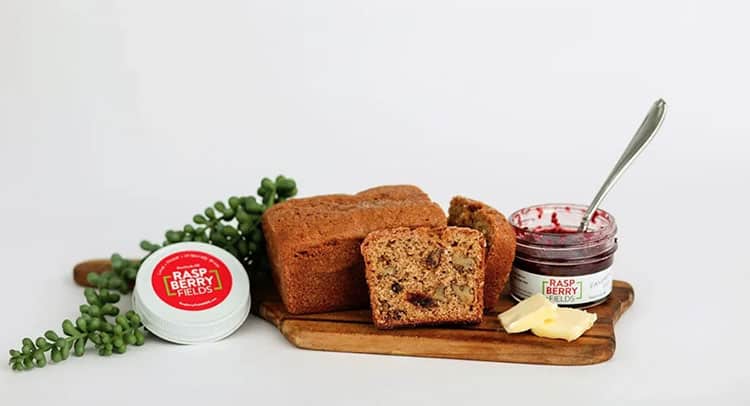 Last Updated on April 5, 2023
Enjoy one of this month's FREE local gifts from your Allen Tate/Beverly-Hanks Realtor®!
Asheville: A round of mini golf at Tropical Gardens Mini Golf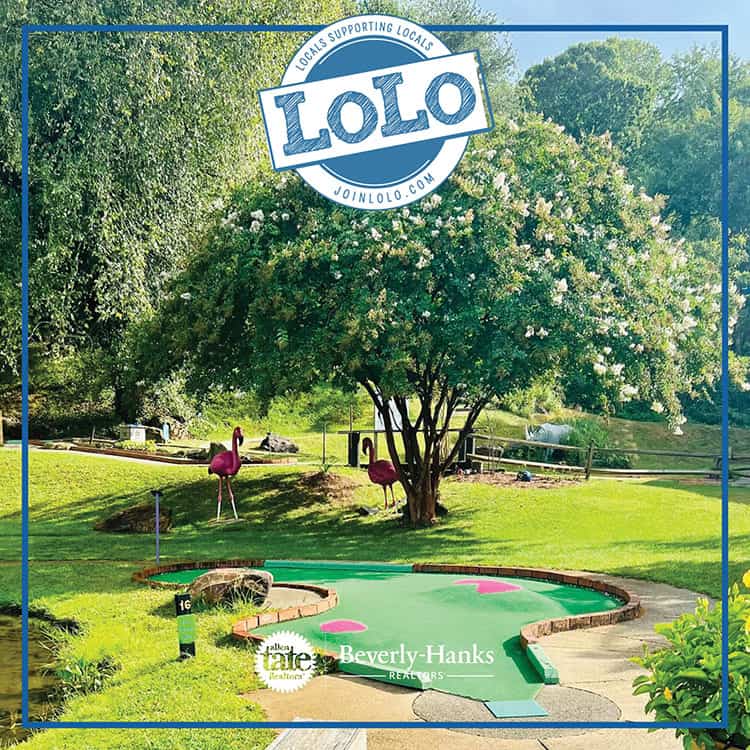 Tropical Gardens has been Asheville's ideal destination for family fun since 1991. Their unique jungle-themed 18-hole miniature golf course is one of Asheville's must-see places. Enjoy a course full of adventure and shaded paths, and featuring exotic animals, waterfalls, and even a volcano! No matter your age, you are sure to enjoy testing your golf skills on this unique and challenging course. Join the Frequent Golfer Club to receive a free game after every ten.
Put your putt-putt skills to the test with one adult round of mini golf. View the offer.
SPRING HOURS:
Daily: 12:00–6:00 PM
CONTACT:
956 Patton Avenue, Asheville | (828) 252-2207 | minigolftropicalgardens.com
Brevard: An appetizer at 185 King Street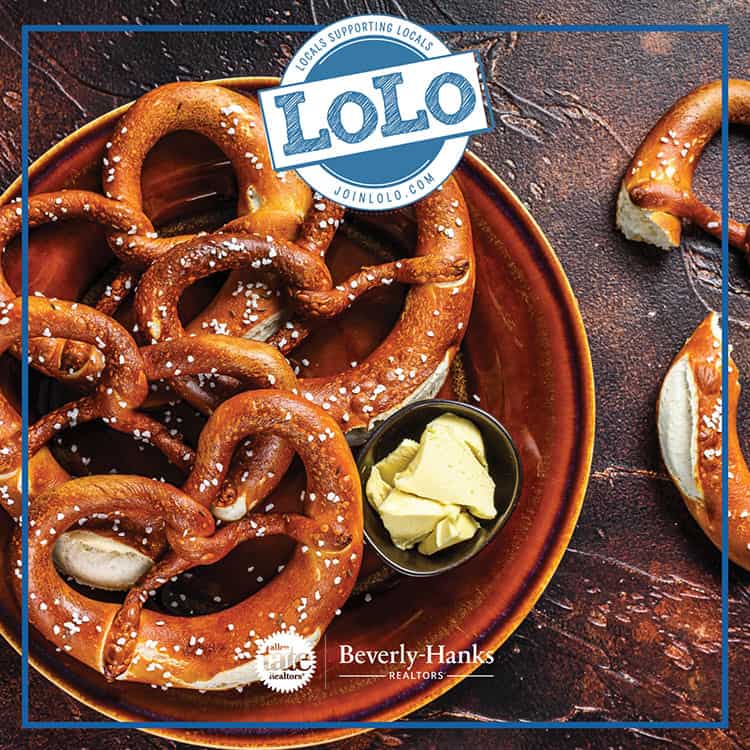 185 King Street combines music and great food in one welcoming venue in downtown Brevard. The business opened in 2009 as the first entertainment business in Brevard's Lumberyard Arts District with a mission of supporting local musicians. Now, a decade later, the district is flourishing and the business continues their original mission of supporting local artists. Most nights, you'll find a new artist or band sharing their favorite tunes while the kitchen prepares classic all-American appetizers and sandwiches. Check out this unique spot and enjoy a snack on us.
Enjoy your choice between a jumbo Bavarian pretzel served with beer mustard or an order of chicken tenders served with fries. *Gift does NOT include cover charge at the door in the case of an event.* View the offer.
KITCHEN HOURS:
Sunday: 12:00–8:00 PM
Monday: CLOSED
Tuesday: 4:00–8:00 PM
Wednesday–Thursday: 4:00–9:00 PM
Friday: 3:00–9:00 PM
Saturday: 12:00–9:00 PM
CONTACT:
185 King Street, Brevard | (828) 877-1850 | 185kingst.com 
Hendersonville: A sweet treat at Mini Batch Bakery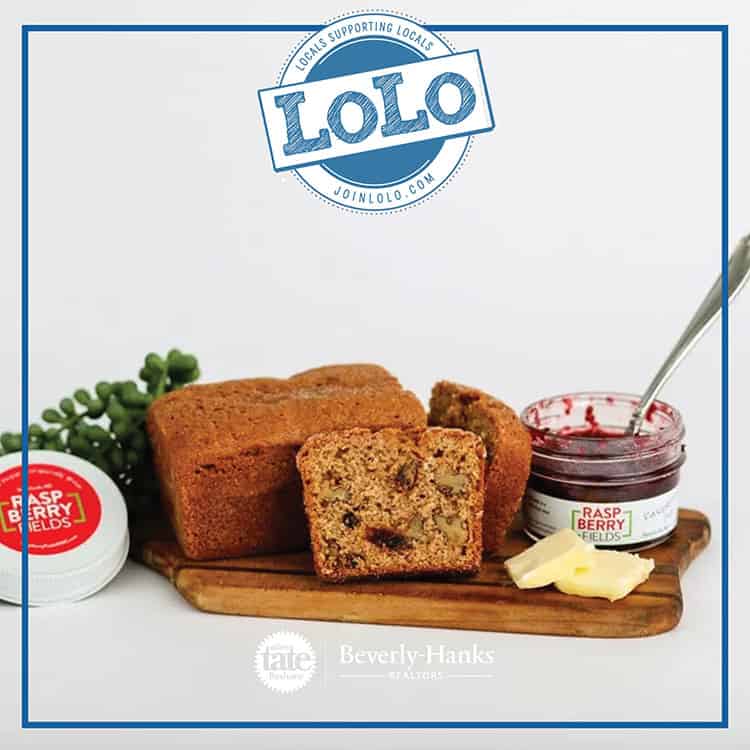 Mini Batch Bakery tempts your sweet tooth with an assortment of fresh-made treats. The bakery was founded by the owners of the local farm Raspberry Fields. Long-time vendors of baked goods at many of Hendersonville's Farmers Markets, the Fields family opened their own bakery in the 7th Avenue Historic District of Hendersonville in 2022. At this permanent location, you can purchase a huge selection of tasty baked goods crafted in small batches, including sourdough bread, cakes, pies, cookies, cheesecakes, muffins, and so much more. Gluten-free and vegan options are available.
Cure your sweet tooth craving with some local goodness; enjoy a Friendship Loaf and a gluten-free cookie. View the offer. 
HOURS:
Wednesday–Thursday: 7:00 AM–2:00 PM
Friday–Saturday: 7:00 AM–4:00 PM
Sunday: 8:00 AM–2:00 PM
Monday–Tuesday: CLOSED
CONTACT:
404 7th Avenue E, Hendersonville | (828) 595-4895 | minibatchbakery.com
Waynesville: A bag of popcorn at 828 Market on Main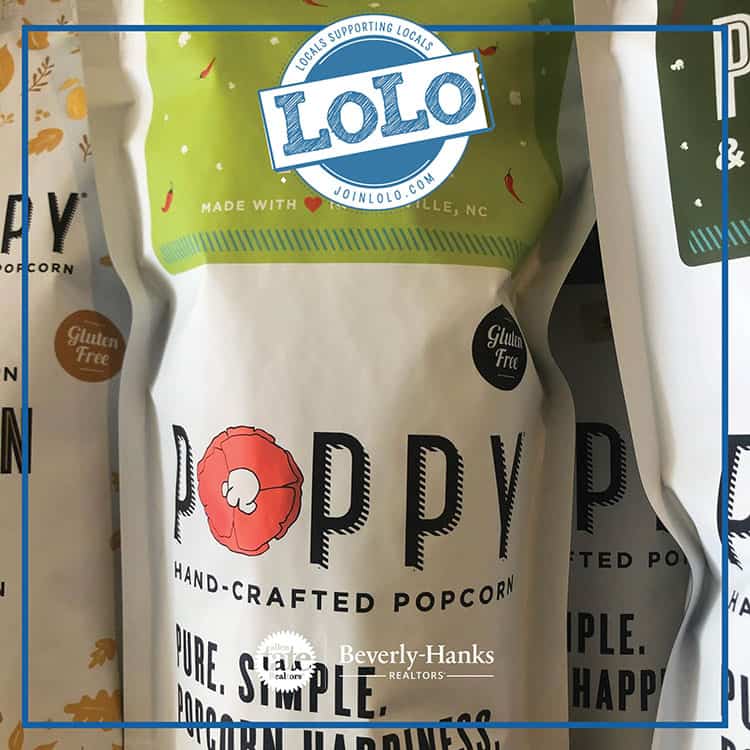 At 828 Market on Main, you'll find everything you need. This shop is a tasty pit-stop in downtown Waynesville thanks to their assortment of local foodie finds. They carry locally made treats, grab-and-go foods, craft beer, and premium wines, as well as prepared foods, jewelry, candles, soaps, hats, and more. Take it home or stay at the market and enjoy it there! There's outdoor seating for your convenience.
Pop in for the perfect snack; pick out a single bag of Poppy Popcorn to enjoy. View the offer. 
HOURS:
Monday–Tuesday: 11:00 AM–6:00 PM
Wednesday: 11:00 AM–5:00 PM
Thursday–Saturday: 11:00 AM–6:00 PM
Sunday: 12:00–5:00 PM
CONTACT:
180 N Main Street, Waynesville | (828) 246-9900 | facebook.com/828MarketOnMain 
Are you new to LoLo?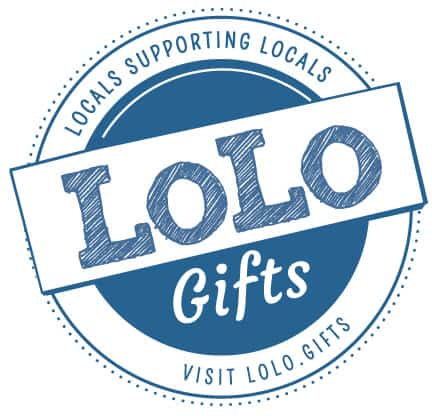 Here's the deal: Allen Tate/Beverly-Hanks partners each month with LoLo Gifts to send you cool products from independently owned businesses in the community. They are FREE to you, and the business gets paid, too.
Our Thank Local program is our way of introducing you to the many local businesses across the Western North Carolina region. Simply by being on your Allen Tate/Beverly-Hanks agent's email list, you'll receive exclusive LoLo offers from some of our favorite merchants, restaurants, nonprofits, and more. Check your email at the beginning of the month for a gift in your local market.
Not on the Allen Tate/Beverly-Hanks email list? Ask your Allen Tate/Beverly-Hanks agent for more information, or sign up for exclusive local offers each month.
Visited 87 times, 1 visit(s) today