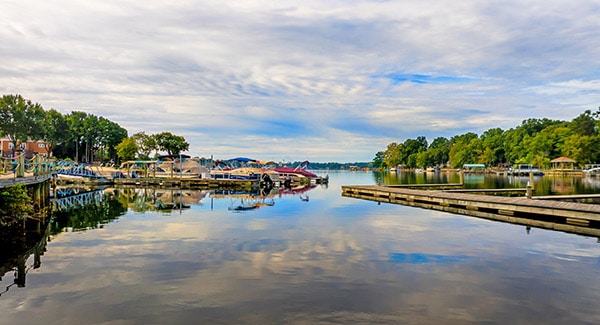 Last Updated on April 6, 2023
Not everyone wants to spend their days living on a boat. But just about everyone wants to live on the water—or as close to it as possible. Luckily, that's easy to do around Lake Norman because the surrounding communities offer amenities for every taste and budget.
Here's our guide to the nine most popular communities around Lake Norman in North Carolina.
Cornelius
Dating back to the 1890s, Cornelius became a lakeside community with 70 miles of waterfront property after the Catawba River was dammed to create Lake Norman. Today, this tight-knit lakeside town enjoys a serene life tucked away amongst a beautiful setting. Life here is full of adventure and activity centered around various watersports on Lake Norman. There are also plenty of places for outdoor enthusiasts to go hiking, jogging, or biking nearby. And golfers love having access to many local courses, including the professional 18-hole golf courses at The Peninsula Club and Birkdale Golf Club.
Find homes for sale in Cornelius.
Davidson
The town of Davidson was originally called Davidson College, as it was first and foremost a college town. In the 1970s, residents fought against proposed large developments, which kept the town small. Today, this lovely lake town remains heavily influenced by academia and embraces diversity, healthy living, and conscious community standards. Popular attractions in and around the tight-knit and connected community include the Davidson Arboretum, Fisher Farm, and Birkdale Village. Main Street in Davidson's charming downtown area has also become well known as a North Carolina foodie destination.
Find homes for sale in Davidson.
Denver
Denver is a quiet, unincorporated community of just under 3,000 residents on the west shore of Lake Norman. It boasts lakefront properties, a small-town feel, and plenty of green space—notably Beatty's Ford Park. Residents take advantage of convenient access to an endless supply of nearby recreational opportunities, as well as the amenities and attractions of Charlotte. Denver hosts a number of festivals and events each year, including the Strawberry Festival, Denver Days, and a Christmas Parade. The area has been experiencing steady growth from those pursuing lakefront living with a lower price tag.
Find homes for sale in Denver.
Huntersville
Huntersville is a popular residential community that sits perfectly between Lake Norman and the city of Charlotte. This large town hosts plenty of opportunities for outdoor recreation while maintaining a proximity to big-city conveniences. Since 1990, the population of Huntersville has increased by 6,000 percent, jumping from 1,000 to more than 60,000 today. Life here provides a pleasant mix of outdoor recreation and bustling city living. Huntersville's Latta Plantation Nature Preserve is the largest green space in the county. The preserve hosts hiking and horse trails, boating and fishing access, and the Carolina Raptor Center.
Find homes for sale in Huntersville.
Mooresville
The desirable town of Mooresville boasts a charming downtown, opportunities for outdoor recreation, and top-notch schools. Nicknamed "Race City USA," Mooresville is home to NASCAR racing teams and drivers, and hosts two automotive museums. Textile mills played a major role in Mooresville's economic growth, and it served as a mill town for over a century. Today, the town's popularity comes from its proximity to I-77 and the many outdoor opportunities surrounding Lake Norman. Mooresville's downtown Historic District is lined with historic buildings hosting unique locally owned shops, eateries, and other small businesses.
Find homes for sale in Mooresville.
Sherrills Ford
Sherrills Ford is an unincorporated community of around 1,000 residents on Lake Norman's northwestern side. Its name dates back to 1747, when it served as the point at which noted pioneer Adam Sherrill forded the Catawba River. Many of Sherrill's descendants still reside in the community. Sherrills Ford is also the hometown of WWE professional wrestler and former strongman Braun Strowman. In the last decade, Sherrills Ford has been the site of several new communities and construction projects, bringing additional residents to this beautiful lakefront area.
Find homes for sale in Sherrills Ford.
Terrell
Terrell is a waterfront community on Lake Norman of around 1,000 residents. The community is bisected by Highway 150, which connects it to the lake's eastern side. With a history dating back to the 1890s, the Terrell Historic District is listed in the National Register of Historic Places. Today, Terrell is home to many lake-centric activities and businesses. Framed by Lake Norman to the east and as-yet undeveloped farmland to the west, Terrell is a bucolic option for lake residents looking for peace and quietude. And yet, you're just minutes to all the shopping, dining, and entertainment options of the Mooresville and Sherrills Ford area.
Find homes for sale in Terrell.
Troutman
Troutman has a sprawling and disjointed incorporated area, but its current community of 3,700 has long been tight knit. A recent influx of young homeowners has infused the town with progressive energy. There are a number of nearby parks, including Troutman Park and Lake Norman State Park, with a number of waterfront trails. Zootastic Park is a family-owned zoo with a drive through safari and many educational programs. When completed, approved residential developments will increase the town's population to more than 11,000.
Find homes for sale in Troutman.
Westport
Located in Lincoln County, Westport offers the best in waterfront living. The tree-lined Westport Golf Club is one of the "must play" courses in the Charlotte area. The course is encircled by Westport Club, a community offering townhomes, villas, and single-family homes. The community of Westport takes its name from its location on the west side of Lake Norman. Its proximity to NC Highway 16 makes it convenient to travel to Hickory, NC or Charlotte's popular NODA district.
Find homes for sale in Westport.
Find your Lake Norman dream home today!
With 520 miles of shoreline, Lake Norman is the largest man-made body of water in North Carolina and is often called the "Inland Sea". The Lake Norman area provides laid-back waterfront living and endless options for outdoor recreation just miles from Uptown Charlotte. The communities on the west side of the lake have smaller populations and provide a slower pace of life, while the eastern communities are larger with more local attractions and nearby amenities.
Once an agricultural region, the Lake Norman area experienced substantial growth after the construction of the lake between 1959 and 1964. The lake is an ideal place for boating, fishing, swimming and other water sports. There are a number of parks surrounding the lake, which provide a public setting to enjoy the lake, as well as other desirable amenities like sports facilities, playgrounds, and picnic areas.
Does that sound like the perfect lifestyle for you? Find homes in Lake Norman now!
Visited 1,033 times, 1 visit(s) today