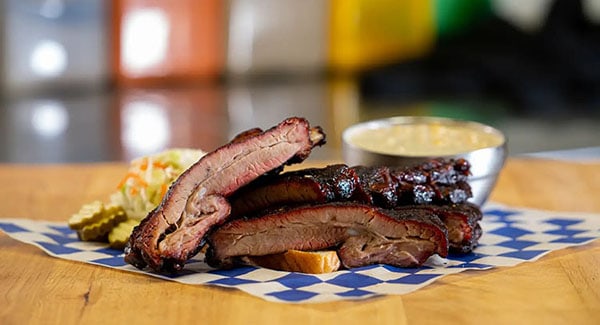 Last Updated on April 4, 2023
If you eat meat, we bet you've come to love the slow-cooked wonder that is mountain barbecue. Smoked all day over hardwoods, mountain 'cue is tender, juicy, and full of natural flavors.
Are you drooling yet?
There are amazing BBQ joints all over Western North Carolina, and Brevard is no exception. Here are our top four picks for the most delicious BBQ in Brevard, NC.
Corky's Dawg House
They make it abundantly clear, right on their menu: "No Southern restaurant is truly complete without an array of options for barbecue lovers." So to that end, Corky's delivers. Whether you're in the mood for barbecued ribs or chicken—or both!—Corky's serves up some of the most delectable BBQ you've ever feasted on. Enjoy your main with the other Southern staple: sides! In addition to loaded tots or fries, you have the option of mac 'n' cheese, fried brussel sprouts, and more. Don't forget to save room for one of Corky's specialty shakes!
1910 Asheville Highway, Brevard | (828) 966-7081 | corkysdawghouse.com
Hawg Wild BBQ
Don and Sandy Brown opened Hawg Wild BBQ Restaurant and Catering in 1997. It started as a neighborhood gathering place at the entrance of the Pisgah National Forest for great barbecue, fun, and life-long memories. The locally owned and operated restaurant specializes in Eastern and Western-style BBQ pork, in addition to slow-smoked chicken, brisket, and ribs. Now, the venue also manages dinner parties, banquets, and catering for any type of event. Mountain bikers, hikers, campers, local patrons, tourists, and leaf lookers all enjoy a visit that is both satisfying and comfortable.
91 Pisgah Highway, Pisgah Forest | (828) 877-4404 | hawgwild-bbq.com
Mayberry's
Mayberry's serves breakfast, lunch, and dinner like grandma used to make, but with an unexpected twist. Everything is made in house, including their pulled pork. It's slowly braised overnight until it is tender and delicious. Try it on their Sweet Hot BBQ sandwich at lunch, or the BBQ platter served at dinner. (Apple slaw makes an appearance in both dishes.) And if you're craving a twist on a childhood classic, we suggest the beef BBQ grilled cheese served on Texas toast. If you have room, their homemade desserts are the perfect ending to a hearty meal. You won't regret it!
30 W Main Street, Brevard | (828) 862-8646 | mayberrys.co
Smoke on BBQ
If you fell in love with the Blue Smoke BBQ truck parked at Headwaters Outfitters in Rosman circa 2015, we have some great news for you! Now located at the bottom of S Broad Street, Smoke on BBQ is a favorite among Brevard locals. From hot chicken sandwiches to pulled pork tacos, they combine the best of old and new Southern cuisine. But many prefer the rib plates, complete with classic sides and both sweet BBQ and mustard sauces. Especially because all their barbecue sauces, marinades, and seasonings are made in house. Go ahead and get a little messy—we won't tell!
585 S Caldwell Street, Brevard | (828) 552-4584 | eatsmokeonbbq.com
Fill your belly with BBQ and your soul in Brevard, NC!
Brevard, NC is a great place to fill your belly and your soul. The town has distinguished itself as an epicenter for outdoor adventures, small businesses, education, art, and music. Tucked along the edge of the Pisgah National Forest, Brevard is a hotspot for eclectic in-town living and big mountain views. Downtown is a vibrant and walkable hub of independent shops, boutiques, galleries, pubs, and eateries. And Brevard is rich in year-round events and festivals.
Does that sound like the perfect lifestyle for you? Find your dream home in Brevard now!
Photo from Smoke on BBQ
Visited 996 times, 1 visit(s) today