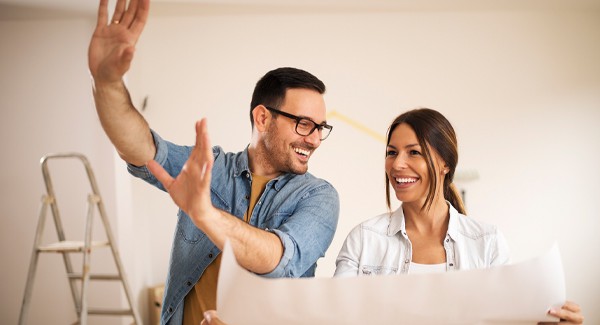 Last Updated on April 4, 2023
With inventory challenges still at play in the real escape landscape we're currently in, you may find it easier to buy a property that needs a little love. Allowing you to pay less upfront costs, while working towards the long-term goal.  
However, going the fixer upper route does not always mean the cheaper route. It may be less expensive initially, but cost you more down the road.
And let us just be honest, it is not as easy as everyone on HGTV makes it look. It takes lots of work and preparation, but often worth it upon completion.  
The process of going from a home that needs a little TLC to a real estate beauty that could be a great first home, or that perfect investment property, can be such a rewarding process.
And to that end, we've created a guide to help you make the best decision when purchasing. The goal is to be proactive on the things you can control prior to purchase. The remodeling process is full of unexpected surprises, no matter how big or small your project is. 
Budgeting/financing
This is one of the most important items to zone in on. It is important to have a definite number in mind when fixing a property. Some people use a home renovation mortgage, while others pay cash.
A few well-known programs for mortgage options are:
Fannie Mae Homestyle Loans
Freddie Mac Choice Renovation Loans
Whichever option works best for you, remember that you will probably need to invest more. It is inevitable that surprise repairs will occur in the remodeling process.
Experts recommend having an additional five to ten thousand dollars as cushion for fixer uppers.
Prepare as best you can when estimating the costs of repairs, and be ready to invest more as the need arises, because it will.
Location, location, location
We know you have heard this one before. The location of your potential fixer upper can be detrimental to the profitability of it long term. A house right near a landfill, or on the busiest street in town with little or no parking may not be the best option.
You want to seek out a property in a community that is thriving or on the verge of doing so. Look out for locations where well-known employers are planning to build, or where schools have great educational rankings.
Look at the history of the value of homes in that area, are they increasing or decreasing? Appreciation is the goal. Often, fixer uppers are houses that no one wants now, and become the home everyone wants later. Do your research. It will pay off later.
Floor plan/layout
Before you start searching for your property, make sure you have a list of your must-haves. A lot of people purchase fixer uppers to live in themselves. If you know your minimum requirement is at least 3 bedrooms and 2 bathrooms, make note of that.
Need a nice sized yard for your family? Keep things like this in mind. No need to waste time on properties that do not make the non-negotiable list. If you are remodeling this as an investment property, keep the amenities in mind, as this will make the home more marketable and will increase your profit margin.
Condition of the home/inspections
The name says it all. Fixer uppers need things repaired or fixed. Some repairs will cost less than others. There are cosmetic issues, things like painting, wallpaper, adding trim, or changing light switches.
Then we get into the more costly repairs like HVAC replacement, reroofing, or complete gut jobs of large spaces like bathrooms and kitchens.
We always recommend an inspection on home purchases, but especially in this case. You should have a general home inspection completed on the property just as you would any other purchase.
The most common inspections that we recommend on a fixer upper are foundation and roof inspections, the HVAC inspection, and a pest inspection. We also recommend having the electrical and plumbing systems inspected as well.
Every fixer upper has unique needs and will require research based on the findings when reviewing the property for potential purchase.
Keep reading: Are you getting the right home inspection?
Estimate renovation costs
After your inspections and/or quotes with contractors, you can now gather a cost estimate on the repairs.
If you decide to go the DIY route, you will need to gather information on costs of material based on repairs needed for the home.
We recommend breaking each project out separately, I.e., bathroom, kitchen, living room, etc. This will allow you to see how much each project costs and estimate the costs of materials based on each project's needs.
If you take the DIY route, make sure you reach out to your municipal government officials to confirm there are no permits needed to do the work you intend. 
Here's the latest cost vs. value report to help you get a ballpark estimate for how much big ticket renovations will cost you.
Hire the right team
We know that going the DIY route can save a lot of money, however hiring contractors will often save time, and more money from potential mistakes. If you decide to hire contractors, research them thoroughly.
Make sure you confirm they are licensed with local agencies. It is also a great idea to review their previous work also. Ask for photos of completed work. Online reviews will often provide insight from previous customers.
We even recommend asking for references, and calling them!
The goal is to get the best team for the job, and avoid unnecessary headaches in the process of remodeling your home.
Fixer upper home projects are a lot of work but can also be a lot of fun. Prepare for this journey, pack your research and your patience. This process requires planning and persistence. Be realistic about whether you are ready to take on this project, and once you've made up your mind, take the leap.
Visited 1,398 times, 1 visit(s) today