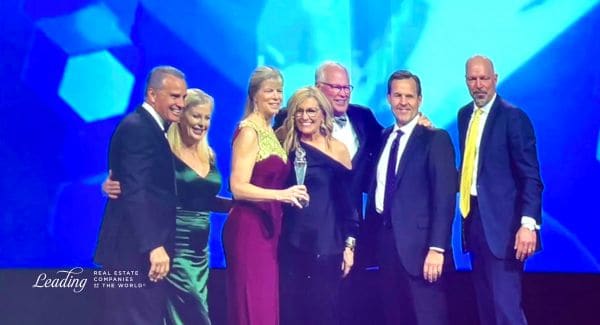 Last Updated on April 3, 2023
Carolinas' #1 real estate company receives 11th Diamond Award and 23rd Crown of Excellence
The Allen Tate Companies took top honors at the 2023 Leading Real Estate Companies of the World® (LeadingRE) Annual Conference, held March 27-30, 2023, at the Wynn Las Vegas.
Allen Tate received the organization's coveted Diamond Award, the highest member honor, which is based on a broad range of contributions and participation in network activities. Allen Tate has won the Diamond Award 11 times in the 18-year history of the award – more than any other LeadingRE broker.
Allen Tate received the Crown of Excellence Award for the 23rd time (in 24 years) for companies with more than 500 Realtors. The Crown is awarded to the member firm with the highest point total earned from performance ranking within their company-size category.
Allen Tate was also honored with the Top 5 Closing Award, and was named to the Million Dollar Club, recognizing member companies who send two or more outgoing closed referrals with a sales price of $1 million or greater and the Global Alliance Club, recognizing companies for one or more closed referrals across country borders.
"LeadingRE Conference Week is always a great opportunity to network with our colleagues and celebrate the power of independents," said Pat Riley, president and CEO, Allen Tate Companies.
"Congratulations to all of the LeadingRE members who were honored last week. We are so fortunate to be in the company of such an accomplished group," said Gary Scott, president, Allen Tate Realtors®.
"It was a terrific learning opportunity and of course, we were pleased to receive the Diamond and the Crown. Thank you to our Realtors, Relocation team members, clients and LeadingRE colleagues. Our excellence would not be possible without you," said DJ Stephan, president, Allen Tate Relocation and Corporate Services.
Other Allen Tate and Allen Tate/Beverly-Hanks leaders attending the conference included:
• Neal Hanks, President, Allen Tate/Beverly-Hanks Realtors
• Amy Ingram, Director of Relocation and Business Development, Allen Tate/Beverly Hanks Realtors
• Tiffany Oris, Vice President of Marketing, Allen Tate Companies
• Stephanie Riley, Chief Marketing Officer, Allen Tate Companies
Allen Tate Companies is a founding member of LeadingRE, the largest network of 550 premier locally branded real estate firms with 4,700 offices in 70 countries producing more than 1.2 million annual home transactions. LeadingRE provides a broad range of brokerage services to its affiliates, including lead generation, cross-market referrals, branding support, luxury marketing, online exposure, technology systems, and industry-leading professional development.
About Allen Tate Companies
Allen Tate Companies is the Carolinas' leading real estate company, based on closed transaction sides, with 71 offices and more than 2,100 Realtors® in the Charlotte, Triad, Triangle, High Country, Highlands/Cashiers and Asheville/Mountain regions of North Carolina and the Upstate region of South Carolina. Allen Tate provides real estate, mortgage, insurance, and relocation services throughout the entire homeownership life cycle. We are committed to providing and protecting quality of life for the communities we serve. For more information, visit allentate.com.
About Howard Hanna
The Hanna Family of Companies proudly provide real estate, title, insurance, and mortgage services to clients across 13 states. As the largest family-owned and -operated real estate brokerage in the United States, this full-service real estate company has more than 500 offices and 15,000 sales associates and staff, including many of the industry's top-producing real estate, title, mortgage, and insurance agents. For more information, visit www.HowardHanna.com.
Visited 910 times, 1 visit(s) today