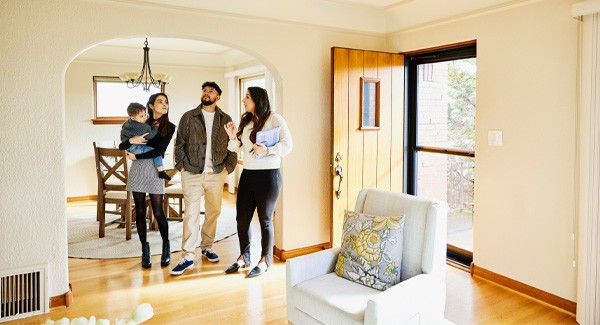 Last Updated on September 6, 2022
Making an offer on a home isn't the final stage before you sign your name on the dotted line— next comes scheduling the home inspection.
And while walking through the home can give you a good idea about how the house can function for your needs and preferences, you'll need to do a bit more digging to make sure the home's structural, foundational and electrical framework is solid.
What is a home inspection?
According to the American Society of Home inspectors, a home inspection is "an objective visual examination of the physical structure and systems of a house, from the roof to the foundation"
Who is responsible for finding a home inspector?
As the party responsible for purchasing a home, it's in your best interest to find a reputable and licensed home inspector to conduct a thorough inspection of your home. Your realtor will likely have an inspector they can refer you to, but it's wise to do your homework and hire someone you trust to do a good job.
How to find a home inspector
A novice or unskilled home inspector might fail to point out your home's potential pitfalls, and could wind up costing you thousands down the road. Here's what to look for when hiring a home inspector:
They should be licensed and insured. Did you know that not every state requires home inspectors to be licensed? Don't assume that just because they've got the title they're licensed. The American Society of Home Inspectors holds their home inspectors to rigorous standards and allows future homeowners to search for home inspectors in their database.
Ask for referrals. Recommendations from past clients who were satisfied with the quality of work the home inspector performed are worth their weight in gold. Don't hesitate to go the extra mile and speak to references.
Ask to see a sample inspection report. Viewing an inspection report is a great way to get a feel for how comprehensive of a job your potential home inspector carries out.
A home inspector's role in your home purchase process is huge. Make sure you hire someone who is licensed, insured and has the knowledge to thoroughly investigate your home.
What the inspector should look for?
A thorough home inspection will include the inspection of your home's major systems, structural, foundational and electrical framework. Here's an exhaustive list of items your home inspector should examine.
Home Inspection Checklist
Structural and foundation components
Everything pertaining to the structural integrity of your home will be evaluated. Your home's structural components include the roof, crawlspace, foundation, attic, walls, ceilings and floors.
Exterior and property
Your home's exterior surface is inspected for decay, and any issues related to age of paint or material used.The inspector should also identify any settlement issues, your home may have.
Additionally, the windows are inspected, and your inspector will work to call out any caulking, sill or cracks. Your home's doors, garage doors, gutters, deck, and patio will also be evaluated, too.
Electrical
Inspectors will literally flip on every light, examine every outlet and make sure your home's electrical and wiring systems are in good working order.

Plumbing
Your new home's water heater will get a once over, as well as the water pump and temperature of the water. Additionally, any leaks will be reported and the pipes, drains and waste systems are checked.
Bathroom
Expect your inspector to turn on all faucets to make sure water is coming out at the correct pressure and water is draining appropriately. They'll also flush your toliet, too, to make sure it's working properly.
Kitchen
Your inspector will spend some time in your kitchen, taking care to ensure ever major appliance is functioning well. Additionally, they'll make sure the outlets in the kitchen are safe, check for links under your kitchen sink and even examine all cabinetry and drawers.
A/C and heating
The home's air conditioner and heating system will be evaluated, as well as your fireplace and chimney. Inspectors will make sure the home can properly heat and cool the house, evaluate the ductwork, and filters.
Who should attend the home inspection?
Although it's certainly not required to attend the home inspection, it's in your best interest. Your Realtor is required to attend the home inspection to let the inspector in and must be present during the entire inspection.
Use the home inspection to get better acquainted with your new home, so to speak. Don't feel like you need to follow the inspector into the attic, but do be present so that they can talk to you about any issues or show you how to use some of the home's systems.
How much does a home inspection cost?
The Department of Housing and Urban Development (HUD) estimates that on average, you'll be on the hook for $300-$500 for a home inspection.
Of course, you'll pay more for an experienced home inspector, versus someone just starting out. LIkewise, if you're purchasing a larger than average-sized home, you can expect the cost to increase. Remember, a home inspection is very important— so don't pick your inspector on price alone!
Who pays for a home inspection?
Unless otherwise agreed upon, the buyer will pay for the home inspection. Obtaining a home inspection is in the buyer's best interest, so it makes complete sense that a buyer would be financially responsible.
The cost of a home inspection is not part of your closing costs! You will be responsible for paying the home inspector directly at the conclusion of the home inspection.
What a home inspection doesn't cover
An inspector will inspect what they can see. So if you've got a pipe about to burst due to faulty plumbing, your inspector won't catch that. Don't expect your inspector to tear away walls, ceilings or floor coverings.
Here's a list of other common items that won't be covered on your inspection report:
Swimming pools and hot tubs

Appliances

Pest control issues

Electrical outlets or panels that are blocked with heavy furniture

Well and septic system

Chimney and fireplace

Exterior grounds
It's important to remember that a home inspection is visible, so if the inspector can't see it, they can't inspect it. As a homeowner, you can do your part by making sure heavy furniture is moved away from the walls, so electrical issues can be observed.
Keep in mind too, that home inspectors aren't experts in every field. If you're concerned about a swimming pool or an old chimney or even plumbing issues, your best bet is to call in a specialist.
What happens after you get the home inspection report back?
Soon after your inspection is performed, you'll receive a lengthy report from your home inspector.
It's a good idea to review the report once, and then schedule a meeting or phone call with your Realtor to go over the inspector's findings.
You'll use the findings from your home inspection report to make some decisions. Will you walk away due to serious issues? Perhaps the issues aren't too serious, but you would like them to be addressed by the seller before closing day? You might even request an allowance for big-ticket items that you'll fix after you move in.
Work with your Realtor on this endeavor. Trust their expertise on what's reasonable vs. what isn't. For example, just because you don't like the color of the front door, doesn't mean it's reasonable to ask the seller to repaint. Focus on big issues, not small cosmetic items.
Once you've decided how you'd like to move forward, your Realtor will take requests to the seller.
Can you request a home inspection before you make an offer?
While home inspections are typically conducted after an offer is made, prospective buyers can benefit by having a home inspection done before they put in a bid. Knowing the results of the inspection early can help solidify your decision to buy the home and make you feel confident about crafting a strong offer.
If you are competing against others for that dream home, having an inspection done early can set your offer apart. If you are satisfied with the inspection results, you may be able to submit an offer without an inspection contingency. This reassures the seller that your offer price is solid and likely won't be reduced during negotiations.
Some sellers may not allow early inspections because if they are alerted to certain problems, they may be obligated to divulge them to others going forward. But many sellers are open to the idea of an early inspection because it gives them a heads up of potential problems that will likely be discovered regardless.
Visited 345 times, 1 visit(s) today