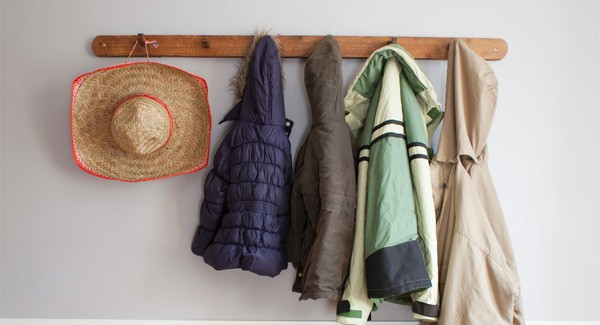 Last Updated on September 8, 2022
First impressions count, so when it comes to making an entrance–or should I say an entryway–make sure visitors are wowed by the lack of clutter piled by your door. If the word mudroom is flashing in your mind right now, we're on the same page.
Whether you're unloading a haul of groceries or storing shoes, backpacks and coats, a mudroom is a must for a busy family. If you're lucky enough to have a room dedicated to organize your odds and ends, rejoice! If you don't have a dedicated drop zone, the following ways to find functionality in the unused spaces of your home are for you.
Rethink a closet
An underused closet can be converted into a mudroom faster than you think. Remove everything from the space and organize into piles: (1) keep; (2) toss.
If your closet has upper shelves, place everything that remains in the keep pile in decorative storage baskets. Assign a theme to each basket, such as mail and books, gloves and hats and keys and sunglasses to take your organization to a new level. Donate all that remains in the toss pile. Set the remaining space with a bench and individual hooks to keep items like shoes and coats in easy reach.
To give your new mudroom a complete look, finish the space off with a fresh coat of paint, accent wallpaper or beadboard.
Leave it in the garage
An attached garage provides the perfect opportunity to create a faux mudroom. Single out an empty spot that seems useless and let your creativity run wild.
Need help getting started? Apply sheetrock to any unfinished walls to make the space appear more polished, install benches with cushions covered in outdoor fabric, and add a shelving system with hooks and baskets for jackets and other small accessories. If you're looking to jazz it up a tad bit more, apply chalkboard paint to one wall to keep up with everyone's schedules and to-do lists.
Reclaim a corner
Make the most of every unused space in your house. I'm looking at you, corner of abandoned toys.
One of the easiest ways to fake a mudroom is with a console table and tall jute baskets. An open console table with drawers and a lower shelf provides stylish functionality, while a sturdy catch-all basket keeps those tossed away toys out of sight. Before you head to HomeGoods or Restoration Hardware, check your attic for console and basket alternatives. What you have laying around your house may actually surprise you.
Visited 45 times, 1 visit(s) today