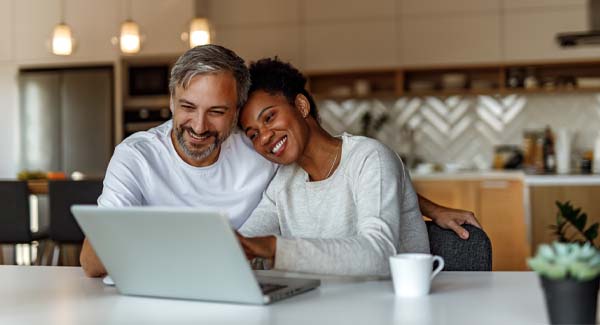 Last Updated on September 29, 2022
Houses are like spouses. They come in all shapes and sizes. They have unique features and challenges, and all need a bit of regular maintenance and TLC. Sometimes you have to look for a while before you find the right one. Occasionally, you know right away that you found the perfect match, and it's not long until you close the deal.
But what happens when spouses sell houses? At Allen Tate, there are dozens of agent couples who work together "in the business." Here are a few stories of what happens when love meets real estate.
*****
Sometimes, when you spy the perfect home, the timing just isn't right to make a move. That's what happened for Lindsey Strider, who crushed on her husband Tyler when she was in 6th grade and he was in 8th. Fortunately, they reconnected via social media in college, nearly a decade later. The Striders, who work as a team in the Allen Tate Asheboro office, married in November 2016 and started real estate careers together right after their honeymoon.
Despite different habits and personalities (Lindsey is prompt and detail-focused, Tyler more laid back), the couple's strengths complement each other and benefit their real estate clients. They work on most transactions as a couple.
"Working together has allowed us more time together as a family. Our biggest challenge is trying to have a normal dinner without talking real estate," Tyler said.
The Striders love working out, spending time at the lake, or just relaxing on the couch with their dogs Niko and Theo while watching Netflix. In July, they'll close another joint venture: their first child.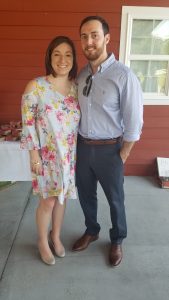 *****
Referrals often drive real estate sales, and Robby Lee has always been good at them. While a student at James Madison University, Robby conveniently "intruded on a conversation" so a friend could introduce him to his now-wife, Betty. They were married two weeks after his graduation and are still going strong after 35 years, four children, two grandchildren and four years working together separately.
Betty focuses on the "selling" side of the business, and Robby handles marketing, technology, and business management. After a few years of working from separate home offices, the couple tried to share space last year at the Allen Tate Winston-Salem Cherry Street office. But they soon agreed that they worked most effectively with Betty at the office – and Robby back at home.
"We're the best of friends. To be able to set mutual goals and work together to achieve them through difficulties and challenges, with the person who means the most to me, is just a great blessing," Robby said.
"We love and trust one another. I know he has my back," Betty said.
The Lees admit that a real estate career can consume much time.
"We allowed some things to slip because we were both so busy; housekeeping, exercise, family, friends and church all started to take a back seat. We've turned that around, but it's an ongoing challenge to stick to the rules we've agreed upon to maintain a balanced life, with all of the important ingredients," Robby said.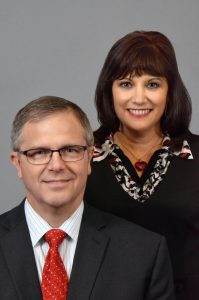 *****
Every so often, you're in the wrong place – at the right time. Allen Tate Realtor® Marlyn Jamison met her husband Phil when he almost ran over her in a parking lot – and then found her to apologize. The near-miss turned out to be a good one. After 40 years of marriage and 24 years working together, Marlyn and Phil continue to enjoy a supportive relationship.
"Phil desires to support me and my clients in every way possible," Marlyn said. "He understands the real estate business and the importance of customer service."
"Anything I can do to make Marlyn's world easier is important to me," said Phil, who works as a showing agent and in a support capacity for buyers and sellers with his wife in the Allen Tate Charlotte-SouthPark office.
"She cares so much about every person in her life. That means working very long hours to help her clients," Phil said.
Outside of work, their family, friends and faith help Marlyn and Phil keep a balance. And we're guessing that Phil's a better driver now, too.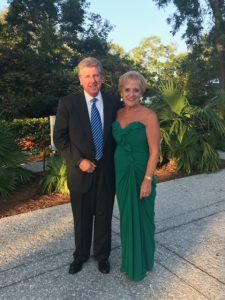 *****
Missy and Derek Rick have worked together for "a million years" (or maybe 15) but hey, time flies when you're having fun.
"Every day there's something funny that happens with Team Rick. We've been locked out, locked in, left and forgotten to be picked up. We've been attacked by a dog and we've walked in on a client in the shower," Missy said.
These self-proclaimed "workhorses" and "real estate superheroes" met when he was a meat cutter and she was head waitress at Quincy's "serving up those big fat yeast rolls." They've been married for almost 25 years, have two daughters and enjoy Clemson football.
The Ricks love the opportunity to spend time together while teaming up to make the process easier for their clients in the Allen Tate Easley/Powdersville office. But there's one part of the job where they often disagree.
"What will we have for lunch? It's difficult," Missy said.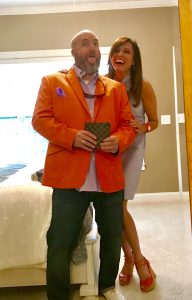 *****
Most homebuyers today start their real estate search online. Amanda and Kevin Starkey started their life together there, too – on Match.com. But like homebuyers who eventually visit properties, the Starkeys sealed the deal after connecting in real life and realizing they had much in common.
They married in 2012. Two years later, Amanda had just started a new job in fundraising when Kevin asked her to join him at the North Carolina Association of Realtors conference.
"I'd been helping Kevin with his business at night and on the weekends, and we'd talked a bit about me joining him someday, but nothing serious," said Amanda. "After a few days immersed in the real estate industry, I told Kevin I could help him grow. I wrote my resignation letter in the hotel room."
Today, Amanda manages the Sold by Starkey Team in the Allen Tate Apex office, where she takes care of marketing and everything not transaction related. Kevin handles most listings and is active in both the local and state Realtor associations; two other team members focus on the buy side. Both Amanda and Kevin take responsibility for managing a family that includes 2-year-old Lila and 5-month-old Nora, as well as Maya, a yellow lab, and Truman, a tuxedo cat.
"There's no separation between work life and home life," Kevin said. "But we get to spend time together during our work hours so everything isn't squished into a couple of hours before bed."
"Childcare can be a challenge, as sometimes we want or need to be at the same place. But it's awesome to have your spouse to understand your professional triumphs and struggles and celebrate the wins together," Amanda said.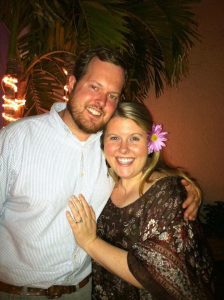 *****
When Amy and Brian Baker married in 2010, her real estate career was just starting to grow and he was settled into a job in banking. Five years later, Amy had become a top producer in the Allen Tate Charlotte-University City office, and Brian was ready for a change.
"I had this crazy idea for Brian to quit his job and come work with me. In the past two years, he's helped me stay organized, stage homes, etc. while working on earning his MBA," Amy said.
It's kind of a role reversal for the couple, who created quite a "scandal" when they began dating.
"Brian was one of the managers at the UNC Charlotte bookstore, and I was hired as part-time help. OK, it wasn't really a scandal – just frowned upon – but it makes for a better story," said Amy. "I picked him over the job."
A year later, the couple bought a home together. Amy was mesmerized by the process and earned her real estate license.
"The best thing about working together is seeing Amy in action. The true passion she has for helping someone find their home shows not only in dealing with clients, but also in her constant desire to fine-tune her craft. Everything is done with an eye toward making sure all future transactions are better than the last," Brian said.
While Amy loves having Brian's help, she knows he'll likely return to "Corporate America" at some point, and she's OK with that.
"Real estate keeps us so busy that this gives us time together that we wouldn't have otherwise. But there is definitely a part where we spend too much time together and wear on each other's nerves," Amy said.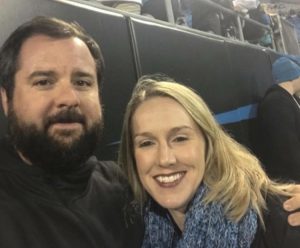 Visited 50 times, 1 visit(s) today