Last Updated on May 15, 2023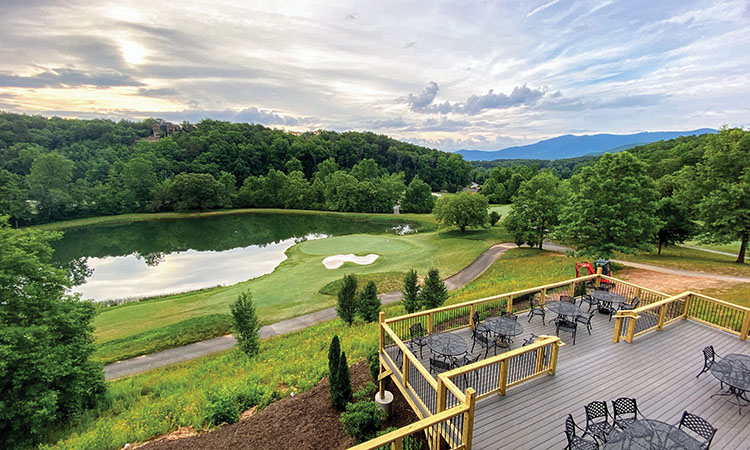 Are you in search of a life that is as tranquil or as adventurous as you want? Private, but not solitary? Active, but never rushed? Bright's Creek in Polk County, NC, is a true community of kindred spirits who share a passion for Western North Carolina.
There is a world of unlimited possibility at this growing community. Here are just five of the many ways there are to Live Abundantly in Bright's Creek.
---
---
Live the golf life in Bright's Creek
Bright's Creek is best known for being recognized as one of Golf Digest's top 20 golf courses in North Carolina (2017–2018 season). The course is another fine example of Tom Fazio's ability to uncover a fine mountain's subtle beauty. Fazio masterfully sculpted a course that flows naturally with the lay of the land. The challenging, yet player-friendly for all handicaps, 19 holes on this course are a testament to his skill—and an absolute gift for players. Best of all, the course is open year-round for members and guests, thanks to WNC's mild regional climate.
Live the club life in Bright's Creek
The rustically charming Members & Guests Lodge is a central gathering spot for entertainment, dining, and socializing. It is at once a hidden retreat and a hub for connectivity—both inside and outside the gates. Built in the tradition of a classic mountain resort, the lodge offers 12 charming "getaway rooms" for guests, as well as a golf pro shop, cozy porches with sweeping views, and plenty of opportunities to create your own social sanctuary. The Member's Grille dining area and member lounge overlooks the 19th green and offers beautiful mountain views. Additional community amenities include an indoor two-lane bowling alley, fitness center, tennis and pickleball courts, outdoor bar and poolside grill, and wilderness children playground.
Live the mountain life in Bright's Creek
Located among the Green River Gamelands, Bright's Creek is surrounded by literally thousands of acres of trails, streams, and fertile mountain valleys, offering plenty of opportunities to take you off the beaten path. The community's own extensive network of hiking trails is adorned with dozens of creeks and rivers, 75+ waterfalls, stunning views, rare rock formations, and limitless natural delights. Bright's Creek's location next to the Green River makes the community an ideal home for anyone who loves river sports. Residents can take advantage of some of the best fishing and whitewater rafting in WNC, as well as kayaking, rafting, swimming, wading, and more. 
Live the equestrian life in Bright's Creek
Bright's Creek Equestrian Center is located behind the community's gates and is surrounded by amazing mountain views. The equestrian center's amenities include a 200'x160' outdoor arena, miles of trails, trailer parking, and lodging in the Bright's Creek lodge while you are boarding your horse. Pony rides, trail rides, and lessons are available for equine lovers who do not own their own horses. Best of all, from here, you're just a short drive to world-class equestrian facilities. Foothills Equestrian Nature Center (FENCE) is located in Tryon. And the Tryon International Equestrian Center (TIEC), a sprawling, $100-million equestrian center and luxury resort, operates nearby in Mill Spring.
Live the Polk County life in Bright's Creek
Polk County has a history and culture as rich as its outstanding natural features. Known as the "First Peaks of the Blue Ridge," Polk County welcomes flatlanders to a higher altitude. The county has elevations ranging from just under 800 feet at the Green and Broad Rivers to over 3,200 feet on Tryon Peak and Wildcat Spur. Locals also appreciate its proximity to iconic destinations. Most of Polk's 20,000 residents cluster near the county's three main towns of Saluda, Tryon, and Columbus.
Live Abundantly in Bright's Creek
At Bright's Creek, properties are more than mere living spaces. Your Bright's Creek home is both a haven for relaxation and a launching point for discovery. The path you choose, the course you navigate, is bound only by your capacity for discovery, wonder, and exploration. Each day is an opportunity to follow your whims: on the Fazio golf course, at the Clubhouse, or the Equestrian Center; and along 4,700 acres of trails, streams, and fertile valleys. Revel in the resort amenities and club lifestyle that gives you instant access to a rich, abundant, deeply gratifying life.
Does that sound like the perfect lifestyle for you? Find your dream home in Bright's Creek now!
Visited 64 times, 1 visit(s) today