Last Updated on April 6, 2023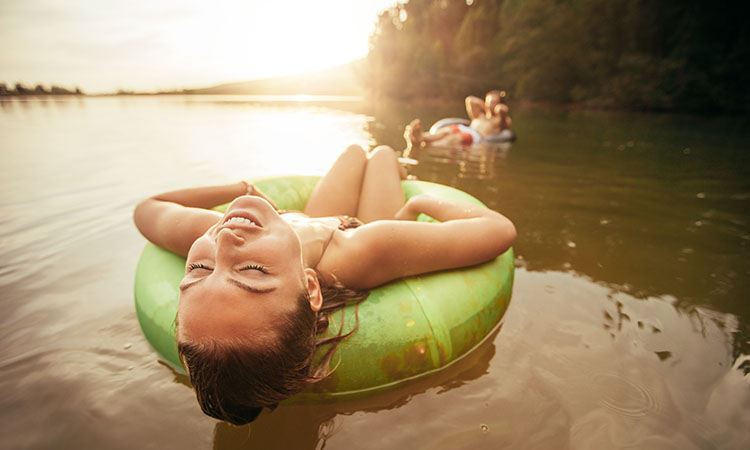 In Lake Lure, there is always something fun to do!
In addition to making the most of regular outdoor opportunities, Lake Lure residents and visitors find special reasons to come together throughout the year. Annual events and festivals, art shows and exhibits, and sporting competitions draw crowds of thousands to the shores of the lake.
But some occasions are more fun to celebrate at the lake than others. Here are seven holidays (official and unofficial) you must celebrate in Lake Lure this year.
May 30 – Memorial Day
Kick off the unofficial start of summer by enjoying a weekend on the lake! The Town of Lake Lure holds a Memorial Day ceremony at the Memorial Kiosk in front of the Lake Lure Inn, followed by refreshments. After that, be sure to stop by the Lake Lure Arts & Crafts Festival, a local tradition since the 1980s. The festival features continuous entertainment and a celebration of Appalachian arts and crafts in a gorgeous mountain setting. Enjoy shopping for wonderful art and handmade crafts from nearly 100 artisan vendors. Or take a break from shopping to enjoy great music, dancing, and treats from food and refreshment vendors.
July – Lakes Appreciation Month
Lakes Appreciation Month is a relatively new holiday sponsored by the North American Lake Management Society (NALMS). They say, "Growing population, development, and invasive species stress your local lakes, ponds, and reservoirs." The purpose of the holiday is to show our lakes some love for all they do for us. North Carolina hasn't yet declared this an official holiday, but that shouldn't stop you from celebrating! Lake Lure offers 720 acres of water and 21 miles of shoreline to appreciate. Spend the month enjoying water skiing, leisure cruising, speed boating, paddling, and swimming. And Lake Lure's clear mountain water is home to sizable stocks of bluegill, catfish, and largemouth bass, making it a haven for anglers.
August 15 – National Relaxation Day
Since 1985, National Relaxation Day has inspired Americans to slow down and unwind. That's certainly easy to do at Lake Lure! With outdoor activities at pretty much every door, including three scenic golf courses, as well as options for wining and dining, "relaxation" can mean whatever you want. Lake Lure provides a laid-back luxury that's perfectly in tune with its natural surroundings. So, grab your sunglasses and inner tube, don't forget your sunscreen, and block off a day for worry-free fun.
August 26 – National Dog Day
Humans aren't the only residents who love living in Lake Lure. The area offers great entertainment for man's best friend, too. And what better day is there to celebrate your pooch than National Dog Day? There are plenty of pet-friendly restaurants, cafes, and breweries in town that offer outdoor seating for you and a wonderful atmosphere for your top dog. What's more, there are myriad places to get outdoors together. And Lake Lure is also home to nearby pet stores, trainers, and veterinary professionals. Enjoy treating your pet to a day on the town!
September 21 – Miniature Golf Day
Golfers of all ages and skill levels will love celebrating Miniature Golf Day at Chimney Rock Adventure Golf. Bring the whole family to play an adventurous game on a naturally landscaped course situated along 300 feet of the Rocky Broad River in nearby Chimney Rock Village. You'll enjoy the landscaping, sounds of the river, and beautiful views of the Blue Ridge and Chimney Rock Mountain. Grab a sno-cone or ice cream bar from the Snack Shack for a quick treat while you play or when you're done.
September TBD – Dirty Dancing Day
You're not going to find this holiday on any calendar. But we assure you, this is a very serious holiday in Lake Lure! The community was the prime shooting ground for the 1987 romance Dirty Dancing, and the town continues to celebrate their participation in the film each September with a lakeside screening. Dirty Dancing was set in the early 1960s, but even today, parts of Lake Lure feel like the lakeside stomping grounds of the film's main characters. Have the time of your life, carry a watermelon, learn dance steps, sing songs, and attempt the famous lake lift scene at the annual festivities.
January 1 – New Year's Day
Technically, this event dips a toe into 2023. But at the New Year's Day Polar Plunge, that's largely the point. Every year, the town sponsors a madcap morning plunge, designed to wash away the year prior—and shock any residual champagne out of your system! Come prepared for cold water and comedic costumes. Live music and bonfires greet you on your return to the sand. Proceeds from your registration go to support local agencies like the Chamber of Hickory Nut Gorge, Lake Lure Fire & Rescue, and Hickory Nut Gorge EMS.
Celebrate holidays every day in Lake Lure, NC
Waterfront mountain real estate is something that is rare indeed. Along the shoreline of Lake Lure, there is a unique variety of homes ranging from the historic to the modern, from the somewhat rustic to the state of the art. No center of leisure would be complete without good options for wining and dining, punctuated by the beauty of local art. Lake Lure satisfies in this respect, as well. The town and its environs offer no shortage of amusements and something for just about everybody.
Does that sound like the perfect lifestyle for you? Find your dream home in Lake Lure now!
Which holidays do you enjoy celebrating in Lake Lure? Share your thoughts with us in the comments!
Visited 67 times, 1 visit(s) today