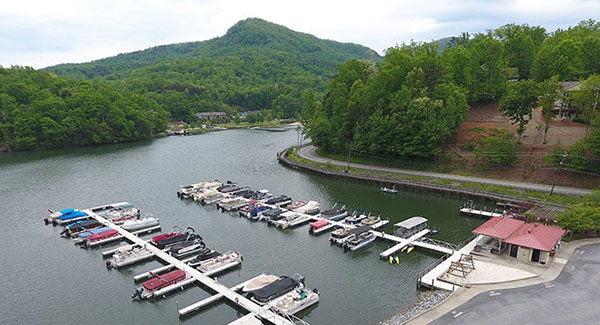 Last Updated on June 6, 2023
Even in the heart of the Blue Ridge Mountains, you don't have to go far to enjoy a day (or a whole weekend) on the water. But we know, there's nothing worse than getting out into the middle of a lake only to realize you forgot something critical.
Prepare yourself for a fun and worry-free day on the water! Before you hit the water, check out the shopping at these local businesses in Lake Lure. And while you're in the boat, venture to one more for an added treat. 
Here are three places you'll want to visit before a day on Lake Lure, and one more to see while on the lake.
Bubba O'Leary's for lake-life fashion
When shopping in Lake Lure, Bubba O'Leary's General Store and Outfitters is a must. This tourist-style general store is a great pitstop for T-shirts and knick knacks. If you need to outfit yourself for your lake life, it should be your first stop. They have sunglasses, sandals, fishing gear, and outdoor gear for everyone in the family. Functional and fashionable from top-rated brands, you should be able to find "all of what you need and most of what you want." Plus, they carry that one item you should never, ever hit the water without: sunscreen. Load up!
385 Main Street, Chimney Rock | (828) 625-2479 | bubbaolearys.com
Apple Valley Market for local snacks and drinks
Shop in confidence in a clean, sterile, and safe environment at Apple Valley Market. They have all the items you need for a fun and fabulous day on the lake. Find groceries, produce, beer, wine, sundries, cigarettes, and personal items. Or for a more elaborate picnic, shop their fresh selection of meats, ground beef, and chicken. The market also carries a line of clothes. And you can even fill up your tank. So, stop by and say hi to Maggie!
143 Whitney Boulevard, Lake Lure | (828) 625-3009 | facebook.com
Lake Lure Adventure Company for equipment rentals
No boat? No problem. Whether you're a water sports expert or novice, non-stop action is waiting for you at Lake Lure Adventure Company. They offer rentals of kayaks, paddleboards, or luxurious pontoon boats. Or try your hand at water skiing, tubing, kneeboarding, wakeboarding, wakesurfing—or a combination of several adventures! You can even bring your social dogs with you on the pontoon boats, kayaks, and stand up paddle boards. Now, get on the lake!
470 Memorial Highway, Lake Lure | (828) 625-8066 | lakelureadventurecompany.com
LakeHouse Restaurant for a meal on dry land
Enjoying your day on the water too much to turn back? Take a break from the sun and grab a meal at LakeHouse Restaurant. Located on the water, you can simply dock your boat and enjoy a quality meal made from fresh, local ingredients. The restaurant offers seating in the downstairs inside bar and outside patio dining areas. Enjoy an appetizer, entree, or lakefront libation at your leisure. The restaurant also hosts numerous monthly and seasonal events, as well.
1020 Memorial Highway, Lake Lure | (828) 625-4075 | lakehouselakelure.com
Spend every day on the water in Lake Lure!
Waterfront mountain real estate is something that is rare indeed. What's more, there is a unique variety of homes in Lake Lure ranging from historical to modern, from somewhat rustic to state of the art. Here at Allen Tate/Beverly-Hanks, we pride ourselves on our deep relationship with the area, as well as our vast knowledge of Lake Lure property, land, and its unique, storied history.
Does that sound like the perfect lifestyle for you? Find your dream home in Lake Lure now!
Visited 245 times, 1 visit(s) today