Last Updated on June 5, 2023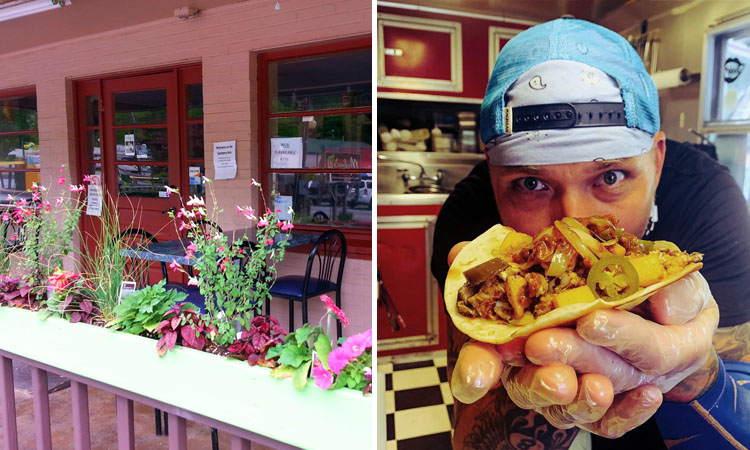 Western North Carolina's long growing season and mild winters are perfect ingredients for a bountiful harvest of produce, dairy, and other farm products. This annual abundance is one of the many reasons why people choose to live in our slice of the Blue Ridge Mountains. And in fact, it's one literal way we Live Abundantly in WNC.

When fresh local produce makes it to local restaurants, something magical takes place. Whether you consider yourself a foodie or you just enjoy food (who doesn't?), delicious meal options are available at every peak and hollow around. If you're planning a day trip to Lake Lure, there are several locations you won't want to miss.

Here are five amazing foodie stops for a great day in Lake Lure.

Breakfast at Medina's Village Bistro
There are several routes to reach the placid waters of Lake Lure. From Asheville or Hendersonville, we recommend taking U.S. Hwy 64/Alt Hwy 74 from Bat Cave east into town. That way, you'll pass right through the Village of Chimney Rock. Along Main Street, you'll find one of the best breakfasts around! Medina's Village Bistro offers elevated American eats all day, plus seating on a pet-friendly patio. Their traditional breakfast options are all delicious and served with local free range eggs when available. But for an extra treat, try their world famous cinnamon roll!

430 Main Street, Chimney Rock | (828) 989-4529 | medinasvillagebistro.com

Lunch at Relish Food Truck
After a morning on the water or enjoying one of Lake Lure's many community events, you're going to want a lunch you can really relish. (See what we did there?) Travel to the east side of the lake for some seriously delicious eats on the streets. Relish is based on the Broad River across from Canopy Ridge Farm. Led by a classically trained chef, Relish serves a small but versatile menu of handcrafted breakfast and lunch options. Schorr's Burger, named after the co-owner, is a double beef patty with havarti and all the toppings on a toasted French roll. But we're partial to the simple and affordable Elote Tacos, filled with smoked chicken, shaved Mexican street corn, and cotija cheese.

7115 US-64, Lake Lure | (828) 429-6312 | therelishfoodtruck.com

Drinks at Hickory Nut Gorge Brewery
Whether you're a traditional golf fan or you prefer your golf mini-sized, Lake Lure is one of our favorite places to get out on the links. If you're lucky enough to get a hole in one, celebrate at Hickory Nut Gorge Brewery. Nestled along the banks of the Rocky Broad River, this family-owned brewery takes pride in bringing out unique flavors for you to enjoy with friends and family. Hickory Nut Gorge specializes in English cask-style ales. Cask-conditioned beers are naturally carbonated in the cask, giving the beer more body and a much smoother taste. Their Broad River Blonde is a very sessionable choice that still has a lot of flavor. But if you ask us, their signature brew is Mountain Pride English Ale, an OB (Ordinary Bitter) that's light in color but high in both flavor and aroma.

461 Main Street, Chimney Rock | (828) 436-7047 | hickorynutbrewery.com

Dinner at Legends on the Lake
Come by land or by water—just make sure you come hungry! Legends on the Lake is one of several restaurants located within Rumbling Bald on Lake Lure. Legends features a menu of fresh entrées served for lunch and dinner. Enjoy handcrafted pizzas and house-ground burgers. Or opt for something a little fancier, like the maple bourbon glazed salmon. After dinner, treat the entire family to arcade games and billiard tables. Or catch a game on one of the many flat screen televisions. The welcoming staff, family-friendly atmosphere, and great views of the water guarantee a legendary dining experience.

112 Mountains Boulevard, Lake Lure | (828) 694-3032 | rumblingbald.com

Dessert at The Scoop
The perfect foodie day in Lake Lure isn't complete until you have dessert! Just around the bend from Morse Park, The Scoop ice cream bar offers great treats every day of the week. Enjoy classics like Coke floats and family favorites like huge brownie sundaes. Or grab a simple cone with sprinkles on top. Whatever you pick, you won't be disappointed. Choose from around 20 delicious, creamy flavors. Even Fido will love it!

2797 Memorial Highway, Lake Lure | (828) 202-6302

Make Lake Lure your home and enjoy great food every day!
Waterfront mountain real estate is something that is rare indeed. What's more, there is a unique variety of homes in Lake Lure ranging from the historic to the modern, from the somewhat rustic to the state of the art. Here at Beverly-Hanks, we pride ourselves on our deep relationship with the area, as well as our vast knowledge of Lake Lure property, land, and its unique, storied history.

Live the foodie lifestyle in Lake Lure! Find your dream home in Lake Lure now!
Visited 79 times, 1 visit(s) today