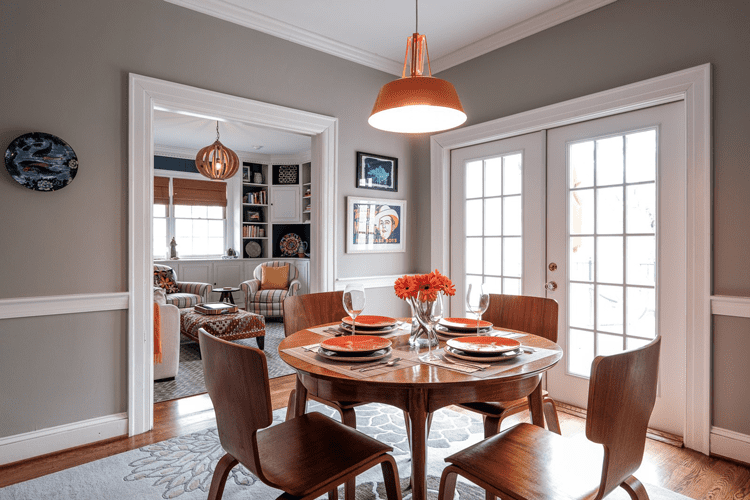 Last Updated on September 8, 2022
Decorating for fall can be as stress-free as you make it. Whether you choose to break out the hot glue gun and dust off some of your DIY skills or simply swap summer throw pillows for burnt orange or rust hues, it's all about having fun with the process!
From fall florals to white pumpkins, here are some of our favorite fall decorating ideas.
Rusty hues
When most people think of fall, they think of burnt orange, rusty red and darker hues. This living room is almost like fall in a bottle–everything from the preserved rust-colored eucalyptus to the moody throw pillows and the burgundy rug is working beautifully for fall.
View this post on Instagram
Pops of orange
Add some pops of orange to your entryway to properly welcome fall. From pillows, to dried stems and pumpkins, you can't go wrong with orange this season.
View this post on Instagram
A little bit of everything
This porch just screams fall! We're totally going to borrow the cornstalks idea and love how they beautifully flank the doorway. The black and white rug ties everything together and really helps to anchor the space.
View this post on Instagram
Neutrals for fall
If adding traditional fall colors to your home just isn't your thing, you can still decorate for fall using neutrals. Think sage green stems, white and light green pumpkins and wheat-colored accessories.
View this post on Instagram
Mums the word
In a fall decorating rut? Run towards traditional favorites like mums, bright orange pumpkins and some dashes of black and white decor.
View this post on Instagram
Plaid and pumpkins
Looking for a neutral tablescape idea? We love the sophistication the white and green pumpkins bring to the space. Top off this look with khaki plaid and you've got a beautiful space to entertain guests.
View this post on Instagram
Understated elegance
We'll take all of it! The rust-colored mums, bright white flowers and breathtaking wreaths give this elegant front porch a beautiful fall welcoming.
View this post on Instagram
Visited 122 times, 1 visit(s) today