Last Updated on April 6, 2023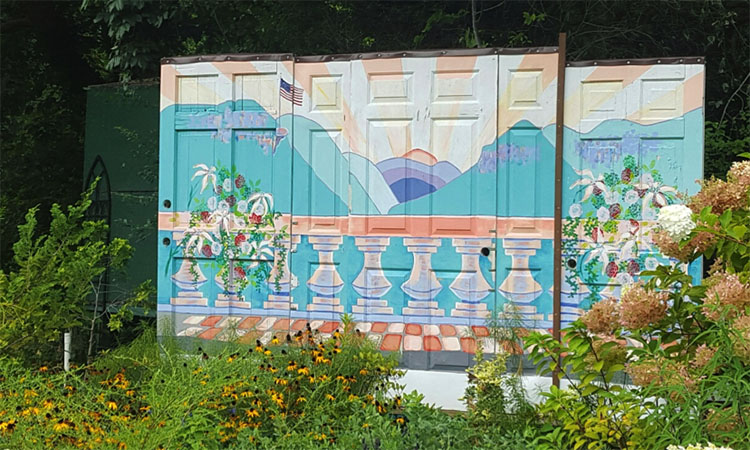 Western North Carolina has a long and rich history of fine visual arts and traditional crafts. And that tradition continues today throughout our small towns and cities. It's easy to discover local art at dedicated galleries, at studios and events, and even along street corridors. 
If you're searching for local art in Lake Lure, you don't have to go far! Here are four places you can discover local art in Lake Lure, NC.
Buildings and businesses in Lake Lure
Without a local dedicated gallery to call their own, the Lake Lure Artists collective has found some innovative locations to showcase their art. Stop by Medina's Bistro on Main Street in Chimney Rock to check out their latest display and purchase a piece of original art as a gift or souvenir. The Mountains Branch Public Library in Lake Lure also displays their art on a rotating basis.
Nearby Chimney Rock Village is decorated with a collection of vintage postcard murals painted outside the public restrooms and along the nearby wall. It's one stop along Rutherford County's self-guided Art Mural Tour. Another stop is at the Lake Lure Flowering Bridge.
Lake Lure Flowering Bridge
Mother Nature has created a series of masterpieces in the vistas surrounding Lake Lure! And at least one local volunteer group works to concentrate that beauty along the Lake Lure Flowering Bridge. The three-arch, 155-foot-long structure and its surroundings are lined with native flowering plants that attract humans, wildlife, and pollinators alike. The bridge features more than two dozen independent gardens and other artistic attractions, like the troll house. The vast majority is wheelchair accessible, and an audio tour is available via your mobile phone.
Shops and galleries in Lake Lure
If you'd like to do more than just view art, purchase some for yourself at Featherheads, just across from the Chimney Rock Park entrance. For more than 20 years, they have specialized in jewelry, gifts, and more from local and Native American artists. Those seeking more contemporary wildlife art must stop at Doug Bowman Galleries. His American-made log lamps and copper shades are the perfect addition to any mountain home.
A number of other gift shops also carry work from local artists, as well as varieties of homegoods, decor, and more. We recommend Willow Creek, A Touch in Time, and Natives Rest Candles. HipHen Uniques is a vintage and antique store that also carries up-cycled products from local artisans.
Art events in Lake Lure
Held twice annually, the Lake Lure Arts & Crafts Festival has been a local tradition since the 1980s. Each iteration is a celebration of Appalachian arts and crafts in a gorgeous mountain setting. Enjoy shopping for wonderful art and handmade crafts from the festival's 90+ artisan vendors. Quite a few artisans demonstrate their artistic talents and crafting skills by creating new works at the event. Take a break from shopping to enjoy great music, dancing, and food and refreshment vendors. A kids zone offers mini golf and face painting.
Lake Lure Artists also hosts an annual art sale each November.
Create your artistic masterpiece in Lake Lure, NC
Waterfront mountain real estate is something that is rare indeed. Along the shoreline of Lake Lure, there is a unique variety of homes ranging from the historic to the modern, from the somewhat rustic to the state of the art. No center of leisure would be complete without good options for wining and dining, punctuated by the beauty of local art. Lake Lure satisfies in this respect, as well. The town and its environs offer no shortage of amusements and something for just about everybody.
Does that sound like the perfect lifestyle for you? Find your dream home in Lake Lure now!
Visited 34 times, 1 visit(s) today