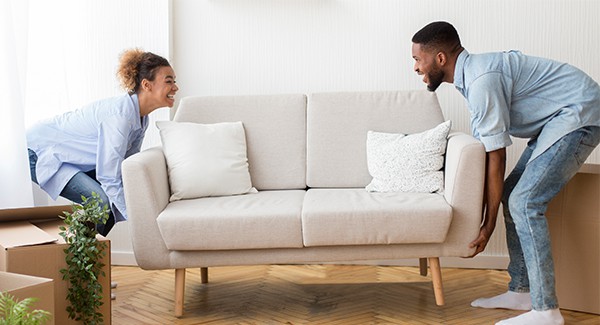 Last Updated on September 8, 2022
As the last box of holiday decor is safely tucked away, and the final bite of pecan pie consumed, you may look around your house and think that it looks, well, bare. And while most of us are ready to declutter our home after the holidays, there's nothing like a mini home makeover to breath new life into a tired old space. Don't worry about breaking the bank for these simple solutions though, because we've rounded up eight inexpensive ways to go from dismal to delightful.
Pack it up
If you hate your room but love your furniture, try looking at things from a different perspective. Sometimes the best way to revamp a living space is by seeing it completely empty. Removing everything from a room allows you to redecorate (with the same furnishing and accessories, of course!) with a fresh set of eyes. Tip: take a few minutes to clean everything – furniture, baseboards, floors – before you bring things back in.
Clean it up
Just because your garden's bare in the winter, doesn't mean the interior of your home has to be. You'll be surprised by how fast a little bit of greenery can lift the mood of an empty space. Bonus: some plants purify the air in your home.
Switch it up
Who said furniture and baseball cards have nothing in common? Chances are, if you ask around, you have something someone wants. So why not use that to your advantage? If you've been eyeing your neighbor's coffee table, and he's bananas over your bar stools, propose a trade.
Cover it up
If you're satisfied with the furniture and decorations in your house, a quick change in wall color will instantly liven up a room and change its whole look and feel. A great neutral color like gray is all you need to take your walls from drab to fab. Who said going gray was a bad thing?
Keep the paint brush handy and spruce up some hand-me-down furniture. Once you've selected a paint color, complete the piece by visiting a hardware store to select new knobs and pulls to finish the project.
Change it up
Tired of staring at the same old, brass-laden ceiling fan? Time for an upgrade! Choose something that reflects your personal style and decor when you shop online for lower prices and a wide variety of options. Make this upgrade really pay for itself when you purchase a fan that has the ability to spin in reverse so you can force warm air down in the colder months.
Freshen it up
Put some color back into your room by adding some colorful new pillows and throws. Gear up for spring by choosing pastel colors to add some interesting dimensions to your space. Top off the look by placing fresh flowers in the room.
Accent it up
Add some interesting hues in your space by selecting unique accent pieces. Inexpensive home decor stores like Home Goods, TJ Maxx and Pier 1 are great places for uncommon finds–just be sure to get a game plan ahead of time, or you'll wind up buying items that you can't use.
Build it up
Warning: some assembly required. Books, magazines and tchotchkes are best when they are read, personal and off the floor. If your storage spaces are maxed out, a custom built-in can provide the missing organization your living space needs.
Visited 39 times, 1 visit(s) today