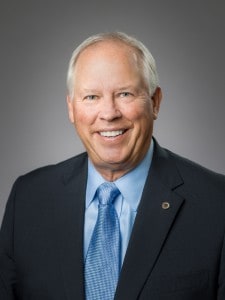 Last Updated on September 29, 2022
Allen Tate Companies President and CEO Pat Riley has been named to the 2021 Class of Most Admired CEOs by the Charlotte Business Journal.
The program recognizes 33 leaders across 15 industry categories with a strong record of innovation in their field, outstanding financial performance, a commitment to quality, a strong vision, a commitment to diversity in the workplace and contributions to the community.
Among those included in the year's class are Carl Armato, CEO, Novant Health; Gene Woods, president and CEO, Atrium Health; Karen Calder, executive director, Classroom Central and Lynn Good, CEO, Duke Energy. Michael Marsicano, CEO, Foundation for the Carolinas, is a recipient of the Lifetime Achievement Award.
Riley has led the Allen Tate Companies since 1992. In 2020, Allen Tate recorded 19,949 closed sales transactions totaling more than $6.15 billion, the best year in the history of the company. In August, Allen Tate expanded its market coverage into the Highlands/Cashiers area of North Carolina.
"It is an incredible honor to be in the company of these exceptional community leaders who are greatly admired by their employees, colleagues and peers," said Riley. "I try my best every day to walk in the shoes of every person in my organization to understand the job contribution they make."
Riley exercises a highly collaborative leadership style, empowering his leadership team to make decisions, while remaining present and accessible to them. He is known for his strong work ethic, optimistic attitude and general passion for life. He advocates work-life balance and "Red Penguin" service – a personal touch to make the experience special for agents, employees and customers alike.
"As a Leader of Leaders, Pat Riley has the unique ability to create a culture of excellence and engagement, whereby his followers feel empowered, accountable, and appreciated – all at the same time," said Mark Bardo, Allen Tate regional vice president, Upstate and Highlands/Cashiers regions.
"Pat hires great people with unique talents, instills a high level of confidence in them, and gets out of their way. Every member of his team has ownership for their area of responsibility," said Tony Jarrett. Allen Tate regional vice president, Triad, Triangle and High Country regions.
Riley has chaired nearly every major civic board since arriving in Charlotte 29 years ago, including the Charlotte Chamber, Arts & Science Council and Charlotte Center City Partners. He is also a past president and serves on the board of directors for Leading Real Estate Companies of the World®, a global network of 550 premier real estate firms in 70 countries around the world.
At Allen Tate, Riley champions Tate Cares, a combined giving initiative that supports public education; arts, culture and history; and United Way. More than $5.5 million has been raised for Tate Cares in the past 24 years.
Riley and other honorees will be celebrated during a November 18 event at the JW Marriott Charlotte hotel in Uptown and will be featured in a CBJ special report published November 26.
About Allen Tate Companies
Allen Tate Companies is the Carolinas' leading real estate company, based on closed transactions sides, with 48 offices and more than 1,600 Realtors® in the Charlotte, Triad, Triangle, High Country, Highlands/Cashiers regions of North Carolina and the Upstate region of South Carolina. Allen Tate provides real estate, mortgage, insurance, and relocation services throughout the entire homeownership life cycle. We are committed to providing and protecting quality of life for the communities we serve. For more information, visit allentate.com.
About Howard Hanna
Howard Hanna Real Estate Services is the #1 family-owned and operated independent broker in the country. The full-service real estate company has more than 400 real estate, mortgage, insurance, title, and escrow service offices across 11 states, including Allen Tate Realtors in the Carolinas and The F.C. Tucker Company in Indiana, with more than 13,000 sales associates and staff, including many of the industry's top-producing real estate agents. For more information, visit howardhanna.com.
Visited 1,213 times, 1 visit(s) today