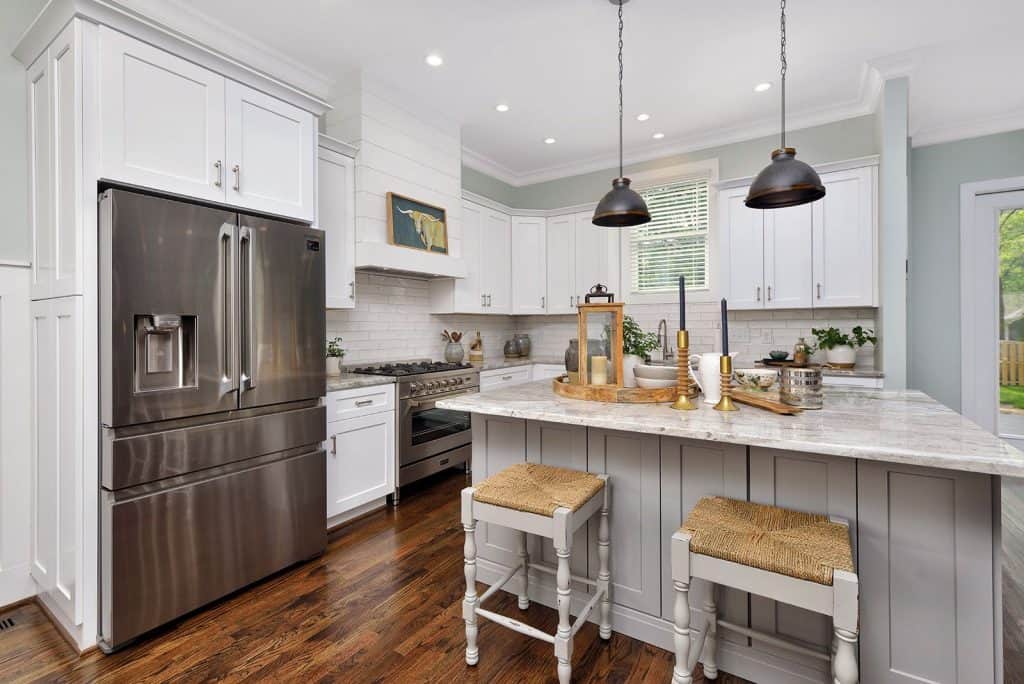 Last Updated on September 6, 2022
A major kitchen remodel costs homeowners an average of $75,000 and typically yields a 54% return on investment when it comes time to sell.
As more and more homeowners are investing significant funds into a kitchen remodel, many aim to design a more curated look for their new kitchen.
Remodeling your kitchen next year? Find out what's trending in kitchen design.
Mixing materials and finishes
As the main hub for entertaining, a kitchen carefully designed by mixing materials and finishes will be highly desired, designers predict.
Nothing is off limits–mixing metals, wood tones and even cabinetry colors are on the table.
Rethinking open shelving
Open shelves have been widely used in kitchens throughout the last several years and while homeowners are still requesting shelving in kitchens, the end result might look a little different in the coming months and years.
A single shelf will replace two or three shelves in the kitchen, giving a cleaner, more uniform look.
The use of natural elements
For a while, homeowners everywhere rushed to demo their orangey-brown original kitchen cabinets. And while we firmly believe those wood tones are officially out, a new, more refined wood tone is definitely in. Expect to see natural wooden cabinets pop up in kitchens everywhere in the coming years.
In addition to wood kitchen cabinets, natural elements will be popular and will be seen on barstools, shelving, and lighting options.
A focus on lighting
Beyond ready to be more than an afterthought, lighting in the kitchen will be a centerpiece in 2022 and beyond. Bold pendants, uplighting and recessed lighting should all work together to provide function while adding depth and drama to a space.
The color green
While white kitchens remain popular, there's an emerging trend towards color that is likely to be big in 2022. The color green is predicted to be widely used on cabinetry in the next year, and going forward, as more and more gravitate away from the all-white kitchen idea.
Interestingly enough, Sherwin Williams has named it's 2022 Color of the Year, Evergreen Fog–a greenish gray moody hue that's sure to be spotted on kitchen cabinets in the near future.
The abandonment of the work triangle
For many years, kitchen designers have used the work triangle formula for designing kitchens.
If you're not already familiar with the concept, the kitchen work triangle is a way to effectively space out the main appliances in the kitchen (stove, sink and refrigerator) as a way to maximize work space and manage traffic.
Rather than following the tried and true work triangle equation, tomorrow's kitchens will be focused around zones. A cooking zone, a cleaning zone, a baking zone, a homework zone, etc.
Keep reading: The latest trends in home improvement ROI
Visited 6,750 times, 1 visit(s) today