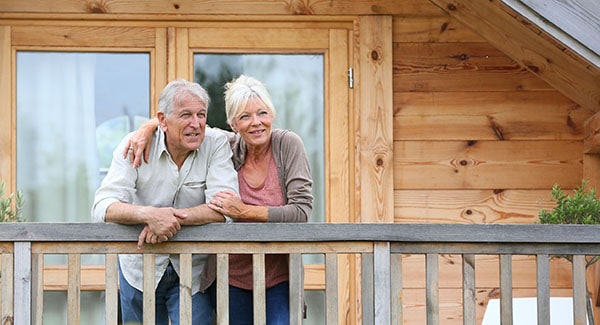 Last Updated on June 13, 2023
Everyone has a different idea of how they would prefer to live as they get a little older.
Some people may want to reconnect with their children (and grandchildren!) and move into adjoining "in-law apartments" on the property. Others may want to live out their retirement sipping cocktails poolside in a Margaritaville Retirement Community. But maybe you love where you are already and aren't interested in moving anytime soon.
If that's the case, it's time to consider what it would take for you to safely and successfully age in place. Today, we'll go over the basics of aging in place and the kind of home you need to do it successfully.
What is aging in place?
According to the CDC, aging in place is "the ability to live in one's own home and community safely, independently, and comfortably—regardless of age, income, or ability level." That is, it's the ability to remain safely and independently in your own home as you age.
For many, aging in place may require changes of products, services, and conveniences over time. Depending on your current living situation, considerations for aging in place may include significant downsizing, home remodeling, daily healthy aging activities, financial services, accessible transportation, or in-home care or support.
There are many organizations that work with seniors to make aging in place an easy and convenient option. Consult the National Aging in Place Council or AginginPlace.com for more info.
How do I prepare my existing home for aging in place?
The New York Times reports that 80% of older people are homeowners. The great majority of those live in single-family homes. However, less than 4% of homes are properly suited for the disabilities common in later life.
The Joint Center for Housing Studies at Harvard names three important accessibility features that allow people to move safely around their living spaces: entrances without steps, single-floor living, and wide hallways and doorways that can accommodate wheelchairs. In addition, the National Association of Home Builders reports that the most common aging-in-place modifications requested are bathroom grab bars and higher toilets. Also requested are curbless showers, widened doorways, and added lighting.
As you remodel your home over time, consider adding these accessibility features as you can. In addition to making your home more comfortable for you, these features will add value for any future owners, as well.
How do I know the home I am purchasing will be appropriate for aging in place?
If it would take too much investment to prepare your current home for aging in place, you may want to consider purchasing one that will suit you as you age.
Homes built with or influenced by universal design are the most appropriate for buyers planning to age in place over time. Principles of universal design focus both the inside and outside of the home on safety, ease of movement, and attractive features for all ages and abilities. In other words, universal design is "ageless design" that does not require much specialization should your living needs change over time.
Walkability is another thing to consider. Maintaining an active lifestyle is important for healthy aging. And staying social is also important to your physical and mental wellbeing. According to one survey, "80 and 90% of independent living and senior apartments consumers found it at least somewhat important to be within walking distance of at least one major neighborhood amenity." Does that describe you, too?
If you've walked through your dream retirement home and aren't sure if it includes the accessibilities and amenities listed above, one local organization is in place to help. North Carolina's R.L. Mace Universal Design Institute is a nonprofit that evaluates existing buildings and collaborates with builders and manufacturers on the development of new design solutions.
Begin your home search for aging in place today
If you're looking for the perfect accessible home for aging in place in the Carolinas, look no further!
Search now for your perfect home. Refine the search to meet your other needs, then save the search. When you find the home you think is right for you, consult your REALTORⓇ to make sure it has all the features you need for aging in place.
Visited 3,074 times, 1 visit(s) today