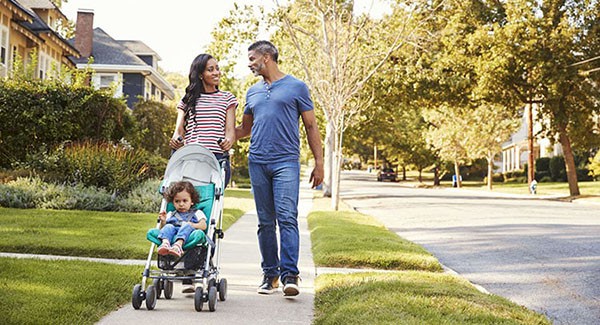 Last Updated on June 14, 2023
How much value is there to living in a community that's difficult to access? As home buyers are increasingly focusing on community features during their home search, walkable neighborhoods are becoming a bigger and bigger draw. Today, we explain just what makes a neighborhood walkable, which demographics are searching for homes like yours, and how to promote your home for its walkability.
What makes a neighborhood walkable?
Traditionally, the fields of transportation and public health consider 0.25 miles to be an acceptable walking distance for reference in research studies. However, sheer distance to a destination is not this only factor that makes a neighborhood walkable.
According to WalkScore.com, walkable neighborhoods have a central core, which could be a main street or other type of public space. They are populated enough for businesses to flourish and public transit to run frequently, and buildings face the street, with parking situated in back. Streets in walkable neighborhoods are designed for bicyclists, pedestrians, and public transit, and mixed use buildings include space for mixed income housing, including affordable homes. Most importantly, schools and workplaces are close enough that most residents can walk from their homes, and an abundance of parks and public spaces make it easy to gather and play.
Who's looking for walkable neighborhoods?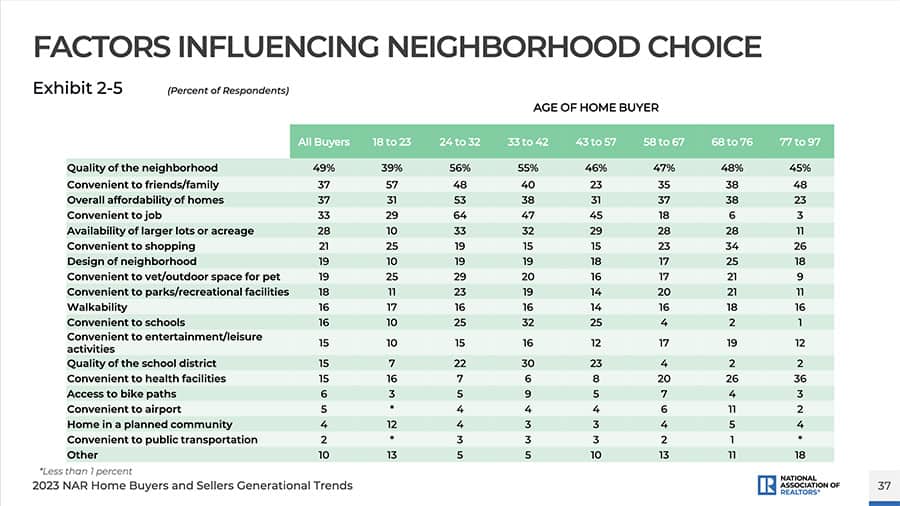 Millennials, who made up 28% of all home buyers in 2023, strongly prefer walkable and bikeable communities. 16% indicate they chose their neighborhood specifically because of walkability. And greater convenience is also important. Among older Millennials, 40% want their neighborhood to be close to friends and family, 20% want to be close to parks and greenspaces, and 32% are concerned with being close to schools. Convenience to jobs, shopping, entertainment, public transportation, and bike paths also rank well.
While it's easy to pin the shift in the real estate market to them, Millennials aren't the only ones looking for walkable neighborhoods. Seniors are just as interested in active and accessible lifestyles, especially those planning to age in place. The same goes for young people. NAR reports similar interest in walkability and convenience among Gen Z'ers and Boomers. In fact, these buyers on the fringes rank higher than Millennials and Gen X'ers in some categories.
How to promote homes in walkable neighborhoods
Many home buyers will compromise on the number of bedrooms or type of tile in the bathroom. But they won't compromise on the neighborhood. If you are selling a home in a walkable community, here are three ways you can promote that feature with your property listing:
1. Mention walkability in your property description.
It may be obvious to you that your home is in a walkable neighborhood. But with thousands of active listings available online, it's important to make sure home buyers can find your home among the flotsam. Make sure your real estate agents includes terms like "walkable" or "walking distance" in the property description.
2. Promote walkability during open houses.
Many open house goers are as interested in learning more about the neighborhood as they are about your home. Promote its proximity to local hotspots by having snacks, coffee, or other small goodies available from walkable locations. Label each with the approximate distance to that location.
3. Log your home's distance to important amenities.
Display your home's distance to common area amenities. If proximity is a key feature of your home, make sure your agent has distances set for the nearest airport, food and dining, gas and grocery, hospital, interstate, and entertainment.
All real estate is local. In order to make confident real estate decisions, we believe it is important for you to have timely and neighborhood-specific information. If you would like more information about promoting a home within a local walkable community, our experts are here to help. Contact us today to speak with an agent about selling homes and land.
Visited 58 times, 2 visit(s) today