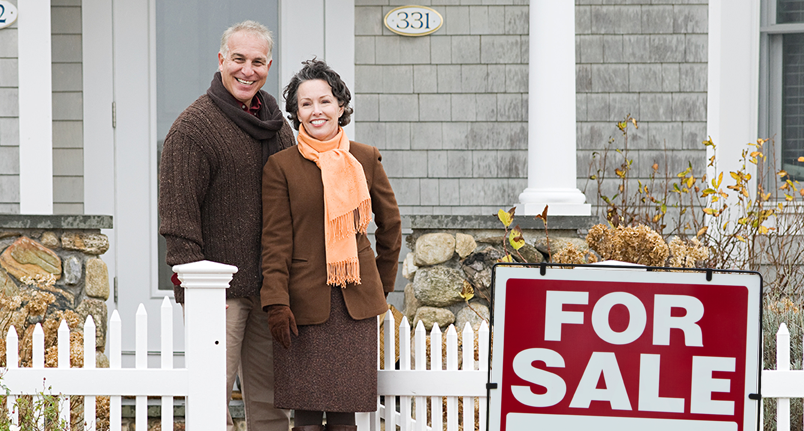 Cold enough for ya? Well, don't worry, you're in the Carolinas, and it's unlikely to last. We just hope for enough cold in the winter to keep the bugs down in the summer.
So why, I was wondering, are Carolina homeowners reluctant to list their homes in the winter? I put the question to Allen Tate Realtors President, Phyllis Brookshire, who gave me the answer, along with ten darn good reasons to list now, before Jack Frost gives way to Peter Cottontail.
1. Low Inventory
From July 1, 2016 to July 1, 2017, North Carolina's total population increased by nearly 117,000 individuals. This number surpassed last year's total population increase, and marks the largest single year increase in the state's population since 2010.
In addition, the Greenville-Spartanburg-Anderson area has by far, the largest metro suburban population in the state, accounting for 1.4 million of South Carolina's population.
As in-migration continues through 2018 in both Carolinas, low inventory will still be an issue, as builders are either not willing or not able to keep up, and current homeowners are staying put.
"That means buyers who were shut out last year probably still want a house. Putting your house on the market now enables you to take advantage of the seller's market most of our area is experiencing," Phyllis concludes.
2. Not as much competition
With little or no competition, your winter listing may look much more attractive to buyers who have very few houses on the market to compare it to.
"The spring real estate market can be particularly hard for sellers with less than perfect homes," says Phyllis.
Sure, spring brings out the buyers—and sellers. This means you'll have more competition, and buyers have more homes to compare yours against.
"This, unfortunately means if your house isn't in perfect condition, buyers are more apt to notice and get picky," Phyllis reminds us.
The Washington Post says that if you see very little competition in your neighborhood in the winter, then it may be worth listing your home to test the market.
3. Less focus on your landscaping
"Typically, in our area, keeping your house in show shape in the winter pretty much just means getting and keeping the leaves up," Phyllis says.
There are the rare snow days, and if you have a showing, you'll need to shovel or melt a path to your door so that prospective buyers don't come skating in at their own peril.
Gloomy and gray days do mean your house's street view should be warm and inviting. Pops of color at the front door, such as a seasonal wreath and evergreen potted plants add interest and welcome prospective buyers.
"Plus, giving the entryway a little winter lift makes your listing photos stand out from other houses online," Phyllis reminds.
But no one expects an immaculate lawn of even green grass, beds of blooming annuals or ready-for-entertaining outdoor spaces. So, if you hate yard work, a winter listing may prove advantageous for you.
If you do have a yard to show off when it's not the off-season, include in your sales kit pictures that show what the property looks like when the temperature is warmer, like the garden in full bloom or a relaxing the backyard in the summertime.
4. Your small home becomes "cozy and inviting"
Winter could be a great time to welcome buyers to show off how your house feels, instead of the space it may or may not have.
Create a sense of warmth throughout the home, no matter what your square footage, starting with the living room, where staging can have the greatest impact, according to a National Association of Realtors report. Items like a luxurious blanket can set the tone since people are in snuggle-on-the-sofa-mode.
If there is a showing, have your gas fireplace going (if you can do so safely), homey smells wafting through the rooms, and the warm glow of lamps, even in the daytime.
Turn the heat up before you leave for showings, and put your utility bill out of your mind. Sticking to 68 to 70 degrees F will generally keep everyone not too hot and not too cold.
"That's right," Phyllis says, "A house that feels nice and warm the minute a prospective buyer walks in will make the house feel homier and more welcoming. It also shows that the house is energy-efficient and well-insulated."
Yes, according to Time, many cold-weather house hunters will also be thinking about heating costs. Consider low-cost upgrades like insulating the attic or installing energy-efficient windows, which can slash utility bills and make your house warm and cozy.
And, don't forget to light up your house inside and out during the shorter, darker days, to make it look like the haven it is.
5. Real estate professionals are usually not as busy
"Winter closings could be easier than say, if you were trying to close at the highest closing times of the year," Phyllis adds. "During the spring, you may be on a wait list for inspectors, title searchers, attorneys, and all the other service professionals you need for a successful closing. And, as a bonus, real estate agents may have more time to devote specifically to you, without the usual number of spring clients vying for their attention."
6. Homes may sell more quickly and for more during winter
According to Realtor.com, buyers know a good deal when they see it, and they'll pounce on one in the winter if the price is right."
"Understand our local climate—both the weather and the market—and enlist a Realtor® to help you check the number of days on the market for current and recently sold listings in your particular area," Phyllis urges. "If properties are selling quickly, use that information to help you make the decision to list during the winter or not."
Ask a Realtor to also check closing prices of comparable properties sold in the past 30 days, then compare with current list prices to make sure you can get top dollar for your winter time listing.
7. Buyers are often more serious
"Remember," Phyllis says, "There are plenty of buyers who still have to move this time of year, and those buyers are on a mission rather than just looking around. Just because it's cold outside doesn't mean savvy buyers aren't still searching the market."
Huh. I thought the market was dead this time of year, mostly because the open house activity in my neighborhood has ceased, and statistically, there are few closings.
"Buyers are online every day of the year," Phyllis reminds me. "Most buyers start looking for a new home whenever they feel ready. Some look in the off-season thinking they believe they can get a deal. But in a seller's market, the truth is that winter can work in the seller's favor."
That's right. According to the Washington Post, sometimes the supply and demand curve actually swings to the sellers' favor in the off seasons of mid-summer and the dead of winter.
If you want to sell your home in the off-season, the buyer has to come first. You'll need to work with your Realtor to devise a strategy for s showings, even during snow days, when buyers might take advantage of being off work for a few hours.
Realtor.com agress there may be less buyers compared to spring, but winter buyers tend to be serious. And while it may be inconvenient, it's crucial not to deny showings, as that could be a missed opportunity.
8. Professionals are on the move
Phyllis says she has seen a lot of people relocate for work this time of year, so they can be on the job by end of first quarter. That means they are looking for somewhere to live, and that somewhere could be your house.
Remember, in-migration continues in both Carolinas. In 2016, North Carolina received an estimated 86,200 net in-migrants (74% of total population growth). This was the largest year of in-migration for the state since the 2010 Census and was more in-migrants than received by any other state except for Florida, Texas, or Washington.
And in Upstate South Carolina, the city of Greenville, according to the Census Bureau's latest population figures, is the fourth-fastest-growing city in the nation — growing by 5.8 percent as of last July from the year before, to over 67,000, largely due to people moving in.
Bottom line? People move here every month of the year, not just March, April and May.
9. Understand your own motives for selling
If you need to sell because of a new job, a different school, a change in family dynamic, or because your commute is slowly stealing your soul, then sell now. The winter season should not be a deal killer, especially here in the Carolinas.
"With the right Realtor guiding you through, you could be sold and closed before the first dogwoods bloom," Phyllis says.
Yeah, why waste the lovely days of spring keeping your house clean for the parade of spring buyers, when you could be relaxing in the sunshine at your new home?
10. Low Inventory
It's so low it's worth another mention.
For example, in the Triangle, the Raleigh/Durham area of North Carolina, November 2016 versus November 2017 statistics show:
New Listings in the Triangle region decreased 1.6 percent to 2,835
Under Contract Sales were up 10.4 percent to 3,038
Inventory levels decreased 12.6 percent to 7,760 units
Median Sales Price increased 8.1 percent to $254,000
Days on Market was down 2.2 percent to 44 days
Months Supply of Inventory was down 14.3 percent to 2.4 months
Numbers tell the story. I'm an English major, and I can do this math. There are a lot more people moving in than there are desirable houses for them to live in. And that's a year 'round problem that is likely sticking around for 2018.
Don't let the winter months stop you from listing your house. Do a little extra research, understand the market in your area, and remain open minded and flexible, and the Carolina real estate market might just reward you.