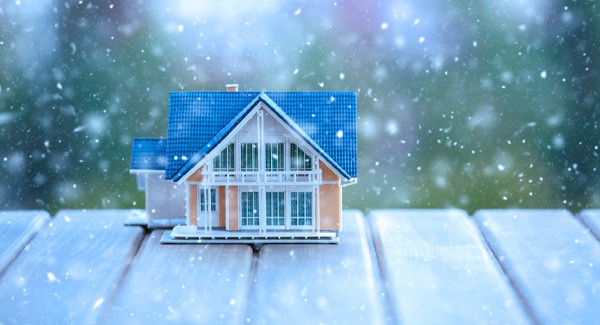 Last Updated on December 8, 2022
If you're thinking about selling your home this winter you may be wondering if now is still a good time to sell, in light of the shifting real estate market. Here today with the facts you need to make an informed decision, we'll outline 9 reasons why now's still a good time to sell.
Low inventory 
With the shifting market, some sellers might be fooled into thinking the market now favors buyers over sellers, but contrary to this thought, we're still very much in a sellers' market. The months supply of inventory (MSI) tells us the amount of months it would take for the current inventory of homes to sell. During the pandemic we saw all time lows of 1.9 MSI in December of 2020, but in today's normalizing market we're sitting at under 3 months of inventory in our area. Anything less than 5 months of inventory is defined as a sellers' market. 
 Not as much competition
With competition as scarce as leaves on a tree this time of year, your winter listing may look much more attractive to buyers who have very few houses on the market to compare it to.
The spring real estate market can be particularly hard for sellers with less than perfect homes. Sure, spring brings out the buyers, but it also brings out the sellers, too. This means you'll have more competition, and buyers have more homes to compare yours against– if your house isn't in perfect condition, buyers are more apt to notice and get picky.
Rising rents
As rent prices across the Carolinas continue to escalate, it still makes more financial sense to buy versus rent. The average rent went up by 18% in North Carolina, year over year, and 16.8% in South Carolina, YOY. 
 Less focus on your landscaping
Typically, in our area, keeping your house in show shape in the winter pretty much just means getting and keeping the leaves up.
There are the rare snow days, and if you have a showing, you'll need to shovel or melt a path to your door so that prospective buyers don't come skating in at their own peril.
Gloomy and gray days do mean your house's street view should be warm and inviting. Pops of color at the front door, such as a seasonal wreath and evergreen potted plants add interest and welcome prospective buyers.
Plus, giving the entryway a little winter lift makes your listing photos stand out from other houses online.
But no one expects an immaculate lawn of even green grass, beds of blooming annuals or ready-for-entertaining outdoor spaces. So, if you hate yard work, a winter listing may prove advantageous for you.
If you do have a yard to show off when it's not the off-season, include in your sales kit pictures that show what the property looks like when the temperature is warmer, like the garden in full bloom or a relaxing the backyard in the summertime.
Your small home becomes "cozy and inviting"
Winter could be a great time to welcome buyers to show off how your house feels, instead of the space it may or may not have.
Create a sense of warmth throughout the home, no matter what your square footage, starting with the living room, where staging can have the greatest impact. Items like a luxurious blanket, a roaring fire, the scent of mulling spices and soft lighting can set the tone since people are in snuggle-on-the-sofa-mode.
If there is a showing, have your gas fireplace going (if you can do so safely), homey smells wafting through the rooms, and the warm glow of lamps, even in the daytime.
Turn the heat up before you leave for showings, and put your utility bill out of your mind. Sticking to 68 to 70 degrees F will generally keep everyone not too hot and not too cold.
A house that feels nice and warm the minute a prospective buyer walks in will make the house feel homier and more welcoming. It also shows that the house is energy-efficient and well-insulated.
And, don't forget to light up your house inside and out during the shorter, darker days, to make it look like the haven it is.
 Real estate professionals are usually not as busy
Winter closings could be easier than say, if you were trying to close at the highest closing times of the year. During the spring, you may be on a wait list for inspectors, title searchers, attorneys, and all the other service professionals you need for a successful closing.
Homes may sell more quickly during winter
Gone are the days of homes selling over night, but as the fall quickly fades to winter in the Carolinas, the scarcity of inventory may help your home to sell faster. The latest data from the first week in December shows us that while homes are still selling fast (relatively speaking), the average home sat on the market for 9 days more than homes that sold this time last year. Remember, in any market, the best priced homes that are reasonably maintained and well staged and marketed will sell in a timely manner. 
Buyers are often more serious
Sure there may be less buyers compared to spring, but winter buyers tend to be serious. And while it may be inconvenient, it's crucial not to deny showings, as that could be a missed opportunity.
If you want to sell your home in the off-season, the buyer has to come first. You'll need to work with your Realtor to devise a strategy for showings, even during snow days, when buyers might take advantage of being off work for a few hours.
Professionals are on the move
Many people relocate for work this time of year, so they can be on the job by end of first quarter. That means they are looking for somewhere to live, and that somewhere could be your house.
Bottom line? People move here every month of the year, not just March, April and May.
Understand your own motives for selling
If you need to sell because of a new job, a different school, a change in family dynamic, or because your commute is slowly stealing your soul, then sell now. The winter season should not be a deal killer, especially here in the Carolinas.
With the right Realtor guiding you through, you could be sold and closed before the first dogwoods bloom.
So why waste the lovely days of spring keeping your house clean for the parade of spring buyers, when you could be relaxing in the sunshine at your new home?
Keep reading: 5 things you must do before you list your home this winter
Visited 2,408 times, 1 visit(s) today