Last Updated on June 15, 2023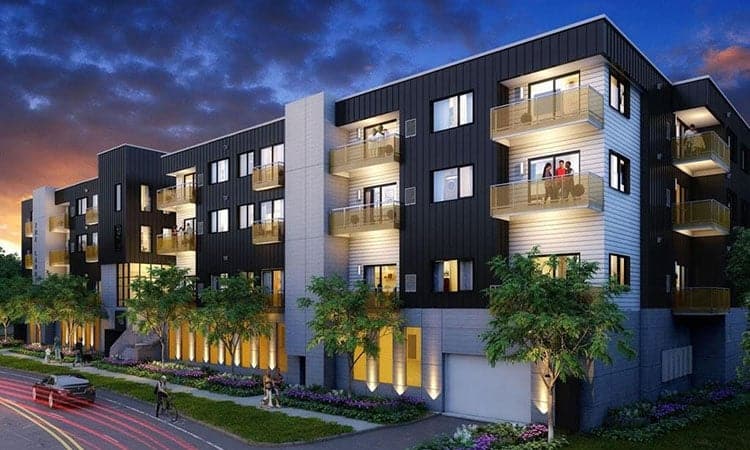 Are you in search of a home that offers you the perfect combination of contemporary urban living and picturesque natural surroundings to complement Asheville's vibrant "live, work, play" culture? Then, look no further than the world-class condos at The Landings! This 40-unit condominium development is the latest addition to the city's fabric. With mountains in the distance and panoramic downtown views, The Landings is just steps away from the riverfront.

Here are five exciting places you'll love to walk to when you Live Abundantly at The Landings.

New Belgium Brewing Company
In 2016, New Belgium fired up its $140 million East Coast facility alongside the French Broad River. The property has quickly become a beacon of economic and cultural significance for the city. With indoor seating, outdoor patio service, and regular food trucks on site, the location is one of our favorite dog-friendly locations for an outside drink. It's also a great stopping point for people traveling down the French Broad by float, kayak, or paddleboard. And while New Belgium is literally at your doorstep, dozens of other craft breweries are just a short walk (Wedge Brewing Company), bike ride, or drive away.

French Broad River Greenway
As part of Asheville's Riverfront Redevelopment initiative, a French Broad River Greenway is under construction on both banks of the river. The French Broad River East Bank corridor is a 2.2-mile section that is scheduled to be completed any day. The French Broad River West Bank corridor will connect the half-mile section of the greenway on New Belgium's property and the French Broad River Park. Once completed, this project will be just over a mile long. Nicknamed "The Edible Mile," this stretch will feature information on the indigenous edible plants in the area and have volunteer-led edible gardens. Even now, the path is perfect for recreation and commuting.

Local art studios
As you can imagine, the River Arts District is primarily known for its incredible array of working artists and open studios. More than 200 artists make their living here. Mediums represented range from basketry and textiles to glass and metal to photography and paint. Seasonal organized studio strolls allow you to mingle with the artists or see them in action. From The Landings, you are just a short stroll to Riverside Studios, Phil Mechanic Studios and Flood Gallery, the North Carolina Glass Center, and much, much more.

Smoky Park Supper Club
All of Asheville is known for its incredible restaurant scene, but there are few spots that boast both the concentration and range of eateries as the RAD. For presidential-quality barbecue, you can brave the lines of 12 Bones Smokehouse, a favorite of President Obama, located a short drive away. Or for a taste of the mid-century Midwest, try the Smoky Park Supper Club. Located on nearly two acres within walking distance, Smoky Park offers an ideal atmosphere for conversation. Their traditional supper club concept recalls the tradition of family and friends enjoying food, entertainment, and fabulous hospitality in a beautiful country setting.

Asheville Guitar Bar
In view of the Good Vibes silo, one of Asheville's top selfie spots, is a very rad bar (pun intended). Asheville Guitar Bar is a hidden gem that's perfect for music lovers. The venue has an intimate vibe, complete with chandeliers, leather chairs, and brick walls hung with guitars. Plus, it's a great spot to play, network, grab a drink, and share community. Discover some of the best local bands and singer/songwriters in town!

BONUS: We forgive you for missing it. But another hidden gem is located just outside the Guitar Bar: a stone labyrinth. Built in a single day in 2010, the 7-circuit "Petite Chartres" is located next to The Cotton Mill building. Labyrinths such as this are known for their calming and healing effects. This one also features an information board that tells you about its design and construction.

Live Abundantly at The Landings
From the Blue Ridge Mountains to the French Broad River, The Landings brings together the best of Asheville living in the River Arts District. Designers and architects meticulously detailed every nook and corner to provide ample daylight in an open floor plan layout. Each unit comes with a full kitchen, large closet spaces, one indoor parking space, and elegant finishes. Bespoke kitchens and bathrooms, modern lights and fixtures, high-end appliances, and a pinch of crafted creativity come with every home. Plus, every unit comes with graceful outdoor space to enhance the panoramic views, maximize your river-front experience, and provide for bright and airy homes.

Does that sound like the perfect lifestyle for you? Then Live Abundantly at The Landings. Find your dream home in The Landings now!

Visited 9 times, 1 visit(s) today