Last Updated on June 9, 2023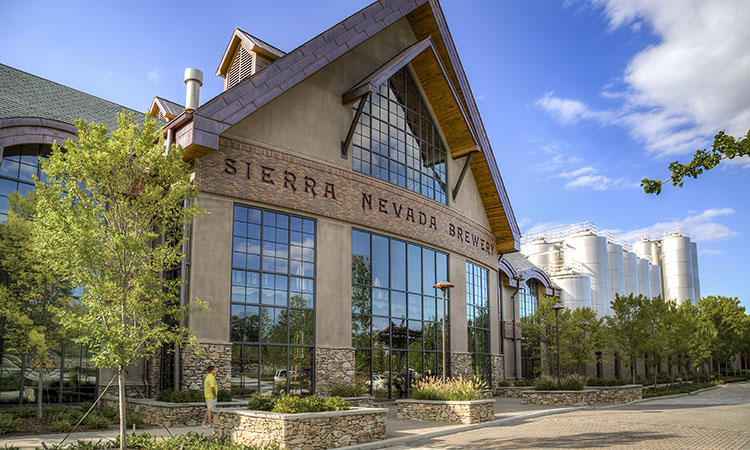 Every day in Western North Carolina is an adventure, especially if you enjoy the outdoors. There are countless trails and lookout spots dotted throughout the Blue Ridge Mountains, each offering its own unique perspective on native foliage, topography, and our world at large.
Another area where our region shines is in its world-class craft brewing industry. With 60+ locations brewing beer, cider, wine, ginger beer, sake, and more, there are no shortage of styles to try and fall in love with.
If you enjoy a refreshing beverage after a day spent outside, we have just the thing for you. Here are six WNC trails that match well with local craft breweries.
Asheville Botanical Gardens >> Ginger's Revenge
Walkable from downtown, the Botanical Gardens at Asheville are located adjacent to the UNC Asheville campus. Enjoy dozens of plants native to the Southern Appalachian Mountains as you stroll your way around the half-mile loop. After your tour, walk or drive down Broadway to Ginger's Revenge. The ginger beer brewery has a number of naturally gluten-free selections. We recommend taking your taste buds on a botanical tour with the bright and tart Hibiscus Lavender Ginger Beer. Bonus: Zillicoah Beer Co. is close by, as well.
Length of Hike: 0.5 miles
Difficulty: Easy
Distance to Brewery: 0.6 miles
Biltmore Lagoon Trail >> Cedric's Tavern
The legendary Biltmore Estate has roughly 22 miles of trails on their 8,000 acres of mountain landscape. The flat, paved Lagoon Trail winds along the French Broad River, making it a great excursion for walkers, joggers, and bikers. Take the trail along Dairy Road up to Antler Hill Village. There you'll find Cedric's Tavern, a cozy, wood-lined pub serving bar fare with a global twist. Their signature Cedric's Pale Ale and Cedric's Brown Ale are brewed locally using Highland Brewing's equipment.
Length of Hike: 3.0 miles
Difficulty: Easy
Distance to Brewery: 0.1 miles
Catawba Falls Trail >> Lookout Brewing Company
Trek through a mossy, sun-dappled forest valley to the headwaters of the Catawba River. This fantastic day hike explores waterfall after waterfall on your way to the gorgeous and cascading 100-foot Catawba Falls. After taking in your fill of the sights, backtrack to Lookout Brewing in Black Mountain. Their sessionable On the Trail Golden Ale will quench your thirst with its light body and mild hop fruitiness.
Length of Hike: 2.7 miles
Difficulty: Easy to Moderate
Distance to Brewery: 11.5 miles
Sierra Nevada Brewery
Sierra Nevada offers a number of brewery tours. The specialty "Trip in the Woods" tour features a 1.5-mile guided nature walk along the brewery's grounds. Learn about the French Broad River, native plants and trees, and how Sierra Nevada harnesses and protects these resources through their brewing process. After an exhilarating hike, the tour wraps up with samples of their award-winning beers. Reservations required. Ages 12+. $15.
Length of Hike: 1.5 miles
Difficulty: Moderate
Distance to Brewery: n/a
Black Balsam Trail >> Innovation Brewing
Within just a few miles of Innovation Brewing in Sylva, you'll find whitewater rafting, river tubing, and rock climbing. Go a few more miles and you'll find the Black Balsam Trail. The trail scales Black Balsam Knob and is one of the greatest hikes along the Blue Ridge Parkway for its breathtaking and expansive views. Trek just half a mile out from milepost 420, and you'll gain approximately 300 feet in elevation before breaking out of the tree cover at 6,000 feet. After your hike, quench your thirst with a Black Balsam Porter at Innovation.
Length of Hike: 1.0 miles
Difficulty: Moderate
Distance to Brewery: 35.7 miles
Appalachian Trail >> Nantahala Brewing Company
Running from Maine to Georgia, the Appalachian Trail is the longest hiking-only footpath in the world. Don't have that much time on your hands? Several segments of the AT run through Bryson City, with the nearest access just 13.8 miles away. The most popular and accessible AT hike is the 4-mile segment from Newfound Gap to Charlies Bunion, a rocky cliff with one of the best views in the Smokies. Stop by Nantahala Brewing Company while you're in town for the App Trail Extra Pale Ale.
Length of Hike: 8.0 miles
Difficulty: Moderate to Strenuous
Distance to Brewery: 29.4 miles
BONUS: The Asheville Ale Trail
Looking for a different kind of "trail"? The Asheville Ale Trail is the most comprehensive and up-to-date guide to breweries and craft beer in Western North Carolina. Grab a printed "field guide" around town, check out one of their six self-guided tours of WNC craft brews, and download their app for events near you.
Where is your favorite WNC hiking trail? How about your favorite local brewery? Share them with us in the comments.
Visited 448 times, 1 visit(s) today