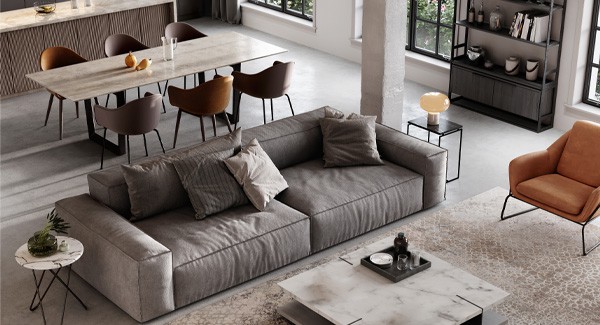 Last Updated on December 7, 2022
Held twice each year, The High Point Market is the largest home furnishings industry trade show in the World. Boasting more than 2000 exhibitors and 10 million square feet, this is the place to see the latest trends in home decor.
The biannually, highly-anticipated event is only open for industry professionals, but don't worry, today we're giving you a peek behind-the-scenes, as we reveal what's trending in furniture and home design for 2023.
Natural elements
Taking cues from nature, natural elements were on big display at the 2022 fall High Point Market. Slowly edging its way to popularity over the last few years, cane, rattan, and woven elements are front and center now. Along with this nature-inspired palette come earthy colors that have us reminiscing of the 80s and 90s. It's true what they say, fashion (and design) is cyclical.
That 70's style
The 70's called and it wants its moody colors, round curves and flashy vibes back. The market was filled with room after room of decor just like the bold orange chairs above, leaving many designers scratching their heads and others rejoicing.
Curves galore
Along with the 70's style being resurrected, comes curvy lines in all things, from furniture to rugs to lamps and more. While the last decade has largely been about very square elements, those wanting to step outside the box, so to speak, are welcoming this new look.
Statement lighting
Nothing personalizes your home faster than ripping out that dated flush mount and adding in some statement lighting, and the designers at High Point couldn't agree more, as evidence by the abundance of stop-you-in-your-tracks lighting.
Side table spotlight
An often over-looked element of any room, the side table is finally having its moment in the sun. You know how they say you can go crazy in your powder bathroom and laundry room, using daring color and design, well, now they're saying go crazy when you pick out your side table! Fun, quirky and unique side tables are like jewelry for your living room.
Pattern on display
Pattern was the talk of the town at the fall market, showing up in wallpaper, pillows, and throws. Florals are majorly in too, with many homeowners flocking to use these coveted wallpaper designs in their home.
The resurgence of color
With gray firmly in the rear view, and white on the sidelines waiting to get a chance to play again, color has snuck in from behind and is making a major play in home designs. Moody blues and greens and earthy tones like terra cotta and warm brown are rising in popularity, as many homeowners rush to bring color back into their homes.
You might also like:
5 Home decor trends that inspired HGTV's urban oasis
Visited 4,931 times, 1 visit(s) today