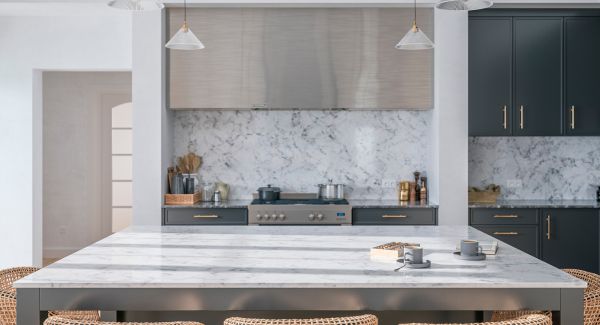 Last Updated on June 1, 2023
Two times a year nearly 75,000 interior designers, architects, and furniture buyers gather for the largest home furnishings trade show in the world. Spanning more than 10 million square feet and featuring an average of 2,000 exhibitors, the market is the best place to find out what's hot in home decor and furniture. With the spring show wrapping up just over a month ago, designers are now sharing the biggest trends and takeaways seen at the latest High Point Market.
Rattan
With a nod to the 70's style when an emphasis on natural elements were in vogue, Rattan is back in style. Rattan is now so popular that it's the top natural material used in lighting, accessories and furniture.
Lacquer
One of the oldest finishes for furniture is quickly making a come back. Gone are the distressed furniture pieces that were rampant during the farmhouse trend and in exchange designers are gravitating towards the ultra shiny lacquer finish.
Curves
Chairs, couches, tables, armoires, you-name-it, everything is curved these days. While dramatic curves found in furniture and decor might be a fad, soft, subtle curves will always stand the test of time.
Burl wood furniture
Popular when art deco was trending and then again in the 70's, what's old is new again with the resurgence of burl wood. From vanities to coffee tables to dressers and more, this swirling wood is taking the home decor world by storm.
Performance fabric
What was once the gold standard for high-quality outdoor fabrics are slowly making their way indoors, as well. As these performance fabrics evolve and become softer and better suited for indoors, many consumers are opting to use the very best in stain resistance for their indoor seating.
Mid century modern
Just as the throwback designs of decades past are back with the abundance of curves, so is mid-century modern. In step with this moody resurgence is also the use of bold colors–from plums and burnt oranges and blues–another trend from when mid-century was first popular.
Antiques
Increasingly, design enthusiasts are gravitating towards a more collected look, often mixing designs from many different time periods. As a result, antiques are majorly trending right now.
Visited 3,889 times, 1 visit(s) today