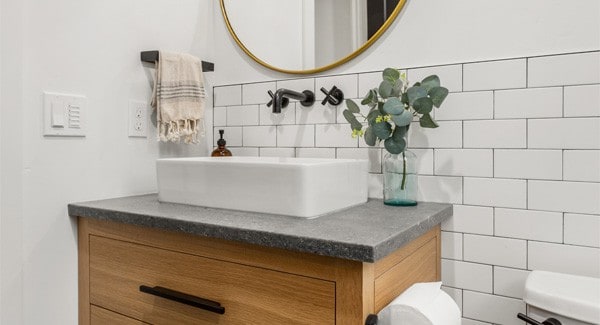 Last Updated on August 8, 2022
In the latest Cost vs. Value report, the average mid-range bathroom remodel costs just over $27,000, while an up-scale remodel costs upwards of $90,000.
Whether you're looking to just make a few cosmetic changes to your existing footprint or tear your current bathroom down to the studs, here's what's trending in the world of bathroom design.
Bold tile
The color green has been making quite a splash in the home design industry for a couple of years now and the latest trends show homeowners even going green in the bathroom. Green wall tile is majorly trending, giving those that want bold color something to get excited about.
Freestanding tub
The oversized-garden tubs that graced new builds in the 90s are slowly being ripped out and replaced with sleek freestanding tubs. Thirty seven percent of homeowners renovating their bathroom are choosing these space-saving tub styles, with most going with an acrylic, flat-bottom tub.
Classic finishes
While bold colors like green are trending, white has always been and continues to be the favorite color of choice when it comes to vanities, countertops and tile.
Considering white finishes have been dominating the bathroom design world for decades, designing a bathroom using mostly white finishes will never go out of style. You can inject personality with wall color that can be easily switched out, greenery, and even artwork.
Mixing metals
The art of mixing metals in home design isn't just for the kitchen, as this idea has slowly made its way to the bathroom, too. With interior designers leading the trend on this eclectic approach, more and more homeowners are opting for a more curated look and seek to achieve that through mixing metals.
The key to getting this look right is to keep the plumbing fixtures in the same metal family and then having fun with light fixtures, cabinet pulls and other accessories.
Curbless showers
As more and more homeowners desire to age in place, primary bathrooms are being renovated with that in mind. Curbless showers are both trending and exceptionally functional, bridging the gap between accessibility and seamless design.
Interested to see other trending home design ideas? Check out the latest trends in home improvement ROI.
Visited 201 times, 1 visit(s) today