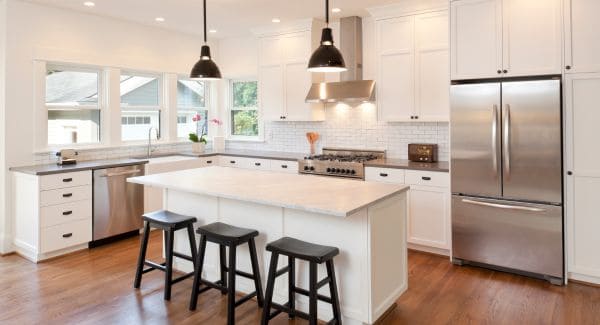 Last Updated on August 24, 2023
Think you know what buyers want? Now, you don't even have to guess, thanks to a recent report by Curbio outlining exactly what buyers today are looking for.
Not surprisingly, the overwhelming majority of future buyers are looking for move-in-ready homes, with 77% of buyers citing this as a make-or-break deciding factor. In terms of home features that give off the biggest WOW factor,
68% of buyers say a gorgeous kitchen makes the best first impression
59% of buyers say a new bathroom is the best first impression
55% are most impressed with an open layout
53% report that a backyard oasis gives off the best first impression
52% cite new flooring as the best first impression
In terms of ROI when you sell your home, the top five improvements are:
A kitchen refresh yields 377% (A kitchen refresh includes painting cabinets, new countertops, new hardware, and new appliances)
Refinishing hardwood floors yields 348%
Basic listing prep yields 297%
Roof replacement yields 288%
Carpet replacement yields 280%
Now that you have a good idea what buyers are looking for, here's what they aren't:
Disrepair: foundation, plumbing or HVAC (42% say this is the biggest red flag)
Cosmetic issues: old paint, stained carpet, etc. (24% said this was the biggest red flag)
Dated kitchen (23% said this was the biggest red flag)
No curb appeal (9% said this was the biggest red flag)
If you're thinking of selling soon, it might be time to update your space with the help of our partner, Curbio. Curbio partners with Allen Tate agents to "fix now, pay later," deferring 100% of the fees until closing for those with enough equity in their home.
About Allen Tate Realtors
Allen Tate Realtors has been helping our clients achieve their real estate goals since 1957 and is the #1 real estate company in the Carolinas. With local roots and global connections, thanks to our partnership with Leading Real Estate Companies of the World, our real estate agents can provide their customers with superior service, unparalleled connections, and vast market knowledge. Allen Tate provides real estate, mortgage, insurance, and relocation services throughout the entire homeownership lifecycle.
Allen Tate Companies is a proud partner of Howard Hanna Real Estate Services, the largest independent, family-owned real estate company in the country. With more than 13,000 sales associates and staff members across the combined companies, our agents are the best of the best.
Visited 3,646 times, 1 visit(s) today