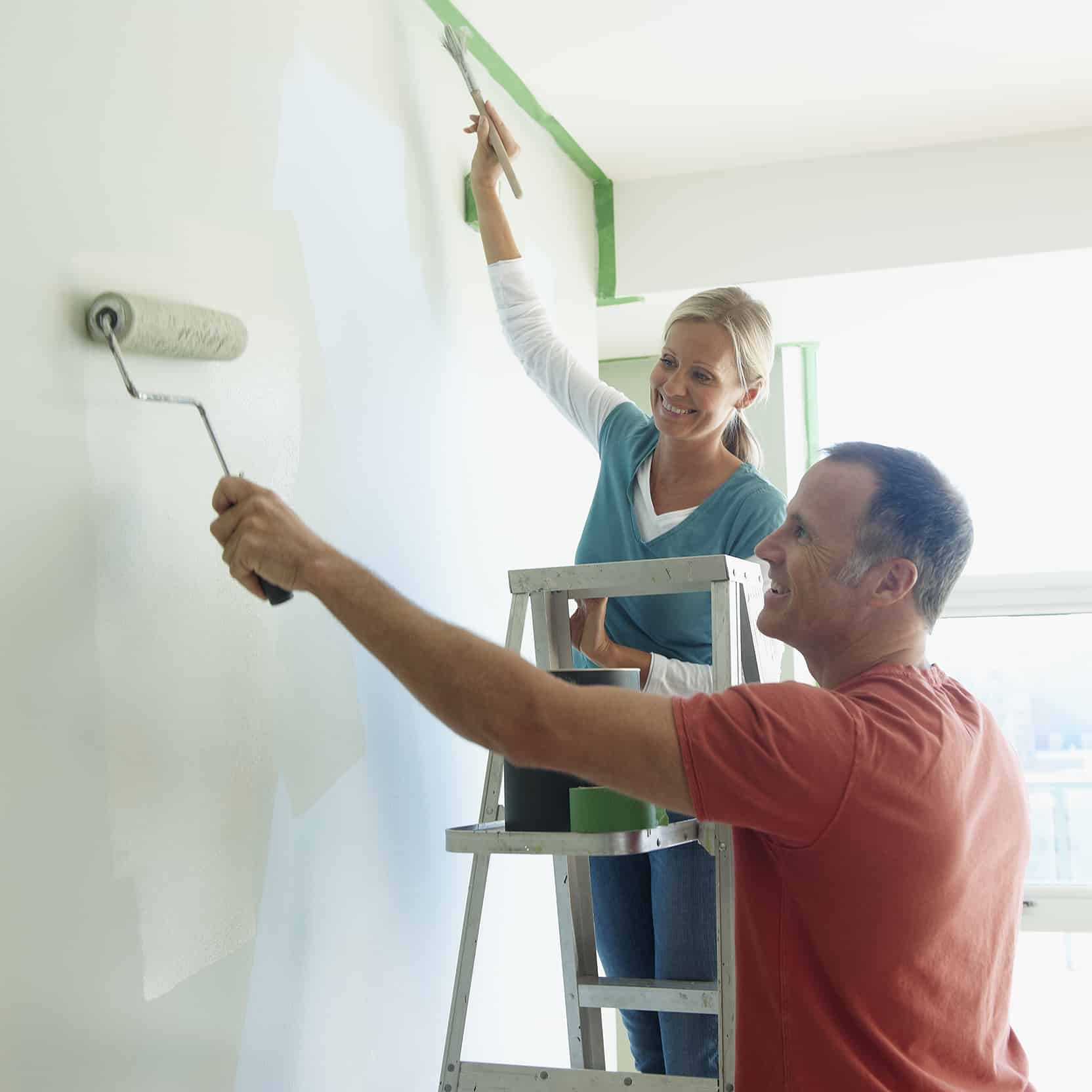 Last Updated on September 8, 2022
Summer is coming, which means that many of us are in the midst of our spring cleaning projects — clearing out the old to make room for colorful bright accents and seasonal decor. But no matter how excited we are to revamp our space, it's hard to get over the hefty price tag that comes with it.
Luckily, it's easy to give your home a brand new look with just a few DIY touches! We turned to these talented local bloggers in North and South Carolina for inspiration. They cover everything from herb planters to headboards, each implementing their own creative point of view into the project. What will you tackle first?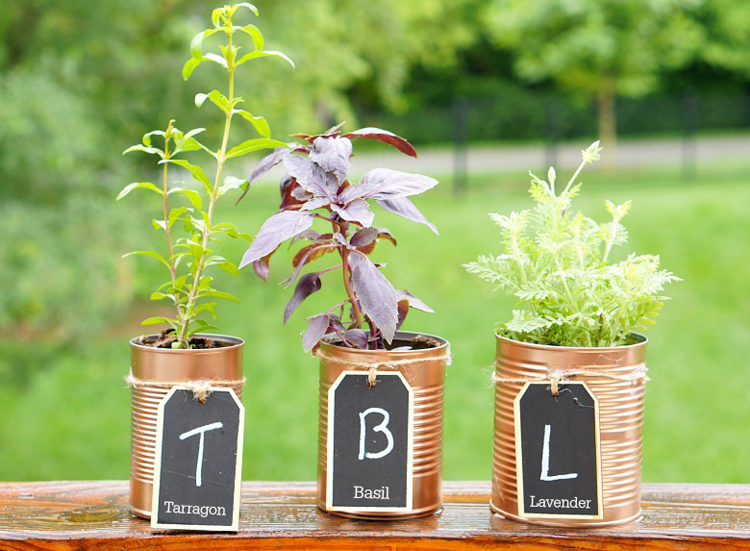 Photo and project courtesy of Forks & Folly
Bring the outdoors in with these gorgeous copper planters from Forks & Folly! The design is simple enough for beginner DIYers to tackle, and can be easily customized to your space. Katie uses them in the kitchen so that she can have herbs on hand when she's cooking, but she also likes that they add a little bit of life to a room she spends so much time in.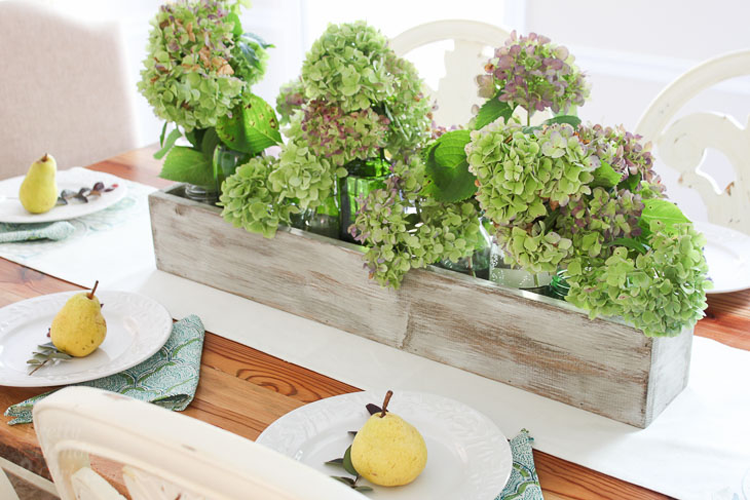 Photo courtesy of Pretty Handy Girl
Brittany from the Pretty Handy Girl focuses on breaking gender stereotypes with her blog, empowering her female readership to ditch their fear of power tools and get to building! Her projects range from fun, decorative home crafts to full-on construction projects, like this DIY garden shed. For the centerpiece, she put together a statement for less than $10 — a piece that can be used from season to season!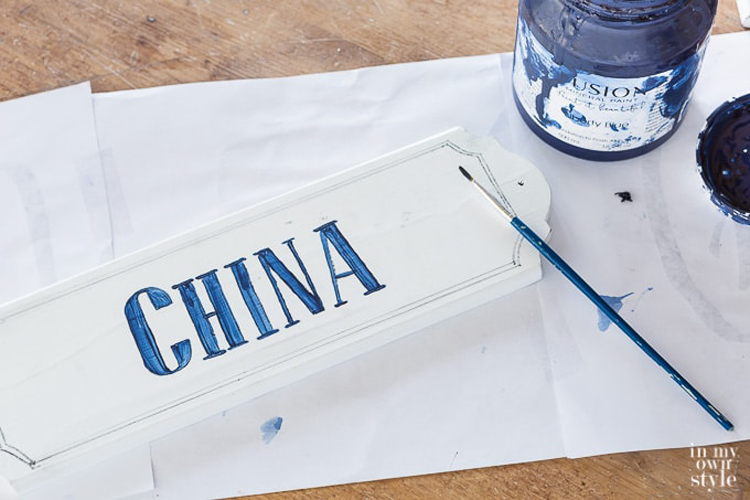 Photo courtesy of In My Own Style
Part of the charm of Paris is the adorable rustic decor. Diane makes it easy to channel the feel of Paris in your own home using these easy-to-make enameled signs! Use them for anything — to label your kids' bedrooms, to label pantry items or even to label the bathroom!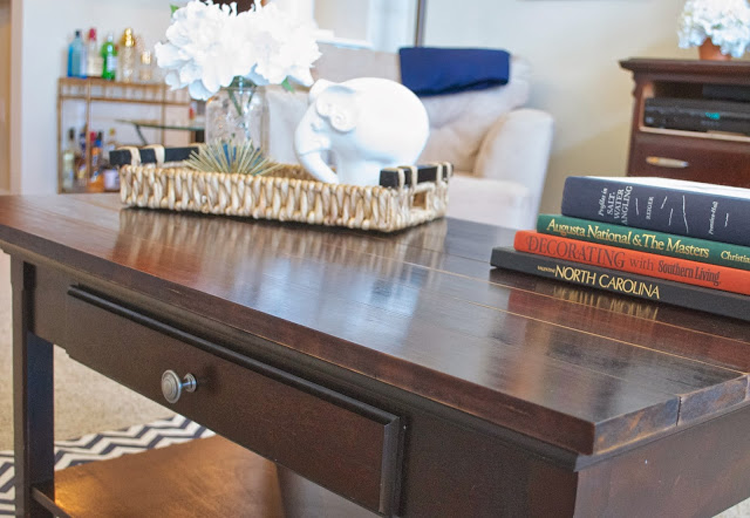 Photo and project courtesy of Belle in the City

The coffee table is definitely the anchor of the living room, but it always seems that the cute ones come with a hefty price tag. Belle in the City crafted her own wood plank version for much cheaper, and still managed to create something spectacular! Her tutorial is easy to follow and comes with lots of pictures.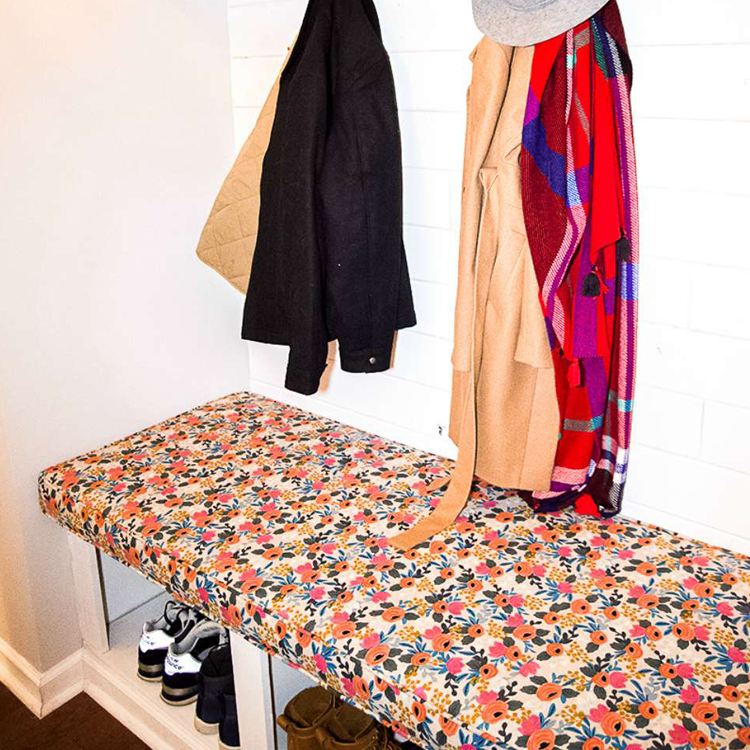 Photo and project courtesy of I'm Fixin' To
Oftentimes, the mudroom is one of the first things guests see when entering your home. Even if it isn't, it's important to make the space bright and cheerful, instead of just a storage room for coats and dirty boots. This DIY mudroom bench from I'm Fixin' To adds the perfect pop of color, and is functional to boot!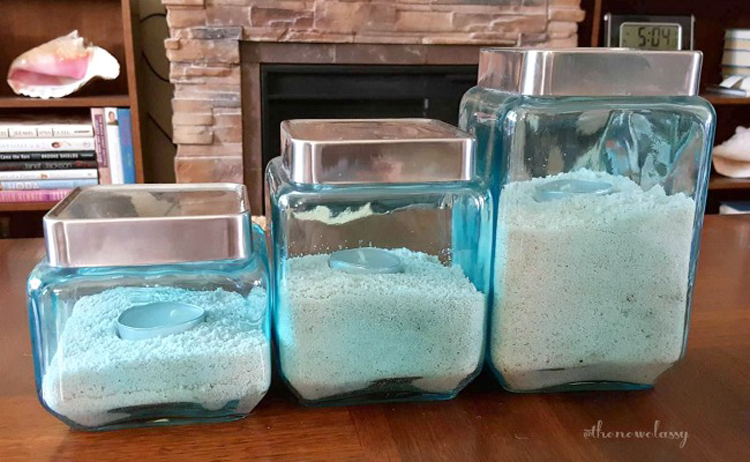 Photo and project courtesy of Cheap is the New Classy
When you come home from the beach, it seems like sand has gotten into everything. But Dawn from Cheap is the New Classy has a fun and cute way to bring sand into the home — and it doesn't require a vacuum cleaner. Check out her idea for DIY sand candles, which make for perfect beach vacation keepsakes and fun summer decorations around the house. Use them to light the table for your next outdoor dinner party!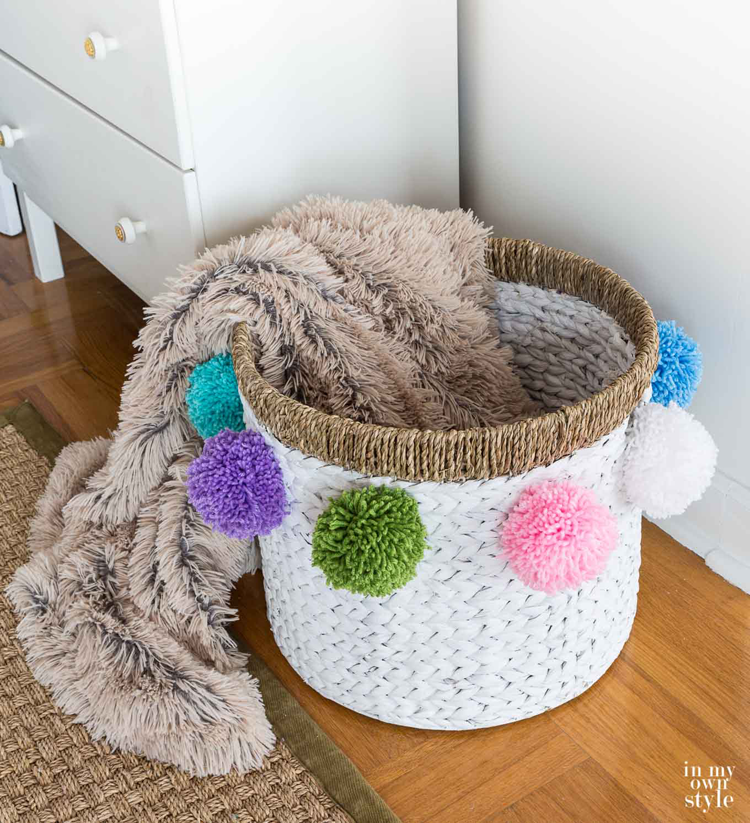 Photo and project courtesy of In My Own Style
Colorful pom poms are all the rage right now, and Diane from In My Own Style has a brilliant (and practical way) to bring them into the home! She made her own pom poms from yarn and attached them to the basket in a way that will not cause permanent damage. That way, if you ever get tired of them or if they ever go out of style, you can easily remove them and use the basket for other things. How genius! Crazy about pom poms? Try this pom pom throw blanket as well.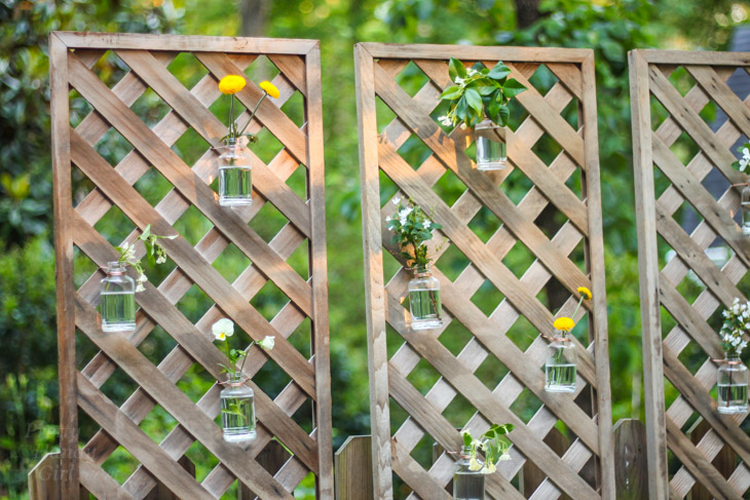 Photo courtesy of Pretty Handy Girl
We love this project from Pretty Handy Girl because it serves a dual purpose — adding an extra layer of privacy while also contributing life and brightness to the backyard! Customize the look by adding your favorite flowers, and switch them out frequently for freshness and maximum color!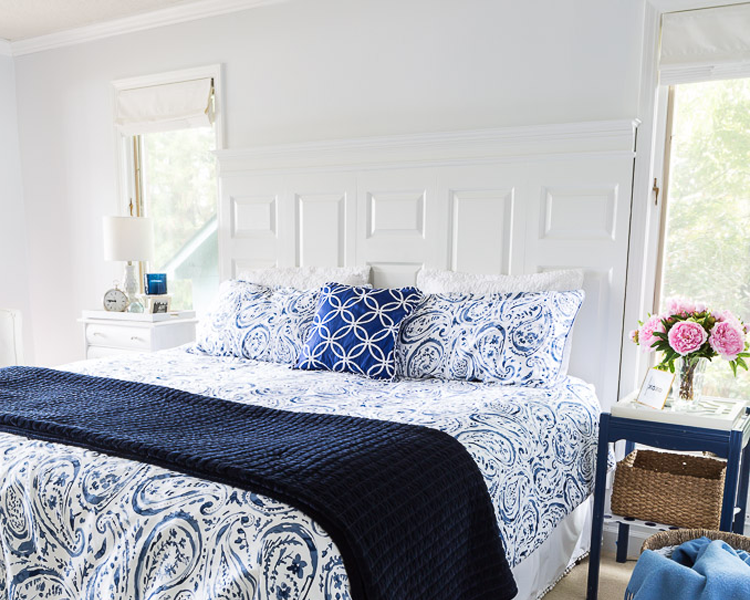 Photo and project courtesy of In My Own Style
A gorgeous headboard is one of the most important decorative items in the bedroom — it can really make or break the space! Diane from In My Own Style came up with the stellar idea to upcycle old doors into a headboard, which gives the bedroom a farmhouse-chic feel. Why didn't we think of this sooner?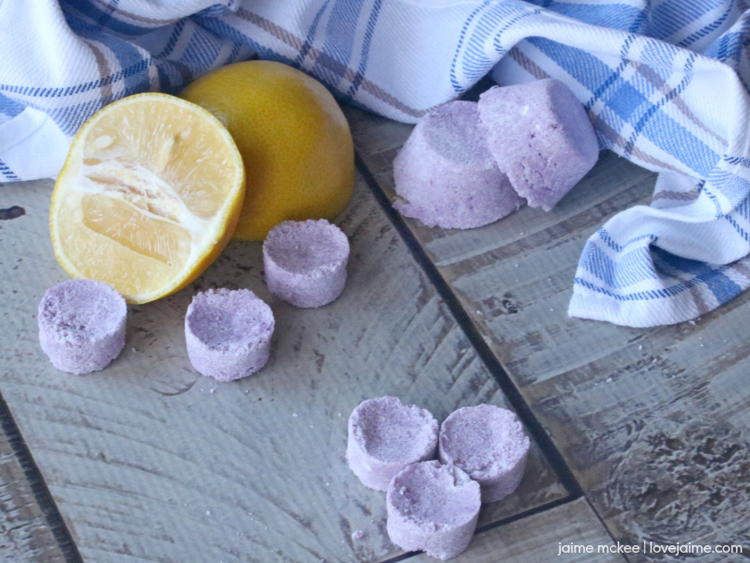 Photo and project courtesy of Love Jaime
This one is for AFTER you've tackled all of those other tough DIY projects — you're going to need to relax! Love Jaime, based in Asheville, created this swoon-worthy lavender and lemon bath bomb recipe that will do just the trick. Lavender and lemon essential oils are both great for sleep, so these are ideal for winding down at the end of the day. Plus, they're just really pretty! Use them yourself or wrap them up in a cute little basket as a gift.
Have fun DIYing!
What are some of your favorite bloggers to follow in North and South Carolina? We are always looking for recommendations!
Visited 4,868 times, 1 visit(s) today