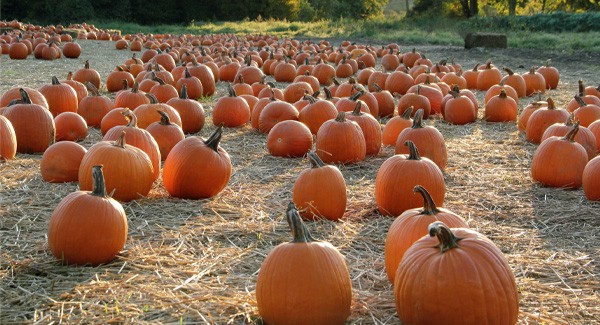 Last Updated on October 10, 2022
As the first days of autumn are finally upon us, many North Carolinians begin to seek out fun fall activities. In search of the quintessential fall weekend activity, it's lucky for us that North Carolina is home to many pumpkin patches and corn mazes throughout our great state. Here are our picks for the best pumpkin patches and corn mazes in North Carolina.
Pumpkin patches in North Carolina (West/Mountains)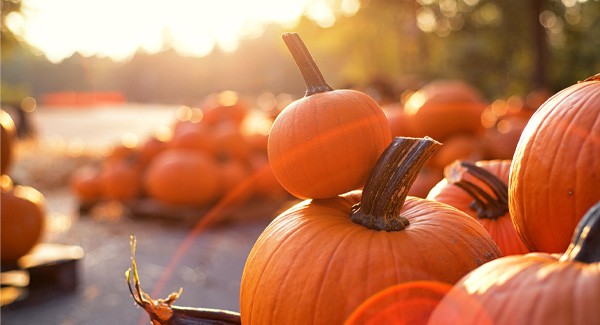 Grandad's Apples 'n Such
Don't let the name fool you, Grandad's Apples 'n Such is more than just apples. This 100-acre farm is home to an apple orchard, pumpkin patch, corn maze and more. Located in Hendersonville, NC, Grandad's has plenty of things for families to do, from the cow train and apple cannon, to the corn maze and country store, spending a day at Grandad's is a no brainer. In terms of popularity, Grandad's is probably the most sought-after pumpkin patch in this area, so plan accordingly.
Packa's Place
Located on a farm that's been around since the 1800s, the fall pumpkin patch at Packa's Place is a must do. Featuring pumpkins of all varieties, gourds, fall florals and home grown veggies, the pumpkin patch is open Wednesday-Sunday during the months of September and October. With an on-site beer garden with plenty of craft brews to sample and live music, you can easily make a day of it at Packa's Place. Note, there is no food on site unless a food truck is scheduled, so be sure to check the instagram page before heading out if you'd like to dine at Packa's Place.
Stepp's Hillcrest Orchard
Nestled in the heart of the picturesque Blue Ridge Mountains sits Stepp's Hillcrest Orchard, where the Stepp Family has been farming for 50 years. In this vast, 70-acre working farm, travelers in search of apples and pumpkins are in for a treat, with a wide variety of apples, pumpkins and homemade goodies to be enjoyed. A corn maze is open every day, as well as u-pick apples and pumpkins. On the weekends, an apple cannon and wagon rides are available with no reservations required. You can even come away with fresh sunflowers, and yes, apple donuts are involved!
The Pumpkin Patch
Though there's not too much in the way of information about this pumpkin patch online, this spot can't be missed. Past patrons of the Pumpkin Patch have tons of good things to say about this sweet little spot, noting that it's a cute place for fall photo ops, and fall decor shopping. Of course the pumpkins are plentiful at the Pumpkin Patch with several varieties and even squash to choose from.
Lantern Farm
Home to all things fall and even Christmas, At Lantern Farm you can pick pumpkins, wind your way through a corn maze and even choose and cut your own Christmas tree. Located in one of the prettiest spots in North Carolina, Lantern Farm is a newcomer to the space, but with plenty to do and see, this is easily a spot to add to your fall bucket list. Food is available and the farm sells corn, hot dogs and drinks. Pre-picked pumpkins are available or you can visit the pumpkin patch.
Coston Farm
Coston Farm is known for their apple orchard, but also has pumpkins starting in late September. Don't forget to stop by the gift shop for homemade assorted jams, jellies, apple butter, honey and more on your way out. Open starting August 19 from 8:30-5:30 through the fall growing season. If you're in the hendersonville area, it's worth swinging by.
Pumpkin patches in North Carolina (Central/Piedmont)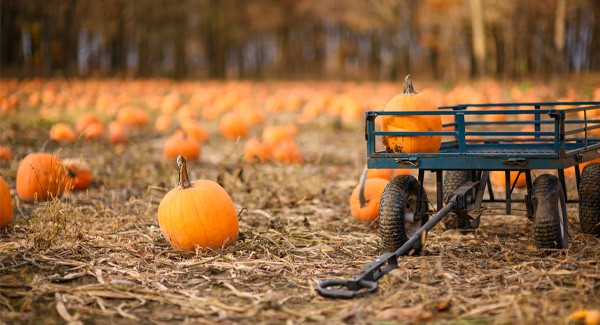 Redwolf Farm
Located in Maiden, North Carolina, Redwolf Farm is home to 40 sprawling acres, complete with a pumpkin patch, corn maze and tons of activities for kids and families. Only open on the weekends in October from 10am -6 pm, Redwolf has plenty to do, from pumpkin picking to inflatables, to farm animals, and hayrides, and you can even swim in giant tubs of corn if you're so inclined.
Johnny Wilson's Pumpkin Patch
Located in Granite Falls, NC, Johnny Wilson's Pumpkin Patch, is much more than just a pumpkin patch. With a corn maze, petting zoo, a 20 minute tram ride to tour the working farm, bounce house and more, this is the perfect fall venue to pick some pumpkins.
Riverbend Farm
Only open during the month of October each year, Riverbend Farm is celebrating its 30th year in operation this fall. Quite the pumpkin patch, this pumpkin picking event is certainly an experience with several large wagons shuttling guests to the pumpkin patch. Besides the pumpkins, the kids will love Riverbend Farm, as they're known for their many amazing slides. Open 7 days a week, located in Midland, NC.
Aw Shucks Farm
If you have small children, Aw Shucks Farm in Monroe, North Carolina is a fall bucket-list item. With no shortage of fall fun and festivities, the kiddos will have fun with the many slides, animal barn, corn maze, wagon ride and more. There's even tons of food options from old fashioned diner classics to fall staples like apple slushies and caramel apples. Open on weekends from September 23-November 6.
Want more pumpkin patch options close to Charlotte? Browse our favorite picks for pumpkin patches in Charlotte, NC
Hunter Farm
Located in Weddington, North Carolina, Hunter Farm is located on a picturesque setting with plenty of pumpkins to choose from. Come for the pumpkins and stay for the world-class petting zoo here at Hunter Farm. Reservations are required for the petting zoo only. Hours: Tues-Thurs 2-7p, Fri-sun 9a-7p, closed Mondays.
Hodges Family Farm
Located in Charlotte, North Carolina and open 7 days a week from September 24-October 31st, Hodges Family Farm is the perfect little spot to pick out your jack-o-lantern for the season. Bring a picnic lunch and make an afternoon of it, while you pet the barn yard animals, play on the hay mountain, take a hay ride or snack on some funnel corn. Some activities are only available on the weekends, so check before you go.
Carrigan Farms
Home of the "authentic" pumpkin picking experience, Carrigan Farms is located in Mooresville, NC. You must make reservations in advance to pick pumpkins here, and each ticket includes a hay ride to a pumpkin patch where you can actually pick your pumpkin off of the vine! Your ticket will also give you access to the petting zoo. Come back in the evening if you want a good fright and visit Scarrigan Farms, where the 275-acre farm is transformed into the spookiest trail in the area.
Find pumpkin patches near Greenville, NC here
Pumpkin patches in North Carolina (East/Coastal)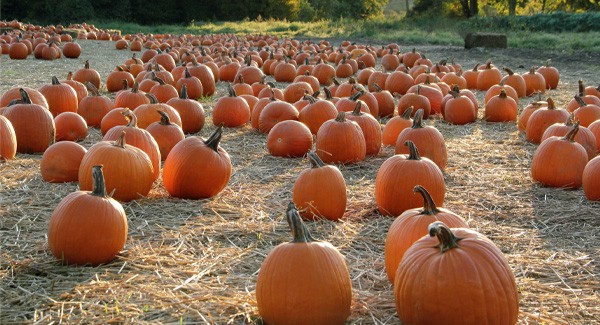 Hubb's Farm
Hubb's Farm is more than just a place to pick pumpkins, it's your one-stop-shop for all things fall. Besides pumpkins, farm goers can participate in over 20 actives from nature trails, an award winning corn maze, tire mountain, wagon rides and more. With a full concession stand and plenty of fall favorites, like apple donuts, you can plan to spend most of your day at Hubb's Farm.
Vollmer Farm
Located in Bunn, NC, Vollmer Farm is open on the weekends during the month of October. Besides choosing your perfect pumpkin, you can have fun when you take a ride on the wagon, try your hand at the turkey shoot, hop on the cow train, get lost in the corn maze and take a ride down the tunnel slide.
Corn Mazes in North Carolina
Elida Corn Maze
With 100% of the proceeds going to children, youth and families served in the area, visit this corn maze to get lost for a cause! Open starting September 30th and running through October 30th, the Corn Maze is open on Friday, Saturday and Sundays only.
Ashe County Corn Maze
Described as very challenging, you better have some spare time on your hands if you get lost in Ashe County's Corn Maze. Taking maze goers anywhere from 30 minutes to 4 hours to complete, this corn maze is 4 acres in length. The Corn Maze is $10 per person and buying a ticket allows you to access all activities, including games and live music. Pumpkins are available on site for purchase.Pets on a leash are welcome.
Red Wolf Farm
With over 40 beautiful acres, located in Maiden North Carolina, Red Wolf Farm Corn Maze is a great way to spend your weekend. With select days available in October (1, 2, 8, 9, 15, 16, 22, 23, 29, 30), the corn maze is $8 per person and open from 10am-6pm.
Stepp's Hillcrest Orchard
Open daily throughout the month of October, a five acre corn maze
Lantern Farm
Talk about a corn maze! Twist and turn as you meander through this four-acre pumpkin maze. And if you don't like to get lost for hours, their hay maze might be more your style. Located in West Jefferson with the natural mountain backdrop, Lantern Farm is a corn maze to visit!
Johnny Wilson Farm
Located in Granite Falls, NC, Johnny Wilson Farm is home to a 3-acre corn maze that even has a tunnel. The fall season is open from September 24-October 31.
Hubb's Farm
Voted as one of the top 25 corn mazes in the US, if you like to get lost, don't look over Hubb's Farm corn maze. Open Wednesday-Sunday from September 24-November 6th.
Galloway Farm
Located in Hallsboro, North Carolina, Galloway Farm is one of the largest corn mazes in Eastern NC. Fondly called Maze Craze, this maze is a can't miss. Besides the maze, you'll have tons of fun here, as you play farm games, go on a scavenger hunt, bounce the day away in bounce houses and more!
Know before you go: Pumpkin patches in North Carolina
Always check hours before you go. We found that many of these places are family-owned farms and as a result, are not open every day. Often the best place to get up-to-date information is on the farm's social media channels or by calling.
The crop each year is highly dependent on weather conditions. Each year will look a little different and you cannot count on your favorite spot always having the abundance of crops they did in years prior. Calling or checking on social media before you go will ensure they have what you're looking for before you make the trek.
Weekends are busy times for corn mazes and pumpkin patches, especially in the busier areas like Hendersonville, Asheville and Charlotte. Try going on week nights or first thing on Saturday or Sunday.
Corn mazes can take a while to go through, with most corn mazes on this list at least taking maze walkers 30 minutes to accomplish, so don't forget to bring bottled water and sunscreen!
You might also like: weekend getaways in NC
Visited 1,992 times, 1 visit(s) today