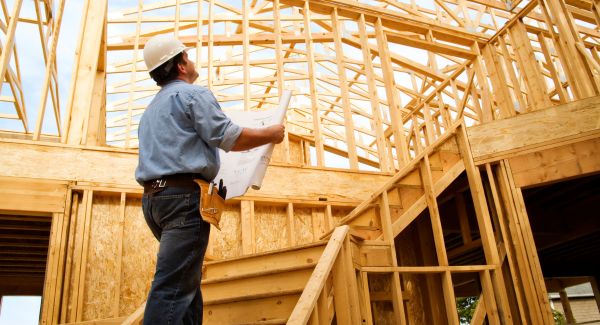 Last Updated on November 14, 2023
A whopping 30% of all homes on the market in Q3 were new construction–the highest percentage share of any third quarter on record. If you're in the midst of planning a new build or saving for a down payment for new construction in the coming months, here are our best tips when planning a timeless new construction home.
How long will you be in your new home?
While it's impossible to predict the future, it's a good idea to sit down and think about how long you might be in your new build. If you're planning on a shorter stay, you might lean towards more traditional fixtures and finishes to help with resale value. However, if you're designing a home you plan to live in for a long time, you can choose elements that speak directly to your style without worrying that it will negatively impact you down the road when it's time to sell.
Regardless of the length of time you'll be in your home, it's wise to consider timeless elements over trendy ones so that you can enjoy your home even as the trends change.
Understand the style of your home
When making design choices in the kitchens, bathrooms, and with elements like the fireplace, staircase, etc., take into consideration the style of your home. If you have a traditional home, you should have a traditional staircase. If you have a modern home, you should have a modern kitchen, fireplace, etc. When you start mixing styles, large areas of your home can quickly look out of place.
Inject personality in decor, furniture and paint colors, not fixed elements
We get it—there are a lot of choices when you're planning a new build. To avoid choosing items you might not like down the road, remind yourself that you can inject personality into areas of your home that are much easier and cheaper to replace. Think paint color, decor, furniture, wallpaper, lighting, and more in terms of how to make your home look unique. If you keep a neutral palette in your fixed elements, you won't feel the need to renovate your home years later as your tastes and preferences change.
Choose neutral floors
Did you know that most people completely change up decor every 7 years or so? The flooring you choose throughout your home should allow you to seamlessly change the decor as you wish. Going with flooring that is trendy or has undertones that aren't neutral enough to work with varying decor can quickly have you regretting your choices.
For wood flooring, choose something with a medium brown tone or a pale neutral for the most timeless look. If you're putting carpet in your home, try to select a neutral tone and stay away from pink or taupe undertones, as they are very hard to work with. For bathrooms, timeless white, marble, or basketweave tile will always be in style.
How to choose timeless cabinets
The kitchen is one of the biggest ticket items to renovate. Homeowners who select classic elements that have been 'in' for decades will ensure they enjoy their kitchen for years to come. When in doubt, you can never go wrong with white cabinets. While cabinet colors like green, black, and even beige are majorly trending right now, before you install them in your kitchen, ask yourself if you will still like them 10 years from now. White cabinets also give you a clean and neutral backdrop for when you inevitably change up your decor in 5-7 years.
Countertop options
Countertops are pricey to change, so you want to make a choice that will suit your lifestyle and design aesthetic for years to come. Look for something that's neutral enough to serve as a backdrop for your changing tastes and decor over the years if you plan to stay in the home for a while.
In terms of stone selection, granite is virtually indestructible, but many homeowners are moving away from the look of granite in favor of quartz, which is more neutral but a bit more fragile. If you like the versatility of granite, there are far less busy granites on the market that will easily stand the test of time. Marble is still not widely used in kitchens, as it's just too prone to staining and etching. Marble is a beautiful and timeless choice in bathrooms.
Plumbing hardware
Plumbing hardware and mixing metals in general is such a hot topic, and there are many opinions and choices! In terms of plumbing hardware, which, by the way, should all coordinate, the most timeless options are chrome, polished nickel, and brass. You can introduce other metals with cabinet hardware, lights and mirrors.
Backsplash choices
The most timeless backsplash option that will truly never go out of style is a subway tile. For a classic look that will stand the test of time, stay away from heavily patterned or busy tiles. If you feel like subway tile is boring, remember you can add personality through your pendants, barstools, rugs, and drapes/blinds.
Ready for some design advice? Read 6 design trends inspired by the 2023 HGRV Urban Oasis.
About Allen Tate Realtors
Allen Tate Realtors has been helping our clients achieve their real estate goals since 1957 and is the #1 real estate company in the Carolinas. With local roots and global connections, thanks to our partnership with Leading Real Estate Companies of the World, our real estate agents can provide their customers with superior service, unparalleled connections, and vast market knowledge. Allen Tate provides real estate, mortgage, insurance, and relocation services throughout the entire homeownership lifecycle.
Allen Tate Companies is a proud partner of Howard Hanna Real Estate Services, the largest independent, family-owned real estate company in the country. With more than 13,000 sales associates and staff members across the combined companies, our agents are the best of the best.
Visited 948 times, 1 visit(s) today