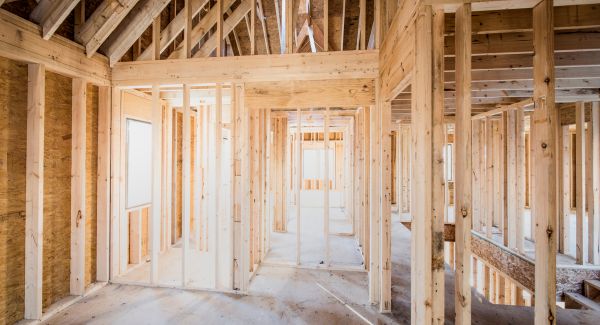 Last Updated on September 7, 2023
So, you're ready to buy a new home! And by "new home," you mean a newly completed, shiny, and fresh construction that's ready for you, its first buyer, to start building its history.
Congratulations!
Buying a new construction home is a great decision. After all, it's move-in-ready. You know it's more energy efficient than an older home. And all the systems and appliances are brand new. Can't go wrong, right?
In many cases, that's true. But like any home purchase, buying a new construction home involves a series of smaller decisions and considerations—and mistakes can be made along the way.
Here are five mistakes to avoid when buying a new construction home.
Mistake #1: You didn't ask any questions.
Whether your dream home is currently under construction or already complete, it's important to ask questions about the quality of the build. Along with experience and credentials (e.g., state licensing requirements), check ratings and reviews to get a general idea of how each construction company treats its clients.
You can also take a formal tour of a model unit. That way, you can see the quality of construction, amenities, and finishes up close. Don't forget to examine the cabinetry, carpeting, trim work, and paint. The company should also be open to letting you tour a build site. If you choose to do that, pay attention to the materials, workmanship, and safety.
Mistake #2: You forgot about additional up-front costs.
All the best benefits of new homes (quality construction, new appliances, community pool, etc.) mean your purchase price will be more expensive than if you bought that time-intensive fixer-upper down the road. In addition, if you're involved with building the home from the ground up, you must factor in the purchase of the land. Planned communities often have larger lot sizes, which come at a cost. Also consider HOA costs and property taxes as you look for the right new construction community for you.
Mistake #3: You miss the opportunity to add character.
New homes come with the design features in demand by today's lifestyle. Often, open floor plans, walk-in closets, eat-in kitchens, laundry rooms, linen closets, and large suites with spacious bathrooms are standard features. However, new homes usually have less architectural detail and charm than many older homes. But don't forget—if you buy your new home before construction is complete, you can often upgrade to choose the fixtures and features you want. Even better, any additional upgrades can be included in your original purchase price, which means you can finance them instead of paying out of pocket after you move in.
Mistake #4: You skipped the inspection.
It's a common myth that you can't do an inspection on new construction homes. In fact, you can and should conduct an inspection on a new home. (Did you know that 25% of new homes will suffer some type of structural distress?) If you're involved with the purchase during the building process, engage your home inspector to come by during construction and after the home is complete. Home inspectors can conduct inspections as the home is being built, which allows them to see features they may not under normal circumstances. If a builder discourages or doesn't allow an inspection, consider it a red flag!
Mistake #5: You didn't invest in landscaping.
The number of trees on your property won't affect your ability to enjoy the home on Day 1. But over time, a sparse lot can affect your quality of life and your wallet. There will be nowhere outside to escape the hot summer sun. And the lack of shade can also drive up your utility bills. What's more, mature landscaping adds considerably to your curb appeal. Every season you wait to invest in your landscaping is one more year you have to wait until it properly matures.
---
There are many benefits to buying a new construction home. But as we've seen above, it's not a foolproof investment. Like buying any home, buying new construction takes careful consideration—and help along the way. Your Realtor can help you avoid common mistakes when buying a new construction home.
About Allen Tate Realtors
Allen Tate Realtors has been helping our clients achieve their real estate goals since 1957 and is the #1 real estate company in the Carolinas. With local roots and global connections, thanks to our partnership with Leading Real Estate Companies of the World, our real estate agents can provide their customers with superior service, unparalleled connections, and vast market knowledge. Allen Tate provides real estate, mortgage, insurance, and relocation services throughout the entire homeownership lifecycle.
Allen Tate Companies is a proud partner of Howard Hanna Real Estate Services, the largest independent, family-owned real estate company in the country. With more than 13,000 sales associates and staff members across the combined companies, our agents are the best of the best.
Visited 882 times, 1 visit(s) today