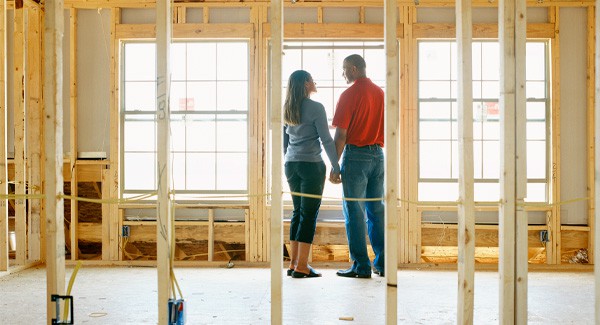 Last Updated on January 17, 2023
Often times first time homebuyers shy away from new construction, thinking it will take too long or cost too much. But with new construction accounting for a third of all homes on the market today, can buyers afford to pass up new builds? To help future buyers make an educated decision, we're clearing up 6 new home construction myths.
Myth #1: New construction is just too expensive
There's no denying that a new build will be more expensive than its resale counterpart, but you have to compare apples to apples to really understand the cost differentials. For example, a new home comes with a new roof, new bathrooms and a kitchen, new heating and air units, new windows, new doors, new flooring, etc, whereas a resale could have one or several major appliances or big ticket items nearing the end of their useful life.
What's more, new home construction typically comes with a warranty, helping to shield new homeowners from those unexpected costs.
Myth #2 You'll have to wait forever for your new build to be complete
On average, from start to finish, new homes take 6.5 months to complete, which is several months longer than the time it takes to close on a resale. However, most builders start the process of building a home long before they have a buyer, significantly reducing the overall wait time until new residents can take occupancy.
Myth #3: You can't do an inspection on new homes
You can and should conduct an inspection on a new home. It's a major red flag if a builder discourages or doesn't allow you to do this, as just because it's a new build doesn't mean its free of flaws. You actually have the opportunity to conduct inspections as the home is being built, which allows inspectors to see things they necessarily wouldn't under normal circumstances.
Myth #4 A new home will lose value fast
Homes are not like cars, the do not depreciate when you take residence; in fact, they do the opposite, and appreciate each year. In a new home community, homes will increase in equity as the builder sells more homes, and many buyers often find that they've built equity even before they've moved in, as more and more homes are sold.
Myth #5 New homes lack character
While it's true that new homes are built and designed around the current design trends, when purchasing a new home you typically have the opportunity to customize several features, making it your own. Rather than buying a resale where the kitchens and bathrooms may not be your style, with a new build, you have the opportunity to create your aesthetic before you move in.
Myth #6 You don't need a Realtor to help you buy a new home
While there's no rule specifying home buyers go through a Realtor when purchasing a new home, the benefits of going with an agent outweigh the option to go it alone.
Realtors can help you negotiate price, contract terms, completion date and more, making sure your needs and wants are represented and advocated for.
Keep reading: How to decide if a home is right for you: Your home shopping checklist
Visited 2,329 times, 1 visit(s) today