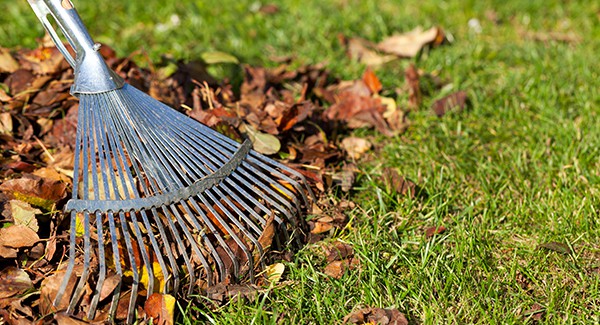 Last Updated on September 8, 2022
As soon as the brightly colored leaves start to blanket yards, many homeowners start to dread the falling foliage because it usually means one thing: It's time to dust off the rake. Not sure what to do with the mounds and mounds of leaves taking up residence on your lawn? Try these suggestions.
Leaf removal tips

Use a tarp
If your aversion to raking is pretty strong, consider using a brown tarp to do the heavy lifting. Just don't leave the tarp out for too long, as it will likely kill your grass and annoy your neighbors!
Mow
Looking to kill two birds with one stone? Get rid of leaves when you use the bag attachment on your mower. Make sure to clear up any fallen twigs first, as those can easily be hidden under the leaf covering. Set a reminder to mow your yard about once a week during the fall; doing so will ensure all leaves are gone once winter strikes. And because leaves are a natural (and free) fertilizer, using this method will not only save your back but provide for a much healthier lawn next spring and summer.
Leaf blower
If you have a larger yard, a leaf blower is your best bet for quickly and easily cleaning up the debris. Don't have a leaf blower? Keep your ears open for a neighbor that might be using one and bake them a fall dessert in exchange for borrowing their equipment.
Leaf recycle tips
Mulch

Did you know that fallen leaves double as mulch? Homeowners might be surprised to find out that leaves actually function just as good (if not better), than the best store-bought mulch. For best results, chop up fallen leaves as fine as possible using a leaf shredder or by simply running the lawn mower over the leaves several times. Bag up the scraps and save for your springtime gardening efforts. And if you keep a few bags of leaf mulch around long enough— usually around 1 to 3 years— you'll have leaf mold. Leaf mold is a gardener's secret weapon, as it is high in calcium and magnesium, helps to retain moisture in soil, and in hot temperatures, helps cool roots and foliage.
Cold-weather covering
An intense cold snap can quickly kill delicate plants in the winter. Shield greenery from the cold this winter when you insulate them with a bed of shredded leaves. The covering must be at least six inches deep to work efficiently as a safeguard against the freezing temps.
Compost
Ground up leaves make a great addition to your compost pile. Make a compost lasagna by alternating layers of shredded leaves with your green clippings and let it sit through winter. When spring planting time rolls around your compost will be complete. Consider saving a couple bags of leaves for your spring compost— a time when leaves are few and far between.
Visited 238 times, 1 visit(s) today