Last Updated on March 22, 2023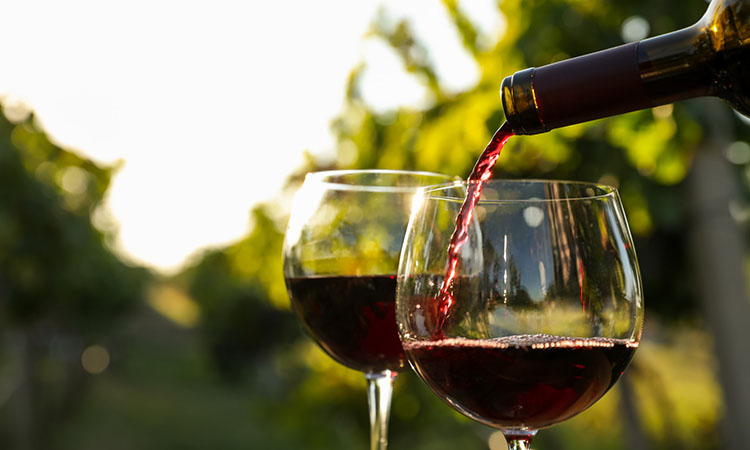 The concept of "Wine Wednesday" may conjure images of bad memes. But did you know there's science backing up the practice? Okay, it may not be hard science, but there are still good reasons to turn to the nectar of the gods after getting over the hump of our work week. For our physical health, wine has antioxidants, reduces risk of heart disease, and improves cognitive function. In addition, Wine Wednesdays encourage interacting with others, which in turn is proven to decrease depression and boost feelings of prosperity.
Western North Carolina has seen a rapidly growing number of vineyards and wineries in recent years. If you're planning a Wine Wednesday in Lake Lure, here are three wineries and tasting rooms you can visit within 20 minutes of town.
Burntshirt Vineyards Tasting Room and Bistro
In a family-run tradition spanning 80 years, Burntshirt Vineyards produces high-quality wines of unique character. And they are available to you from their winery in Hendersonville, as well as from the tasting room in the heart of Chimney Rock. The covered patio of their beautiful new building has some of the best views of both Chimney Rock and Hickory Nut Falls. Find the perfect glass of wine to complement the view, or explore the Bistro menu of inspired "Southern Winery" cuisine. Become a Silver or Gold Wine Club member to keep their award-winning wines in your cellar and receive limited production wines and pre-release wines.
438 Main Street, Chimney Rock | (828) 436-2490 | burntshirtvineyards.com
Parker-Binns Vineyard
Four generations of family are sowing their history into the lands of Polk County. Parker-Binns Vineyard is a 40-acre winery and vineyard with 12 acres under vine. Their wide selection of reds, whites, and berry wines stand on the shoulders of a proud local tradition dating back to the 1860s. The onsite Burger Barn offers a simple menu of tasty food options to go with your favorite Parker-Binns wine, Thursday through Sunday. What's more, the winery hosts a variety of public events and weddings throughout the year. Take advantage of the exclusive offers available to their wine club members.
2275 Whiteside Road, Mill Spring | (828) 894-0154 | parkerbinnsvineyard.com
Point Lookout Vineyards
Discover 30-mile views and even longer memories at Point Lookout Vineyards off of Chimney Rock Road in Edneyville. At the top of the southeast slope of Point Lookout Mountain, grapevines are greeted with the morning sun and cooling mountain breezes that allow them to produce stunning wines. Your biggest dilemma will be deciding which is better: the scenery or the wines. It's no wonder they're such a popular location for weddings. Join them for their regular Wine Down Wednesday or Sunset Sipping events. You can also see live music during their 2022 Summer Concerts series.
408 Appleola Road, Hendersonville | (828) 808-8923 | pointlookoutvineyards.com
Celebrate every Wine Wednesday in Lake Lure, NC
Waterfront mountain real estate is something that is rare indeed. Along the shoreline of Lake Lure, there is as great a variety of homes as there are of local wineries. Find styles ranging from the historic to the modern, from the somewhat rustic to the state of the art. No center of leisure would be complete without good options for wining and dining, punctuated by the beauty of local art. Lake Lure satisfies in this respect, as well. The town and its environs offer no shortage of amusements and something for just about everybody.
Does that sound like the perfect lifestyle for you? Find your dream home in Lake Lure now!
Visited 564 times, 5 visit(s) today