Last Updated on March 27, 2023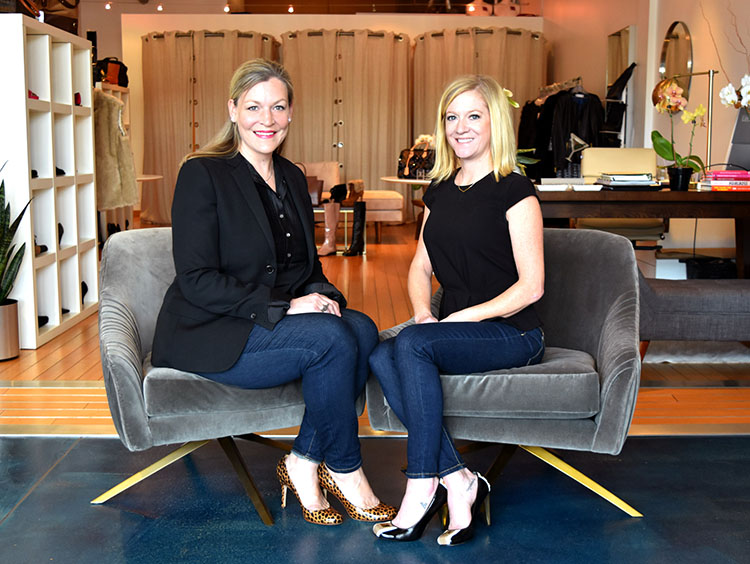 Western North Carolina was built by small farmers and small business owners with big skills and big dreams. Today, the region's small business community is stronger than ever, and many startup companies are making big names for themselves locally, regionally, and across the country.
Ahead of National Small Business Week (April 29–May 5, 2018), we wanted to highlight one local small business with big luxury offerings. We asked Patricia Smith Lähepelto and Allison Jerele, the owners of J Smith Boutique in Arden, to tell us about their company.
Patricia and Allison, tell us a little about your background in fashion and how you came to start the boutique.
Allison: We both grew up in South Asheville and graduated from T. C. Roberson High School. After high school and college, we both enjoyed stints abroad—myself in South America and Patricia in Japan. In 2008, we met through a mutual friend. We soon started working together when I joined Patricia's communications team at a European manufacturing company with a base is in Mills River. Together, we traveled the world, building that company's global brand. In November of 2016, we decided to take the leap and purchase an established high-end consignment boutique where we both shopped.
Patricia: We're excited to bring a renewed model to designer consignment in the Asheville market. The boutique will set a new standard for service, with an exceptional range of merchandise, transparent and timely communications with all of our clients, and ultimately a customized, personal experience for repeat customers.
Allison: J Smith Boutique customers typically both buy and sell pre-loved garb to build and rotate their wardrobes. We want to be the first place you visit when you want to share your style with others or find something unique and exciting to wear.
What makes for a "communications-focused shopping experience" like you advocate?
Allison: Our goal is to assist each customer with their specific, individualized needs. We also want to be very clear with our consignors about the consignment terms and manage their expectations through a very clear agreement, with specific terms designed to streamline the process for all parties. We all have the same goal.
What labels can shoppers expect to see when they come in?
Patricia: Our 1500-square-foot store offers women's clothing, handbags, footwear, and accessories. Current, classic, and exceptional items from fashion houses and designers range from Kate Spade and Tory Burch to Christian Dior and Louis Vuitton. J Smith specializes in offering boutique and designer brands. We want our patrons to come here in search of something fun and unique.
What is involved in a "consignor appointment"?
Patricia: Consignor appointments ideally last from 15–30 minutes. We check out each item carefully and choose what we think will sell according to our demographic and current market demands. We accept items on a seasonal basis – Spring/Summer and Fall/Winter.
What makes Arden an ideal location for your boutique?
Allison: Shopping for women's clothing, handbags, footwear, and accessories is not prevalent in South Asheville. There are many residents in this area who we can adequately serve. We really love Arden and the other local business in the area. We feel that the area is growing at a rapid pace and it will only continue to do so.
What do you see as the value of women-owned businesses in Western North Carolina?
Allison: One of our favorite and, honestly, surprising aspects of buying this store has been collaborating and supporting other female-owned businesses—and recommending other small businesses as local resources so that independent businesses can thrive in this area. Women in Western North Carolina have proven that they love to support other women. It's fantastic.
Patricia: Another trend we have noticed among our female entrepreneur friends is that we concentrate heavily on the community. Not only do we tend to network together and collaborate, we are very active in supporting local organizations and events. We all grow and thrive better together.
What is your favorite item that has come in or that you've sold, and why?
Patricia: This is not an easy question! There are a few: A limited-edition Louis Vuitton Speedy bag is definitely at the top of the list, along with a very unique bag designed by Helmut Lang.
Allison: Currently, we have a pair of Miu Miu strappy sandals with a jeweled heel that will be sure to make any woman feel like Cinderella for an evening.
How can your business benefit people buying or selling luxury homes in WNC?
Allison: Moving is the perfect time to perform the much dreaded but immensely satisfying closet cleanse. J Smith not only offers people a special place to sell their upscale items that have taken over their closets, but also to buy unique items. A consignment concept boutique is an excellent venue to both build and rotate your closet, guilt-free.
Learn more about J Smith Boutique and begin shopping at jsmithboutique.com.
Visited 19 times, 1 visit(s) today