Last Updated on April 17, 2018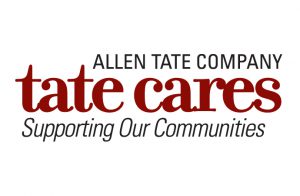 Allen Tate agents, employees support combined United Way, cultural campaign
Allen Tate Realtors® and employees recently contributed $161,000 to local arts and cultural programs and United Way agencies in North and South Carolina through the company's Tate Cares combined giving campaign.
Each year, agents and employees are given the opportunity to support local and regional arts and cultural organizations and United Way agencies. The Tate Cares umbrella also includes FUNday, an event held each fall to raise money for public education in local communities.
"People and companies want to relocate to communities that have vibrant and exciting cultural amenities and strong support systems for underserved populations. Our Realtors and employees understand this. Making a difference in each of our local communities is critical to what we do every day," said Pat Riley, Allen Tate Companies president and CEO.
Stephanie Gossett, Allen Tate regional vice president, served as company chairperson for the 2018 Tate Cares campaign.
During the past 21 years, Allen Tate agents and employees have contributed more than $4.88 million through Tate Cares.
Visited 29 times, 1 visit(s) today