Last Updated on April 11, 2018
Allen Tate CEO Pat Riley shares updates to navigate today's market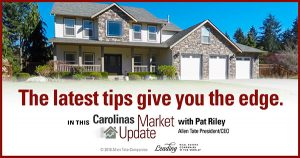 If there's anything certain about today's real estate market, it's the pace – lightning fast. But while that momentum is exciting, it's easy for buyers, sellers and homeowners to feel a bit lost or confused.
In the April edition of Carolinas Market Update, Allen Tate Companies President and CEO Pat Riley offers answers and advice on some timely real estate and homeownership topics:
• Tax law implications – Only 7 percent of homeowners with a mortgage will feel a negative effect from the new tax laws, while 84 percent of homeowners should see a positive impact.
• Repairs and upgrades – Improvements will help sell a home faster, but sellers should not expect a return on investment. Buyers today expect homes to be sound in both structure and systems. If your home needs repairs, nibble at the projects now so your home will be ready when it's time to relocate or downsize.
• New construction costs – Low supply plus high demand for new construction equals higher cost per foot than resale homes.
• Water supply warning – If you are going to be away for a period of time, turn off the water supply into your home. Ice maker pumps and washing machine hoses can easily malfunction and cause major damage.
• Moving from rent to buy – Renters should meet with a Realtor® well in advance of when their lease will end. Your Realtor can help you get a jump-start on the homebuying process so you'll be ready to give notice when the opportunity presents itself.
Carolinas Market Update is targeted to consumers in the Charlotte, Triad, Research Triangle and Upstate S.C. regions. It is produced quarterly by the Allen Tate Companies and features information, statistics, trends and predictions about the real estate market in North and South Carolina.
Visited 59 times, 1 visit(s) today