Last Updated on March 21, 2023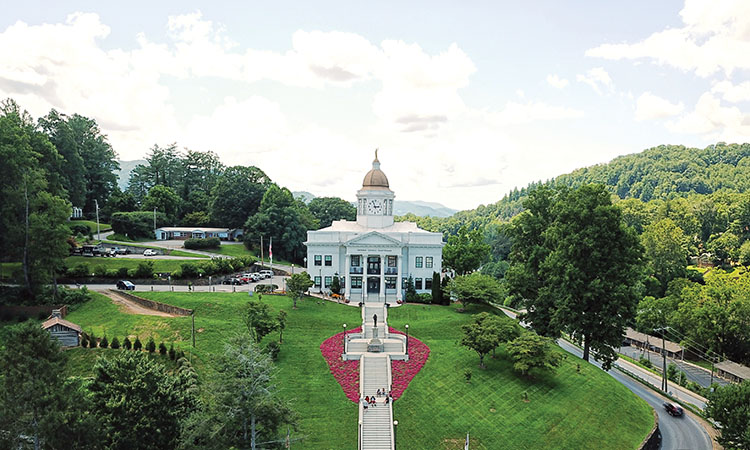 Sylva is in many ways one of the best kept secrets in the Western North Carolina mountains. Nestled between the Blue Ridge Parkway and Great Smoky Mountains National Park, Sylva's thriving downtown boasts shops, restaurants, and beautiful historic architecture.

Here at Allen Tate/Beverly-Hanks, we think it's always interesting to see how our mountain towns can change and still retain their charm. These three historic buildings in Sylva are each listed on the National Register of Historic Places. Even though they are from different eras, these buildings convey the charm for which the town was and is still known.

---
Jackson County Courthouse
Date Listed: May 10, 1979

Jackson County's most photographed building, its historic county courthouse, was built on a hill overlooking Sylva's Main Street. Constructed in 1914 at the urging of early industrialist C.J. Harris, the two-story, Classical Revival-style brick building features a three-stage cupola. Visitors must scale 107 steps from the fountain and plaza at street level to access the front portico. But the view back over town is well worth the effort! The building is now part of the Jackson County Public Library Complex, which opened at the location in 2011. 

---
Dr. D.D. Hooper House
Date Listed: April 21, 2000

The Dr. D.D. Hooper House was built as a private home in 1906 for Delos Dexter Hooper, a prominent local physician. The two-story, Queen Anne-style frame dwelling has a hipped roof and wings located on the main level. One of the wings, added in the 1930s, contained Dr. Hooper's office. Located at 773 W Main Street, the home was noted as the last house west on Main Street before getting to the hill on which the courthouse was built. Today, the building houses the Jackson County Chamber of Commerce.

---
Downtown Sylva Historic District
Date Listed: September 3, 2014

Not one building, but a whole district, this section of town is not to be missed! Sylva's historic district encompasses 41 contributing buildings and 3 contributing structures dated between 1900–1964. The buildings represent notable examples of Classical Revival, Italianate, Modern Movement, Queen Anne, and American Craftsman architecture. The Sylvan Theatre, built in 1927, was designed by architect Douglas Ellington. The Downtown Sylva Historic District is roughly bounded by Railroad Avenue and Main, Landis, and Jackson Streets. Today, the area still serves as the central business district of the town. You'll find everything from clothing and furniture stores to pizza kitchens and breweries in the district and within walking distance.

Notable buildings within the Downtown Sylva Historic District include:
C.J. Harris Building (c.1900–1908)
New Jackson Hotel (c.1920, 1926)
Medford Furniture Company (1923)
Great Atlantic and Pacific Tea Company (1925)
Jackson County Bank's Sylva branch (1926)
The Sylvan Theatre (1927)
Cogdill Motors (1934)
Moody Funeral Home (1946)
Saint John's Episcopal Church (1956)
United States Post Office (1964)
---
Make Sylva your year-round home!
With about 2,600 residents, the town of Sylva serves as the county and cultural seat of Jackson County. Sylva's vibrant downtown boasts an assortment of art galleries, bookstores, farm-to-table restaurants, craft breweries, coffee shops, and more. The town's tree-lined streetscape, dotted with benches, provides visitors with an afternoon of easy walking. There is even an official 1.2-mile tree walk featuring 44 of the more than 50 species in Sylva, designated a Tree City, USA.

Does that sound like the perfect lifestyle for you? Search for homes in Sylva now!

Visited 225 times, 1 visit(s) today