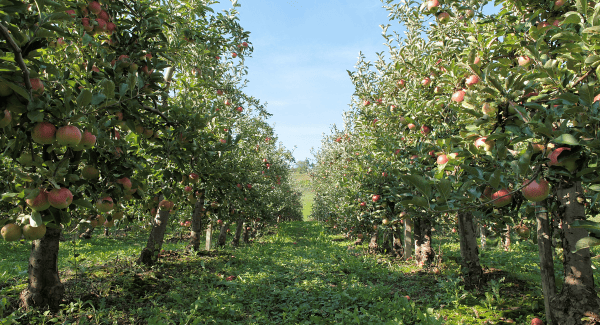 Last Updated on September 5, 2023
If the kids are going back to school, that can only mean one thing: Fall is around the corner and with that comes all the fun fall treats we all love, like farm-fresh apples! If you're in search of ripe-from-the-vine, North Carolina Apples, this list is for you.
The best apple orchards in North Carolina
Sky Top Orchard–Zirconia, NC
Open every day from 9-6 during apple season, Sky Top Orchard has Honeycrisp, Gala and McIntosh ripe and ready to be picked now, and more varieties will be available as the season progresses. Located in Zirconia, NC this apple orchard has been a family destination since 1982. Don't forget to sample the apple cider doughnuts while you're there!
Grandad's Apples–Hendersonville, NC
Located in Hendersonville, NC, just a short drive from Asheville, Grandad's Apples is a 100-acre farm and apple orchard. With over 30 varieties of apples planted, apple lovers shouldn't overlook this hidden gem. Pre-picked apples are available daily, and u-pick is offered on select weekends, so call ahead if you'd prefer to pick your own. Besides apple picking and sampling the apple cider doughnuts, kids will love the many activities offered at Grandad's Apples, and they'll be delighted with the cow trail and apple shooter experiences.
Justus Orchard–Hendersonville, NC
With over 20 varieties of u-pick and we-pick, Justus Orchard is family-run farm in existence since 1968. Beyond apples, orchard visitors can also pick blackberries and pears, while in season. With tons of family-friendly activities like the cow train, adventure playground, apple cannon and more, you can quickly fill your day with fun things to do at Justus Orchard.
Mountain Fresh Orchard–Hendersonville, NC
This quaint Hendersonville, NC Apple Orchard offers pre-picked apples, a farm market, bakery, and train rides. Come hungry, because at Mountain Fresh Orchard, you can have your fill of just about every apple dessert imaginable. From apple cider donuts to apple pies and fritters apple turnovers and even an apple caramel cake, make sure to check out this place.
Apple House & Owenby Orchards–Hendersonville, NC
The Owenby Family has been growing apples for nearly 60 years. Owenby Orchards isn't a u-pick destination, but you can visit the Apple House, where you'll find a plethora freshly grown NC apples, peaches, apple cider, blackberry cider, hot boiled peanuts, apple butter, fruit butters, jams, jellies, preserves and hand-made crafts.
Stepp's Hillcrest Orchard–Hendersonville, NC
You'll enjoy picking your own crops at Stepp's Hillcrest Orchard. From apples to pumpkins, grapes, sunflowers, zinnias, and tulips, you'll find an abundance of farm-fresh varieties at Stepp's. After you've picked apples, you can head over to the family-fun activities available on the weekend. Explore the 5-acre corn maze, take aim with the apple cannon, get some exercise on the jump pad or take a ride one the wagon. Food trucks are available on select weekends, call ahead to see what's offered.
Sugarloaf Orchards–Taylorsville, NC
Otherwise known as the oldest apple house in Alexander County, Sugarloaf Orchards is a 5th-generation apple orchard. While u-pick is not offered at Sugarloaf, the farm-fresh condiments and food items offered in addition to the ripe-from-the-vine apples definitely make this historical hotspot a must see. Patrons of Sugarloaf can purchase Amish-made jams, local honey, molasses, pickled eggs, sauerkraut, pickles, beets, ham and cheeses from Foothills County Ham, corn meal, grits, pancake mix and more!
Millstone Creek Orchards–Ramseur, NC
If you're interested in making a day out of your apple picking experience, Millstone Creek Orchards might be just what you need. At Millstone Creek, the owners want you to experience the magic of a u-pick adventure, offering a wide variety of crops to pick year-round. From berries to grapes, peaches, pumpkins, zinnias, pecans and of course, apples–this magical destination can't be beat. Beyond u-picking opportunities galore, weekends in the fall are jam-packed with family activities and things to do. The weekend of September 9-10 is their annual Autum Harvest Party, complete with the quientessial fall festival games, September 16-17 features an Apple Tasting Extraganza and live music, and September 23-24 will feature a visit from the Char Mar Alpacas and live music.
Knob Creek Orchard–Lawndale, NC
With 4.7 stars on google, this little farm in Cleveland County is a must see. This farm-fresh spot doesn't offer u-pick, but it does offer patrons to purchase seasonal crops available including peaches, grapes, blackberries, strawberries, blueberries, tomatoes, apples and more. Make the trip a little sweeter when you sample some of their famous ice cream!Visitors are encouraged to check availability of fruit before they go.
The Orchard at Altapass–Spruce Pine, NC
Offering over 20 varieties to take home either through u-pick or for pick up at the Apple Shed, The Orchard at Altapass is a non-profit heirloom apple orchard, heritage music venue and education center. Besides wondering the orchard while taking in the beauty of the surrounding Blue Ridge Mountains, orchard-goers can visit the general store, grab some grub from the Apple Core Grill, enjoy live music or read about the orchard's history. This is one of the only pet-friendly apple orchards around, so if you've got furry friends you don't want to leave at home, put this place on your bucket list.
Deal Orchards–Taylorsville, NC
This family-owned apple house in Alexander County is a third-generation owned fruit farm and roadside market. With many apple varieties available mid-July through then end of November, there's always something ripe at the market. Apple cider slushies are also on tap at this family-run farm, and so worth the drive.
Tevepaugh Orchards–Moravian Farms, NC
With a wide variety of apples available August 20-December 1, Tevepaugh Orchards is a 5-generation family-owned farm. While this is not a u-pick orchard, you can certainly expect plenty of farm-fresh crops, including blackberries, blueberries, pumpkins, honey, apples and nut butter.
Keep reading:
25 of the best things to do in Hendersonville, NC
The best apple orchards in South Carolina
About Allen Tate Realtors
Allen Tate Realtors has been helping our clients achieve their real estate goals since 1957 and is the #1 real estate company in the Carolinas. With local roots and global connections, thanks to our partnership with Leading Real Estate Companies of the World, our real estate agents can provide their customers with superior service, unparalleled connections, and vast market knowledge. Allen Tate provides real estate, mortgage, insurance, and relocation services throughout the entire homeownership lifecycle.
Allen Tate Companies is a proud partner of Howard Hanna Real Estate Services, the largest independent, family-owned real estate company in the country. With more than 13,000 sales associates and staff members across the combined companies, our agents are the best of the best.
Visited 3,985 times, 1 visit(s) today