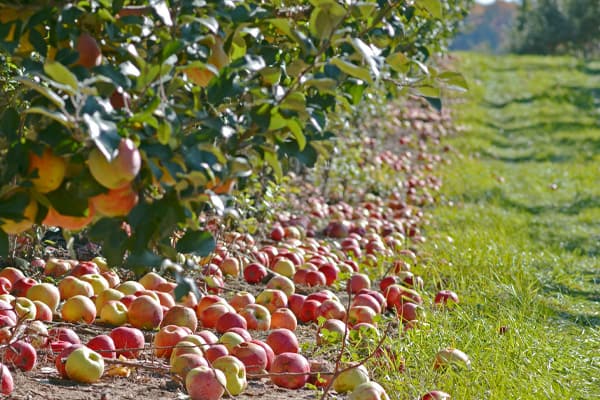 Last Updated on September 5, 2023
If an apple a day keeps the doctor away, then we should all be feeling well in the month of September, because it's apple picking season, y'all!
If you're looking for u-pick apples in South Carolina, we've got you covered with 6 of the best apple orchards in the Palmetto State.
What's the best month to go apple picking?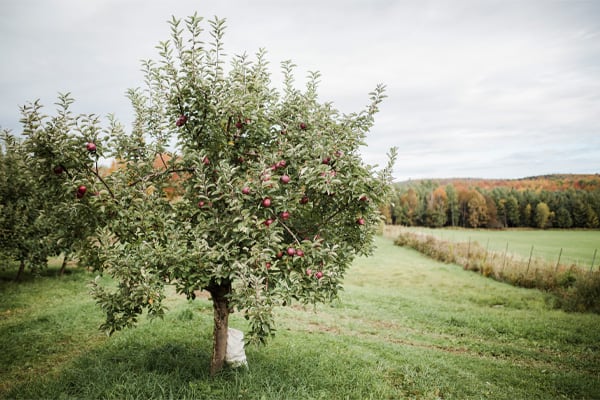 While apple season for many orchards in South Carolina starts as early as the third week in July, if you want the the best variety, plan your visit during the month of September.
Make sure you call ahead and ask which apples are ripe before you go if you have your heart set on a certain variety.
Apple orchards in South Carolina
Chattooga Bell Farm
Location: Long Creek, South Carolina
Located in Long Creek, South Carolina, this 198-acre working farm provides guests with beautiful scenery, tons of fresh fruit u-pick opportunities, a disc golf course, yummy eateries and even a distillery.
With apple picking available as early as late July, Chattanooga Bell Farm provides plenty of u-picking time. From late July through the first day in November, apple pickers can enjoy picking Golden Delicious, Pink Lady, Granny Smith, Gale Gala, Ginger Gold, Honey Crisp, Yates and Arkansas Black.
While Chattooga Bell Farm serves up quite a variety in the apple orchards, u-pickers can also pick persimmon, plums, figs, and asian pears in the fall months.
If you're looking for a breathtaking view and experience, choose Chattooga Bell Farms to do your apple picking this year.
MacGregor Orchard
Location: Travelers Rest, South Carolina
Open every day except Mondays during the picking season, MacGregor Orchard is welcomed breath of fresh air.
Formerly Perdeaux Fruit Farm, MacGregor Orchard grows apples, apricots, figs, muscadines, peaches, pears, nectarines, persimmons and prunes.
They also make their own apple butter, apple cider, apple sauce, fruit preserves and honey.
Be sure to check out their orchard news section on their website before you travel as they update quite frequently with crop availability and special events. In early apple season you can find Ginger Gold and Zester, and as the season persists, you'll find varieties like Cortland, Golden Delicious, Red Delicious, Rome, Granny Smith, Gala, Empire and Pink Lady.
They can also be found at the Greenville Farmer's Market on Saturday Mornings.
Windy Hill Orchard
Location: York, South Carolina
Not too far from the Queen City and what Charlotteans would describe as some of the best apple picking near Charlotte, Windy Hill is a very popular spot for all things apple.
The most commercial of the orchards on this list, orchard visitors can easily make a full day out of exploring Windy Hill. Open now for the 2023 season, picking apples is by reservation only so you will need to make plans a couple weeks in advance to ensure you have a spot.
One thing to be aware of when you visit this orchard is the fact that the Stayman Winesap is the only apple variety they have, so if you're searching for more variety, this might not be the place for you.
The farm stand is open on Thursdays, Fridays, Saturdays and Sundays, and you can purchase apples, apple cider, apple products and more. Now, if you want to sample their hard cider, make sure you visit on either Friday, Saturday or Sunday. Saturdays at the Orchard are pretty busy, as folks are picking apples, sampling cider and listening to live music.
Bryson's Apple Orchard
Location: Long Creek, South Carolina
Also located in Long Creek, South Carolina Bryson's Apple Orchard offers u-pick apples and peaches. Apple varieties like Red Delicious, Golden Delicious, Granny Smith, Gala, Arkansas Black, Rome, Yates, Fuji and more can be found at Brysons from mid August through the middle of October.
Fresh peaches are also available to purchase through the second week of September, so if you visit Bryson's in August you can plan on making peach and apple pie!
In addition to apples and peaches, Bryson's presses their own cider and sells jams, jellies, canned goods, local honey from their bees and in-season vegetables. Guests are welcomed to bring a picnic lunch and enjoy the view of the Blue Ridge Mountains as they eat lunch at the orchard.
Note: The latest company Facebook postings say that u-pick is not available this year, so make sure to check before you go if you want to pick your own.
Hollifield's Orchard
Location: Long Creek, South Carolina
Located right off of Highway 76 in Long Creek, South Carolina sits Hollifield's Orchard. A family orchard that has been in operation for 4 generations and counting, Hollifield has plentiful apple varieties.
While the Orchard is not open to the public, Hollifield has a farm stand that is open to the public beginning in September and remaining until the last apple is sold, which can vary based on how kind the weather was earlier in the year.
With more than 10 varieties of apples available if you're in search of farm-fresh apples but don't have time to pick them yourself, make sure to visit Hollifield's Orchard.
Bush n Vine
Main location: York, South Carolina. Additional secondary locations in Lake Wylie, NC and Rock Hill, SC
Growing fresh fruits and vegetables since 1979 if you haven't made the short trip to one of three Bush n Vine locations, you're missing out.
While Bush n Vine is more widely known for their pick-your-own crops like blueberries, strawberries, peaches and blackberries, pumpkins and sunflowers, they do have a wide variety of apples in the farm stand during the fall months.
Apple donuts, ice cream and other goodies can be purchased at the farm stand. A great destination for families with small kids, Bush n Vine has picnic tables, swings, slides, sandboxes and playhouses.
Hours vary depending on which location you're visiting, so be sure to check before you go.
Know before you go: apple picking in South Carolina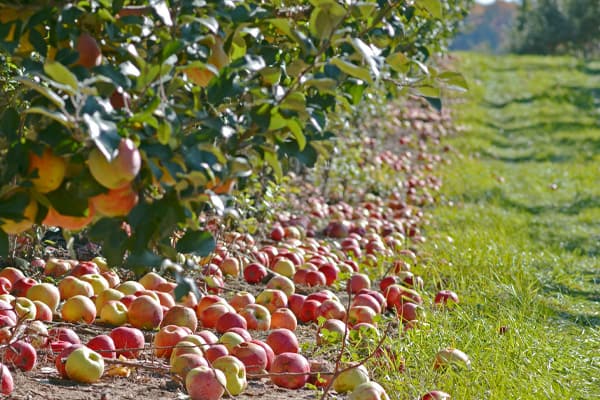 Before you hit the open road, it's a good idea to call the apple orchard first. We found many orchards are closed on Mondays and some are closed other random days of the week, so make sure you call.
Most orchards update their social media pages more than their website, so finding current crop availability, seasonal hours and other events is easiest on social channels.
Wear shoes you don't mind getting muddy! You'll be walking through a farm and there will be dirt and mud.
Always ask the orchard owners for tips on incorporating all the apples you buy into different food items. From jams and butters to cakes, pies and tarts, you'll learn the best ways to use apples just by asking!
Visited 447 times, 9 visit(s) today