Last Updated on April 11, 2017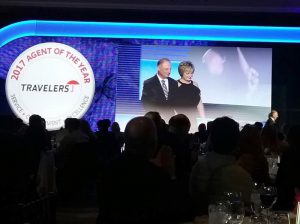 Robin Price, president of Allen Tate Insurance, has been named Travelers Insurance Agent of the Year for the Southern region.
Price, who was selected from more than 2,800 insurance agents in North Carolina, South Carolina, Georgia and Florida, accepted the award on behalf of the company on April 1 at the Travelers Leadership Conference in Scottsdale, Arizona.
"Allen Tate Insurance is proud to offer Travelers coverage to our clients. Travelers is an outstanding carrier with quality insurance products and exceptional customer service," said Price.
Founded more than 160 years ago, Travelers is one of the nation's largest property and casualty companies, with 15,000 locations throughout the United States and operations in the United Kingdom, Canada, Ireland and Brazil.
Visited 54 times, 1 visit(s) today