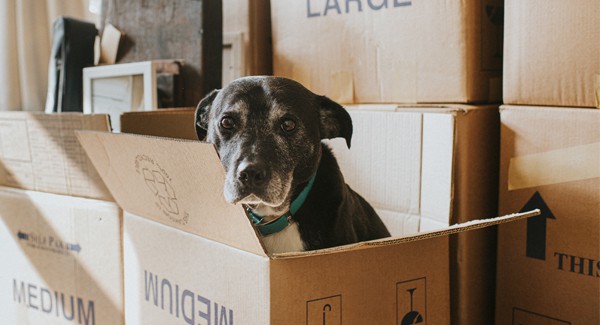 Last Updated on September 29, 2022
Next week, some lucky children will wake up to a Christmas surprise – a new puppy or kitten. And hopefully, Fido and Fluffy will be lucky to have found good, forever homes.
Many animals in North Carolina are not so lucky, however. Some are born into puppy mills or surrendered or admitted as strays to already overcrowded animal shelters. Some are neglected, abused, left by the side of the road, or discarded as they grow older.
Roberta Wall's passion always has been to make positive changes for homeless animals. Along with many others, she's made some great strides.
In 2010, Roberta, an Allen Tate Realtor® and team leader of The Wall Team in the Greensboro-North Elm office, was instrumental in changing North Carolina laws regarding animal cruelty and abuse. Susie's Law reclassifies the "malicious abuse, torture or killing" of an animal as a Class H felony and increases the penalties for those convicted of cruelty to animals in the state.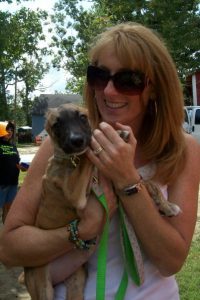 Susie was a young pit bull-shepherd mix who was badly neglected, beaten, set on fire and left to die by her owner in 2009. She had been infested with maggots, and her ears were burned off when she was brought to the local shelter by animal control officers. Roberta and her husband, Bob, agreed to foster Susie during her recovery. The Walls kept her isolated from other animals because of her fragile medical condition and inability to be vaccinated. Eventually, law enforcement arrested the man responsible for abusing Susie, but then came the bad news: Lashawn Whitehead would serve no jail time for the abuse, only probation, as there was no law allowing a judge to impose jail time for his crime. The state's laws regarding animals had not been changed in more than 100 years.
Roberta doesn't recall ever not loving animals. Right out of college, she began to foster animals and volunteered at the Guilford County Animal Shelter. She had a spot in her heart for homeless animals, stopping for animals on the side of the road or found wandering through a neighborhood. For many, she helps find homes. Some even found their forever home with Roberta.
"It's just the right thing to do. I don't know another way to be," said Roberta.
She wanted justice for Susie and other abused animals in North Carolina. She and her husband met with a local news reporter and a prosecutor and contacted N.C. Sen. Don Vaughan and state Reps. Pricey Harrison and Maggie Jeffus, who sponsored a bill. Roberta and others took Susie's story to Raleigh, speaking on both the House and Senate floors. She received support from local citizen Caleb Scott, who created a Facebook page (@SusiesLaw) and many others, including Kim Alboum, state director of the Humane Society of the United States.
On Dec. 1, 2010, Susie's Law went in effect. Susie recovered from her trauma and was adopted. Roberta continued to remain concerned about the welfare of animals.
Roberta volunteered as an animal rescue responder with the Humane Society of the United States, where she helped with rescue efforts for animals in severe neglect and abuse in puppy mills in North Carolina.
"They would tell us there would be 100 dogs. And then we'd get there and find 200. Many would be hidden; some would have puppies we didn't know about," said Roberta. "Unfortunately, law enforcement officers are unable to prevent neglect until conditions reach crisis proportions.
During a puppy mill bust, a team of vets and volunteers are accompanied by police to photograph, evaluate and tag dogs, to indicate where they will be sheltered and receive medical treatment before going to their forever homes. Many animals are scared and injured, and onsite personnel must handle them compassionately – and carefully.
"Not all breeders are bad breeders, but puppy mill operators put profit before the welfare of animals. If you want a dog, you can find any breed you want with a rescue organization and at your local animal shelter," said Roberta.
Roberta and every member of her real estate team have adopted rescue animals, including Julie Trogdon, whose dog Waylynn is a regular fixture in the Allen Tate office. Roberta and Bob's current brood includes four Malteses – Mandy, Mattie, Timmy and Murphy (the oldest at 14) and two cats – Tabby and Annie Grace. She lost her Maltese, Sookie, in August – and that's another chapter in Roberta's story.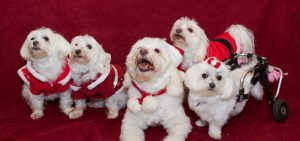 Sookie came to live with Roberta when she was 7, debarked by her previous owner and her back legs paralyzed. She had been surrendered to an animal shelter because her owner didn't want to deal with her health concerns. Expected to live only six months, Sookie enjoyed five incredible years with Roberta and her husband.
Today, Roberta's advocacy is for adoption of senior dogs, who may have health issues that are often treatable. She's passionate about a fund called Boo's Gift, which helps provide medical care and promote adoption of senior homeless animals. Boo was a senior dog – found abandoned in a parking lot and rescued by Roberta's friend, Lisa. When Boo passed away at age 16, Lisa created Boo's Gift in conjunction with Juliet's House, which saves homeless animals across North Carolina.
"70 percent of households have animals. In the real estate business, I've met a lot of people who share my passion. My clients want to get involved," said Roberta. "People think of me when they are looking for a dog or have found a dog. I enjoy helping people find their new four-legged family members."
Want to help? Ask your local animal shelter what it needs – food, bedding, newspapers. Volunteer at a shelter, foster an animal, or help with a fundraising event. And when you're looking for a pet, adopt a shelter pet.
"When people step up, there can be change. I am fortunate to be in a position to give back and be part of the solution," said Roberta.
Visited 108 times, 1 visit(s) today